Tell Uber CEO, Travis Kalanick: Quit Trump's Business Council!
Sign the Petition
* denotes required fields
YOU WILL RECEIVE PERIODIC UPDATES FROM COLOROFCHANGE.ORG. YOU MAY UNSUBSCRIBE AT ANY TIME.
Tell Uber CEO, Travis Kalanick: Quit Trump's Business Council!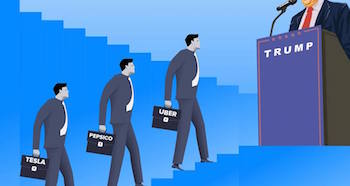 Uber CEO, Travis Kalanick just joined Donald Trump's personal Business Council and sent Uber drivers to break the New York Taxi Drivers' Muslim ban strike, but claims to believe that Trump's Muslim ban goes against everything Uber stands for. Do you see what's wrong with this picture?
Travis Kalanick clearly thinks he will be able to pull the wool over the eyes of the American people--making money with the racist, misogynist, and anti-Muslim Donald Trump while giving lip service to principles of justice and equity. But, it was only after Uber customers began deleting the app in response to Kalanick's blatant Trump support, and after competitor, Lyft donated $1 million to the ACLU, that Kalanick rushed to offer compensation to drivers affected by the ban and issue a shallow statement stating that although he is a personal advisor to Trump, he plans to pressure Trump to "stand up for what's right."
Travis Kalanick needs to stop playing dumb. Trump ran a campaign based on hate and is installing a cabinet of white nationalists and homophobes who have an agenda to ban Muslims, privatize public education, and take away reproductive healthcare. There is no pressuring him to stand up for what's right. And Kalanick knows good and well that Trump's business council is an organization meant to help CEOs curry favor for their corporations, not an organization with the power to convince Trump to reject the entire hateful platform that helped him win the election. If the CEO of Uber is serious about standing for the thousands of Uber drivers and customers who are Muslim immigrants, he needs to reject Trump's entire agenda--not just the parts that will affect his bottom line.
This is the letter we'll send to Uber CEO, Travis Kalanick on your behalf:
Dear Travis Kalanick,

By being a part of Trump's business council, you are placing access to power over people's lives and putting money over this country's future. Uber has been able to become a successful company largely because of Black, Muslim, queer, and female drivers and customers who use the service and work hard to execute safe rides daily. It's unacceptable that you are already willing throw away the very people who made them a success in order to gain favor with Trump.

At this moment in our nation's history, there are no sidelines--your involvement on Trump's Business Council isn't an arbitrary gesture, you are effectively supporting and advancing the deep harm that many communities will face. We, the people, say no to corporations and CEOs who are willing to sell out American values and democratic principles for a seat at a crooked table. You and Uber must stand with the American people and against Trump's entire administration of hate.

Sincerely,
[Your Name]
Sign the Petition