Tell NBC: Stop doing PR for racists!
Tell NBC: Stop doing PR for racists!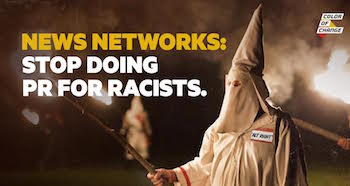 In the months following the election, we've heard NBC refer to avowed white supremacists with a more respectable-sounding term: "alt-right." This is unacceptable.
The truth is that the only thing that separates the values of the alt-right movement from the Ku Klux Klan is their name. And, already, NBC normalizing the "alt-right" by downplaying their white nationalist core, as they set the stage for the normalization of white supremacy with Trump's impending inauguration. NBC first took a strong stance against Trump, but as the tides swayed in his favor, they've gone back on their word to "sever a business relationship" with him. They're paying him as a producer on the "Apprentice" show, allowed him to host Saturday Night Live and featured him on Jimmy Fallon's late night show in a jokey, pleasant interview where he wasn't called on any of his racism and misogyny.
Trump's direct ties to the rebranding of white nationalism are not a secret--after all, his senior advisor, Stephen Bannon is a known architect of the "alt-right" movement. Yet NBC continues to use the term, deliberately ignoring the standards that other outlets are following. That's why it's more important than ever that we hold them accountable for their normalization of Trump and his white nationalist rhetoric.
Tell NBC to stop normalizing white nationalism now.
Below is the letter we'll send to NBC on your behalf:
Dear NBC,
I am writing to ask you to stop using the term "alt-right." It is simply a rebranding of white nationalist values. Because the term is fairly new, it allows the message of white nationalism and populism to spread under a new name--rebranding the horrors of white supremacy for an audience hungry to be a part of Trump's racist, misogynist America.

Already, the Associated Press and news sites like ThinkProgress have publicly committed to critically using the term, or not using it at all. I ask you to follow their example.

The media must be accountable for your power to dictate the language we use and the ideas that we discuss. But so far, you've relished in the sensationalism and ratings' bonanzas that Trump's outrageous misogyny and racism have brought your networks. Although you took a strong stance against Trump initially saying you were "severing your business relationship with him", you've gone back on your word and paid Trump as a producer of "Apprentice" and featured him on Saturday Night Live and Jimmy's Fallon's show. With the lives of so many at stake, we cannot allow you to play the middle.

By continuing to the use the term "alt-right" and not "white nationalist" or "white supremacist", you're choosing a side. Instead of honoring cherished journalistic values of transparency and honesty, you're choosing to feed into the white supremacist PR machine.

Thanks,
[Your Name]
Sign the Petition