Stop Steve Bannon's National Security Take Over
Sign the Petition
* denotes required fields
YOU WILL RECEIVE PERIODIC UPDATES FROM COLOROFCHANGE.ORG. YOU MAY UNSUBSCRIBE AT ANY TIME.
Stop Steve Bannon's National Security Take Over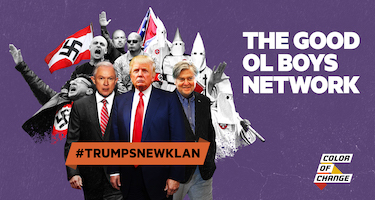 Donald Trump has appointed his political advisor Steve Bannon, a white supremacist extremist, to be a principal member of the powerful National Security Council (NSC). A group of the nation's most senior military, diplomatic, and intelligence advisors.
This move is unheard of. No president has ever put a political advisor on the Council because politics should never impact national security decisions. And Bannon's twisted white supremacist politics are already affecting them – the Muslim and refugee ban is proof.
We cannot let Bannon's white nationalist vision be the beating heart of our nation's national security policy. Congress has the power to stop this. Legislation has been introduced in both the House and Senate to protect the independence of our national security from Steve Bannon's political and racist meddling. Tell Congress to keep Steve Bannon off the NSC.
Donald Trump's decision to seat extremist, white nationalist Steve Bannon on the National Security Council, while downgrading the standing of our military and intelligence leaders, is dangerous for America and the world.
Congress must be a check on this dangerous politicization of our nation's security and immediately pass legislation or take other action to keep Steve Bannon off the National Security Council.
Sign the Petition