Tell Sprint: Don't help Trump lie to us about job creation!
Tell Sprint: Don't help Trump lie to us about job creation!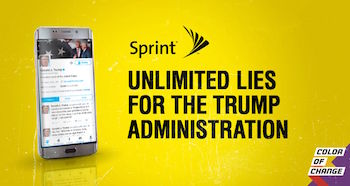 Donald Trump just announced that Sprint was adding 5,000 new jobs in the United States as an expression of faith in his impending presidency. The truth? The jobs were already guaranteed, under Sprint's parent company back in October--before the election even happened. And when a company representative admitted the jobs that Trump announced were from the October deal, the CEO publicly contradicted his own spokesman to make Trump look good.
This isn't the first time Trump has lied about creating jobs. Just weeks after the election, he publicly targeted union leader, Chuck Jones who told the truth after Trump announced he had saved 1100 jobs at a Carrier plant in Michigan. In fact, 550 people were getting fired and the company only kept some jobs in exchange for $7 million in tax credits from American taxpayers. Similarly, he announced that he had saved a Ford manufacturing plant that was never planning to close. These aren't just harmless fibs--if companies like Sprint help Trump spread lies about his fake accomplishments, he could be seen as a competent President and could possibly be elected again.
Donald Trump is being heralded as a job creator who's making America great again--when nothing could be further from the truth. He's not even in office yet and already, he's lying to project an image of competency--and Sprint is going with the flow to gain favor with him. We can't let this slide. We have to stop Trump's Ministry of Misinformation before it gets started.
Tell Sprint to tell the truth.
Dear Sprint CEO, Marcelo Claure:

I am writing to ask you to tell the truth about Donald Trump's lack of job creation. When he announced that Sprint was adding 5,000 new jobs in the United States as an expression of faith in his impending presidency, you publicly backed him up--even though your spokespeople confirmed that the jobs were promised before the election even happened.

This isn't the first time Trump has lied about creating jobs. He publicly targeted a union leader who told the truth about him saving jobs at a Carrier plant; and announced that he saved a Ford plant that was never planning to close. He has a long history of spreading misinformation in order to project an image of competence. You must take a stand against this deceit.

You are a successful company because of millions of Americans who use your service--and you owe it to us to be forthright and honest. Please tell the truth about Trump's lack of job creation.

Sincerely,
[Your Name]
Sign the Petition