Tell Congress: #BanTheBudget
Sign the Petition
* denotes required fields
YOU WILL RECEIVE PERIODIC UPDATES FROM COLOROFCHANGE.ORG. YOU MAY UNSUBSCRIBE AT ANY TIME.
Tell Congress: #BanTheBudget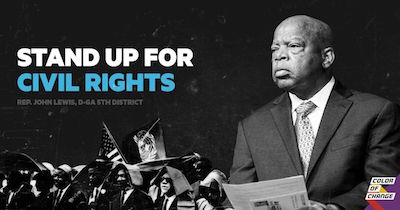 Hours after being sworn in, Donald Trump announced that he's planning on cutting the funding of the Civil Rights Division of the Department of Justice as a part of a $1 billion cut this fiscal year. This division is responsible for protecting the rights of all Americans, including Black folks and other people of color, women, and folks with disabilities. Protecting civil rights is an American value. Donald Trump is just wrong if he thinks he can take that away from us.
The "idiocracy" that we are being ushered into, especially over the next 100 days, is terrifying and unsettling, to say the least. Trump is already making ridiculous decisions and hasn't even been in office for a week yet.
If we stand up to Congress--especially those that rely on the votes of Black people-- we can make sure the Civil Rights Division stays intact.
Tell Congress to reject Donald Trump's bigotry and stand up for civil rights.
This is the letter we'll send to Congress on your behalf.
Dear Members of Congress,
Donald Trump's budget proposal is disastrous. The Civil Rights division of the Department of Justice is in jeopardy of having so much funding cut that it can't perform it's duties. This is an outrageous idea and is one of the most "anti-American" things Trump could do.
Civil rights are a fundamental part of the fabric of this country. To get rid of it would be devastating to every citizen--not just the marginalized and oppressed. But you have the power to stand up for what is right and make sure Trump isn't the end of civil rights as we know it.
And so I ask you, which side are you on? Donald Trump's racism or the civil rights of your constituents, the American people.
Please, choose the side of justice. Protect the legacy of the Civil Rights Movement, not the racist agenda of Donald Trump. Make a commitment not to vote for any budget that cuts funding to the Civil Rights Division.
Sincerely, [Your Name]
Sign the Petition