Tell Your Mayor: NO Racist Trump Police Agenda!
Sign the Petition
* denotes required fields
YOU WILL RECEIVE PERIODIC UPDATES FROM COLOROFCHANGE.ORG. YOU MAY UNSUBSCRIBE AT ANY TIME.
Tell Your Mayor: NO Racist Trump Police Agenda!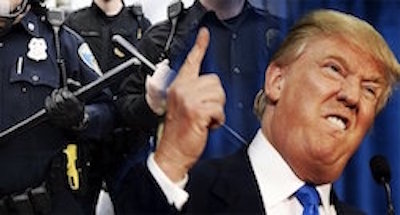 Trump has sworn in a known white supremacist, Jeff Sessions to reign as Attorney General over this country's Department of Justice. Adding insult to injury, during the swearing-in ceremony he also listed three executive orders that will grant federal dollars to ramp up local police forces in an effort to target Black and immigrant communities; omit police accountability; and demolish the Movement for Black Lives.
Leveraging his rhetoric of Black communities being nothing but festering sites for violence, drugs and crime, Trump's executive order is taking a play from Richard Nixon and Ronald Reagan's playbook ---using racialized myths about crime and drugs to spark the rise of another 'tough on crime' and 'War on Drugs' era. This country has been there, done that and we're not falling for these scare tactics again. We know Trump's agenda will only birth harsher punishments on Black people and enable the United States to continue its stake in being the world's leading incarcerator.
The Fraternal Order of Police (FOP), the nation's largest police union and known anti-Black Lives Matter advocates, bankrolled Trump's presidential campaign and these executive orders are mere fruits of their endorsement. Even the language within his order is almost identical to the federal and state Blue Lives Matter bills FOP lobbyist was pushing last year. But little do Sessions and Trump know, we are ready. And people power will trump their undercover, Blue Lives Matter agenda.
Exert your local power and demand your Mayor decline to partner with white supremacist Attorney General Jeff Sessions to execute Trump's racist and phony 'law and order' agenda.
Dear Mayor,

On Feb 9, 2017, after swearing in white supremacist Jeff Sessions as the U.S. Attorney General, Mr. Donald Trump also issued three executive orders calling for the Department of Justice to partner with local governments to militarize their police force and omit police accountability.

The order mimics former Presidents Richard Nixon and Ronald Reagan's tactic of using racialized myths about crime and drugs to spark the rise of another 'tough on crime' and 'War on Drugs' era, which is a dog whistle for increase surveillance and harsher punishments on Black people.

I ask that you decline to partner with white supremacist AG Sessions to execute Mr. Trump's racist and phony 'law and order' agenda.

Sincerely,
Sign the Petition