Demand Twitter and Facebook suspend Trump's accounts.
Jump to the Petition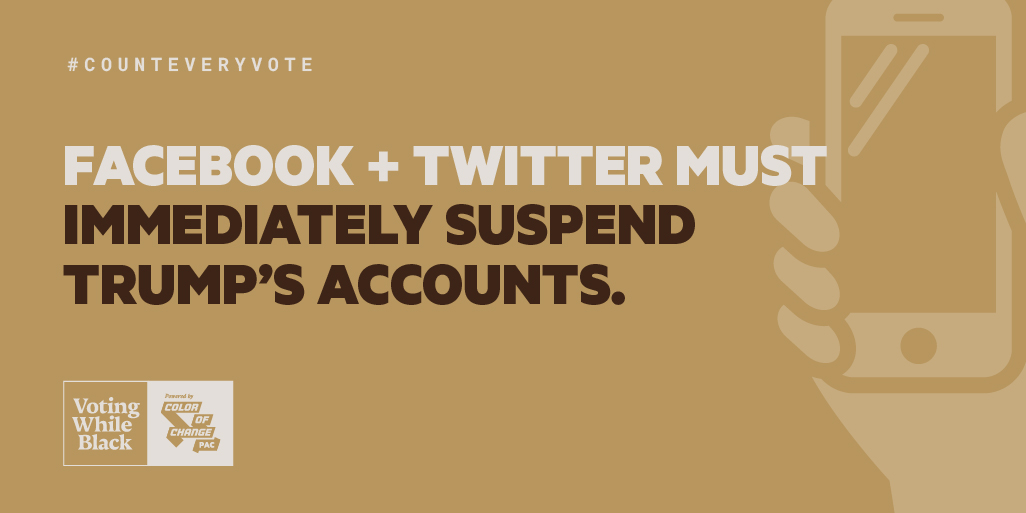 This election is not happening to us; we are shaping it. Twitter and Facebook have for years provided Donald Trump a platform to spread lies, hate, and misinformation. The consequences of these platforms allowing Trump to repeatedly spread lies and challenge the outcome of this election pose great harm to our communities and minimizes the impact of our votes. Our ancestors and elders sacrificed, traveled miles sometimes by foot, and even risked their lives to vote -- we cannot allow a known white nationalist to steal the election by using social media as a form of credibility.
Here is our letter to Facebook and Twitter:
It's time to #SuspendTrump until all votes are counted. Misinformation has run rampant on your platforms for years. Color Of Change and other social racial justice organizations have been steadfast in ensuring there are policies in place to minimize the impact of misinformation on this election, yet Trump has still been allowed a platform to spread lies and conspiracy. Facebook and Twitter must ensure Black votes are counted, respected, and acknowledged, and the only way to do this is to #SuspendTrump. The people, not social media, should determine the election. Social media should not be a lever for Trump to deploy to cast doubt on the veracity of this election nor to mobilize his followers to disrupt the vote count and carry out violence against our communities. History has shown the missteps of social media in the past. Take action and let's not repeat them in the future. 
Take Action
By taking action, you will also receive periodic communications from ColorOfChange. By providing your mobile number you consent to receive cell phone and text communications from ColorOfChange and its affiliated entities concerning news and action opportunities. Message and data rates may apply. You can unsubscribe at any time by texting STOP to 55156.