Tell Democrats: boycott Trump's inauguration!
Sign the Petition
* denotes required fields
YOU WILL RECEIVE PERIODIC UPDATES FROM COLOROFCHANGE.ORG. YOU MAY UNSUBSCRIBE AT ANY TIME.
Tell Democrats: boycott Trump's inauguration!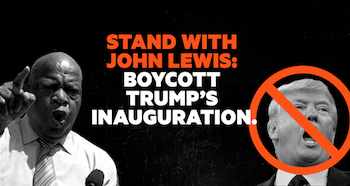 For the first time in his 30-year congressional career, Civil Rights icon and American hero, Representative John Lewis will not be attending the Presidential inauguration. The reason? After a briefing from the CIA, he believes Trump is not a legitimate President and that his tenure will have devastating consequences.
After John Lewis announced he was not attending the inauguration, Donald Trump went on a rash Twitter tirade, referring to the same man who was bloodily beaten on a bridge in Selma in defense of civil rights as "all talk, no action." Immediately, many Democratic elected officials like California Representative Maxine Waters and Michigan Representative John Conyers announced they would be boycotting the inauguration. However, many elected and appointed officials have remained silent as Trump desecrated the honor and legacy of an American hero. Playing both sides of the fence is not acceptable--too much is at stake. Our elected and appointed officials can no longer go along to get along--they must stand for equity and justice and resoundingly say no to Donald Trump's illegitimate inauguration.
If Democrats don't stand with John Lewis to boycott the inauguration of an illegitimate president, they are showing the world that the representatives that we have elected to be arbiters of truth and justice are actually weak and disjointed. We need a powerful opposition to protect our freedoms, not a disunified front who prioritizes solidarity with Donald Trump above solidarity with their constituents. Democrats must stand with the majority of Americans who resoundingly said no to Donald Trump's agenda of bigotry and boycott the inauguration.

Tell Democratic Representatives, Senators, and other elected and appointed officials to take a stand against Trump and refuse to attend the inauguration.
Here's the letter we'll send on your behalf:
Dear Elected and Appointed Democrats:

I am writing to ask you to boycott Donald Trump's inauguration.
By attending the inauguration, you are expressing faith in the illegitimate President Trump and are turning your backs on the millions of Americans who will suffer immeasurably under a Trump presidency. We cannot join forces with a President who has promised to repeal healthcare for millions of Americans, bring back "stop and frisk", shutter the doors of Planned Parenthood, ban mosques, and deport millions who were protected by policy under Obama's administration.

Donald Trump has not even been inaugurated and has already appointed white nationalist, Steve Bannon as a chief advisor; lied about creating jobs in order to dishonestly sway public opinion; and worked to delegitimize the free press who has reported on his long history of sexual assault and crooked business deals. He is also the first President ever to enter the office with a historically low 44% approval rating. There is no reason for you to support a President-elect who is destabilizing the lives of millions of Americans.

Please take a stand against Trump and refuse to attend the inauguration.

Sincerely,
[Your Name]
Sign the Petition