Mayor Rahm Emanuel: Expand Sanctuary City
Mayor Rahm Emanuel: Expand Sanctuary City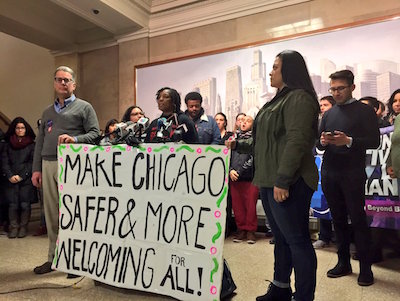 Chicago is not a Sanctuary City. Chicago is a place where Black and Brown folks are policed, targeted, criminalized, brutalized, and too often killed by law enforcement more than anywhere else in the country. Mayor Rahm Emanuel publicly pledged that Chicago will remain a Sanctuary -- but it's all in name only. It must go further. A city cannot be Sanctuary if Black and Brown people are harassed and killed by police more frequently than anyone else. The police do not deserve all the power and control -- it's the people who deserve safety first.
There is an important decision for the Chicago City Council to make. This month, it is expected that Mayor Emanuel and the council will decide whether to further expand the "Welcoming City" ordinance in Chicago. If approved, it will aim to protect all immigrants and communities of color to safeguard against local law enforcement and federal immigration authorities from invading and terrorizing people. Also, the city council will decide on changes to the contract between Chicago and the Fraternal Order of Police which will determine the safety of the people and if the Chicago Police Department will be held accountable for all actions they commit.
In a city like Chicago where Black and Latinx people are under constant threat due to police violence and criminalization, Sanctuary must be expanded to fully protect all marginalized communities. The Welcoming City ordinance and the Fraternal Order of Police resolution must be approved by the Chicago City Council. Both of these measures will provide a major step in protecting and improving the lives of all Chicago residents by redefining and expanding Sanctuary city.
Below is the letter we will send to Chicago City on your behalf:
Dear Mayor Rahm Emanuel and Chicago City Council,
With your leadership, it is time to expand Sanctuary in Chicago by making important amendments to the Welcoming City ordinance and creating changes to the contracts between the City of Chicago and the Fraternal Order of Police that will instill significant accountability and transparency in the Chicago Police Department.
In such a rocky political climate fueled by a right-wing, white supremacist agenda from the Trump Administration; immigrants, Black and Latinx communities and other communities of color in places like Chicago and all across the U.S. are under constant threat of violence from law enforcement and their civil rights deemed unworthy. Now is the time for local leadership to stand strong against Trump and fight for a better future and a safer community.
By approving the changes to the Welcoming City ordinance and FOP contracts, it will:
Continue to prohibit local law enforcement and other city government agencies from asking for information about a person's immigration status
Continue to guarantee local law enforcement will not arrest or detain individuals based on their immigration status
Close major loopholes and increase accountability for the Chicago Police Department
And provide broader and stronger protections for all immigrants and all communities of color.
The residents of Chicago deserve to live freely and safely in their communities regardless of their race, skin color, or immigration status.
Thank you,
[YOUR NAME]
Sign the Petition