Tell the Senate: Vote NO on Rex Tillerson as Secretary of State
Sign the Petition
* denotes required fields
YOU WILL RECEIVE PERIODIC UPDATES FROM COLOROFCHANGE.ORG. YOU MAY UNSUBSCRIBE AT ANY TIME.
Tell the Senate: Vote NO on Rex Tillerson as Secretary of State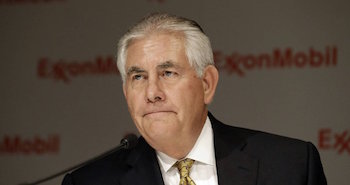 President-elect Trump is treating his potential Cabinet like a good ole boys club. Rather than picking appointees who have a background of service and expertise in their areas, he's filling the ranks with greedy, corrupt businessmen who will help him line his pockets. Rex Tillerson is no exception. As CEO of Exxon Mobil, he's done everything from violating U.S. law to misleading stockholders to ignoring calls to recognize civil rights. Now Trump wants him to head up the State Department.
Rex Tillerson has proven that he's untrustworthy and incapable of doing the right thing as head of a multinational corporation. There's no way that we can trust him to represent the interests of the United States on the international stage, nor to stand up for what's right. We have to call on our Congressional representatives in the Senate to reject Trump's proposed appointment of Tillerson as Secretary of State, and send a message that the majority of America stands in opposition to Trump's agenda of greed and hate.
Dear Senators,
I am writing to express my deep concern regarding the proposed appointment of Rex Tillerson as Secretary of State under President-elect Donald Trump. Mr. Tillerson, in his tenure as CEO of Exxon Mobil, has taken actions that are directly in opposition to the ethics and standards of the office, and the mission of the State Department. I call on you to reject Rex Tillerson as Secretary of State.
His confirmation would be unacceptable, and an affront to the majority of Americans who wish to see our nation represented abroad with diplomacy and tact rather than greed and corruption.
Thank you,
[Your name]
Sign the Petition