Call Now: Salesforce #CanceltheContract with CBP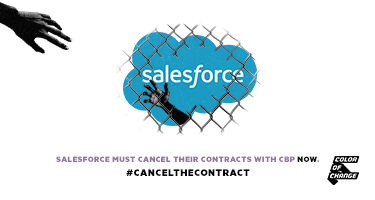 Salesforce is refusing to break ties with Customs Border Patrol (CBP) -- and now they are celebrating this week at their annual Dreamforce conference. Salesforce is a company that prides itself on the values of innovation and equality. But that could not be further from the truth. While CEO Marc Benioff tweeted that "Salesforce donated over $1 MILLION to help families separated at the U.S.- Mexico Border," the company continues to rake in huge profits by providing CBP the tools to do damage to thousands of children and their families.  
At this pivotal moment, we must amplify the pressure on this tech company. It is not enough for Salesforce to be public talking heads on values they are not even following. If we can show them that their consumers really care about their role in human rights violations and that this pressure isn't going to go away, we can get these decision makers to drop the contracts.
Call now. Once connected to Salesforce office, you'll be prompted -- Be sure to press 1 to connect with Sales department.