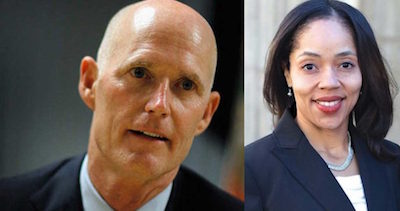 Call Rick Scott: Respect Aramis Ayala's leadership #StandWithAramis
Florida State's Attorney Aramis Ayala was just ousted on a key case by Florida Governor Rick Scott after she made the heroic decision to not seek the death penalty in the case or any case while she is in office. Even the victim's family supports Ayala's decision. Governor Scott is punishing her for making the right decision. Now Governor Rick Scott is threatening to remove her from office. He must be stopped.
Aramis Ayala is the first Black woman ever elected in history as a State's Attorney in the state of Florida. She ran on a daring and progressive platform in which she championed dramatic changes to the criminal justice system that would shift the power and control from law enforcement to enhancing safety and well-being of community members. As State Attorney, Ayala understands that justice deserves to be in the hands of the people. The people elected Aramis Ayala to do her job. Governor Scott is not respecting the voters' choice. We must stand with Aramis Ayala. We need more bold leaders like her. It's time to show respect for Black women's leadership.
Provide your information below to get the number to call. Make sure to tell us how it went in step 2!