Tell Congress to protect Black-owned businesses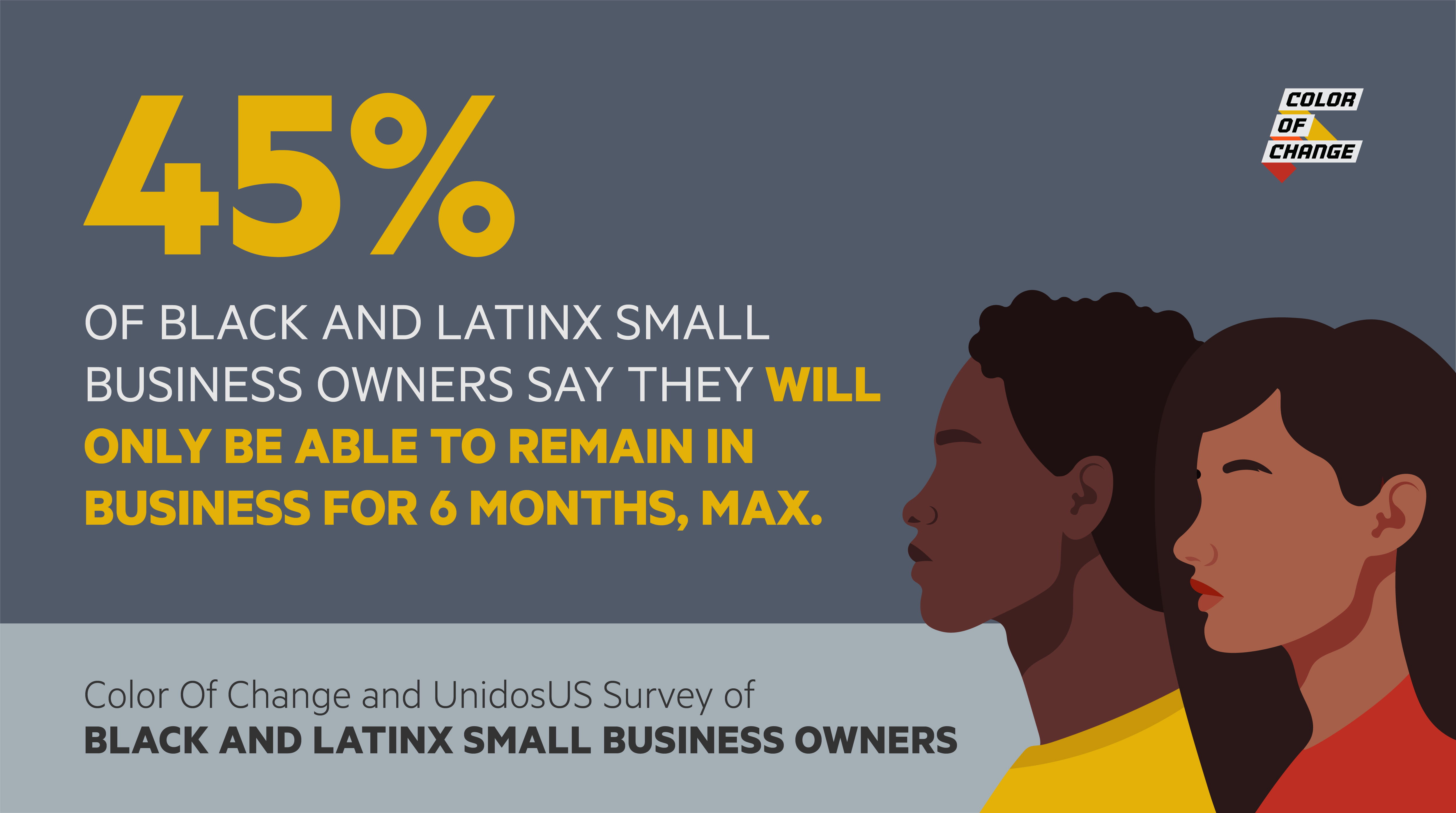 UPDATE: The protests flaring across the country reflect the centuries of injustice and discrimination targeted at Black people. Police brutality, redlining, discriminatory lending, and educational inequities among many others continuously harm Black communities across the nation. The current COVID-19 pandemic runs the risk of exacerbating these inequalities. Congress must address these structural inequalities. CALL NOW and tell Congress to pass the HEROES Act. 
---
Black businesses and their employees have been locked out of federal coronavirus relief. Congress' current small business relief program assumes that all business owners have equal access to credit and to banking services. But we know that has never been the case. From redlining to the refusal to provide loans, Black people in this country have historically been locked out of entrepreneurship, with devastating consequences for our communities.
As the Senate decides how to address the shortcomings of the Paycheck Protection Program, we must urge them to enact legislation that will provide additional financial relief to small business owners. The changes Congress is making could save small businesses by distributing additional loan funds, providing loan forgiveness, giving additional time for business owners to spend relief funds, and removing restrictions that have been preventing small businesses from being eligible for loan forgiveness. We must ensure that such adjustments include specific provisions and protections for Black businesses.

The proposed changes to the PPP as they are may not be enough to save Black-owned businesses. That is why we want to ensure that Congress implements clear, specific measures that protect Black-owned businesses by providing them with funds and benefits without strings attached. Legislation like the Paycheck Recovery Act, for example, provides much more specific provisions, ones that can help Black small business owners make up some of the revenue they've lost due to the pandemic, and cover business operating costs, like paying employees' salaries.  
Black businesses are pillars of the community that create pathways to independence for our people that would not otherwise exist. Because of the immeasurable impact that Black-owned businesses have, we must demand that Congress create specific relief measures to protect them. 
Call your Senator NOW and demand they protect Black businesses! Here are our demands:
Funding for small business grants, not loans, that will allow for Black-owned businesses to retain and rehire their workforce and reopen after the health crisis. This includes funds for direct payroll support, as well as covering all costs to maintain the business. Making sure that businesses, especially Black-owned businesses, can maintain payroll through direct transfers rather than loans will ensure these businesses can survive the crisis, get money into the hands of people more quickly, and relieve the strain on a patchwork of state unemployment systems.
Full, public accounting by race, gender, and geography of where stimulus money has gone particularly have Black-owned businesses received federal support.
Targeted support funds for Black businesses. Any additional funding for small business support should include a substantial dedicated fund for supporting minority-owned businesses.