Black Women's Brunch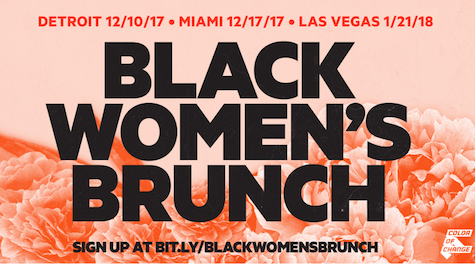 Color Of Change invites you to the Black Women's Brunch series in Detroit, Miami, and Las Vegas. 2018 will be a groundbreaking year, and it is time for us to get into formation, and organize around the issues that deeply impact our communities. Black women have fundamentally changed the way political presence is seen across America and no matter who is President, we know that we are the answer.
This December, the journey begins. Please join us for a morning of delicious food, community, and discussion. This will be a celebration of our unique power-- but also a call to action. It's time to build our political power and organize our communities around the issues that matter most to Black women. This is a child-friendly event.
WHEN:
Detroit - December 10, 2017 @ 11am
The DoubleTree Suites by Hilton Detroit Downtown, Crystal Ballroom
525 W Lafayette Blvd, Detroit, MI 48226
Miami - December 17, 2017 @ 11am
OE Event Space
13126 W Dixie Hwy, North Miami, FL 33161
Las Vegas - January 21, 2018 @ 11am
The Industrial Event Space
2330 Industrial Rd. Las Vegas, NV 89102