Tell your Mayor and City Council to end their secret police partnerships with Amazon Ring!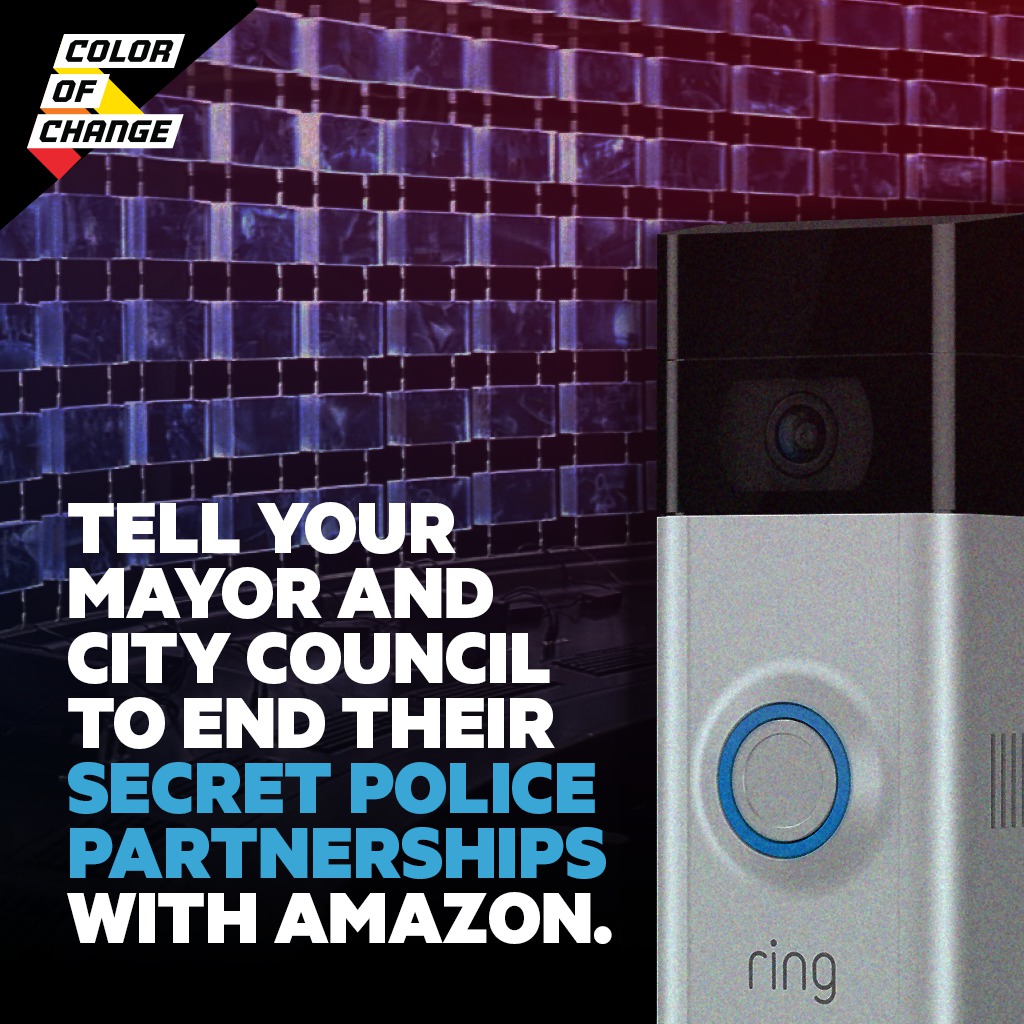 Amazon has secretly been partnering with law enforcement across the country to build a dangerous secret police surveillance system and you may unknowingly be a part of it. 
Many Black people know the gut-wrenching feeling of being watched by the police, pulled over, frisked, and placed in cuffs for a crime they did not commit. Or even worse, brutalized for going about their day-to-day business. Amazon, the company that markets itself as an innovative tech company bettering our lives easier, is knowingly fueling law enforcement's dirty tactic of spying on Black people. 
Millions of people use Amazon Ring, a camera doorbell device that allows users to see who is at their doorstep from a mobile app. Since 2018, Amazon has built partnerships with more than 400 police departments to provide them with easy access to the footage from these devices from millions of peoples' homes across the country. The number of police departments with access to the Ring devices is growing by the day, and they need to be stopped because these partnerships could be putting Black people at risk for misidentification and give law enforcement more power and control than they need. if you and thousands of other people pressure and call on your local mayor and city council to end their Amazon Ring police partnerships, we can stop the spread of Amazon's dangerous tactic of allowing police to spy on people and prevent millions of Black people from being surveilled.
Will you join call on your local government to take action?
Here is the Petition:
Dear Mayor and City Council, 

Amazon's dangerous police partnerships must be ended and I'm calling on you to put an end to our city's law enforcement partnership with Amazon Ring.

Allowing law enforcement to have this level of unprecedented access to Ring cameras and the footage is enabling police departments to build a secret surveillance system as we've never seen before. Surveillance does not keep communities safe and will only increase the chances of people being misidentified and matched for crimes they did not commit. 

The Amazon Ring police partnerships will give police yet another tool to spy, surveil, and control the lives of Black people. Without knowing how the footage is being used or stored by police departments, Amazon is allowing police to act with impunity, no oversight, and no public debate. 

Amazon Ring police partnerships violate peoples' privacy, puts Black people at a higher chance of being misidentified, and sets a dangerous precedent for public-private partnerships. You have the duty to protect our residents' privacy and mitigate the harms Black people are faced with. Please take action now.  

Sincerely,

[Your Name]