Tell your Governor: Grant Clemency NOW!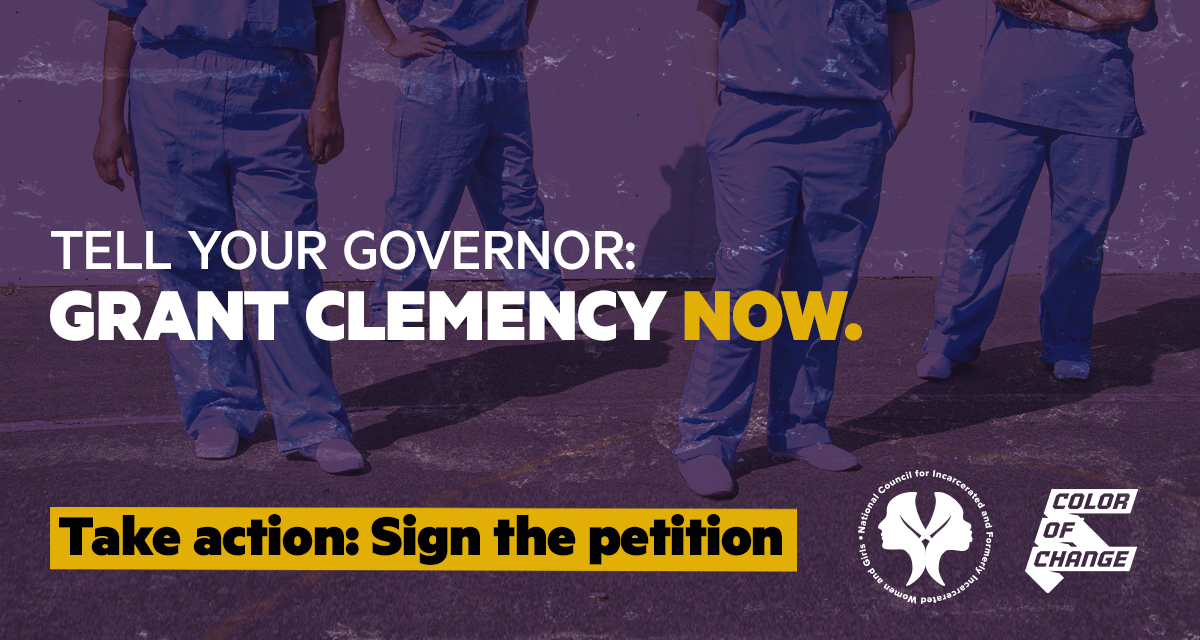 It's time to free the thousands of women and girls who are incarcerated and
deserve to be granted relief through clemency.
Hundreds of thousands of women and girls are currently incarcerated as a result of criminalization for what should be addressed as public health issues as a result of violence, poverty, mental illness and the illness of addiction. A prison will never be a place for a woman or girl to effectively begin to heal and advance her life. In most cases, incarceration of women has nothing to do with public safety and the disruption caused by the separation of mothers from children due to incarceration deepens poverty and further disenfranchises the communities most impacted by increasing rates of incarceration of women. Your governor has the power to do the right thing by granting them clemency.
In partnership with the National Council for Incarcerated and Formerly Incarcerated Women and Girls, we are calling on Governors around the country to reconsider the cases of those women and girls who need it most. Primarily Black women have been and continue to be the fastest-growing segment of the prison population in the United States -- making up 29 percent of the incarcerated population but only approximately 7 percent of the total population. But these women are not invisible to us. That's why there is a growing number of residents who are organizing statewide clemency coalitions.  
These women and girls grapple with the trauma of harsh and lengthy sentences that have devastated their families socially and economically and destabilized entire communities in our state while costing what we consider a fiscally irresponsible expenditure of tax revenue. We must encourage Governors to exercise their clemency power to free women and girls who have been incarcerated for unjust reasons.
See letter that will be sent to your governor below: 
Here is the Petition:
You are a powerful actor within the criminal justice system with the power to reconsider the cases of hundreds of Black women and girls who are being incarcerated for things directly related to poverty, violence and the illness of addiction. Many are elderly and suffering from terminal or long-term illness and many are long-timers, having been incarcerated for exceedingly long periods of time in excess of ten years. These women and girls have been forced to grapple not only with the trauma of their circumstances but also, the devastation that ensues when criminalized and incarcerated.

As part of our national campaign of clemency awareness, we call on you to exercise your power to grant clemency and seriously consider commuting the sentences of these women. We will not allow the stories and lives of these women to go unheard.

We urge you to use your powers of clemency to release women and girls who are:

• Criminalized survivors of violence: They are imprisoned for defending themselves, their children, or other loved ones. The system that by all rights should protect them has instead punished them. Let them go.

• Enduring sentences of more than 10 years: They have been subject to unreasonable long imprisonment causing grave emotional distress, which in turn continues to devastate them, their families, and our communities.

• Elderly: Some women are so frail that they can barely walk. There is no reason for them to be incarcerated at an advanced age when they should be home with their families. By 2030, nearly one-third of incarcerated people will be over 55.

• Living with long-term or life-threatening illnesses: No one deserves to die in a cage. There is no purpose or correction in such a death, only misguided and devastating punishment. The compassionate release must be an option for people who are gravely ill.

We ask you to free them, and in doing so live up the true meaning of justice.