Tell the NFL: Support Players' Platform for Racial Equality and Criminal Justice Reform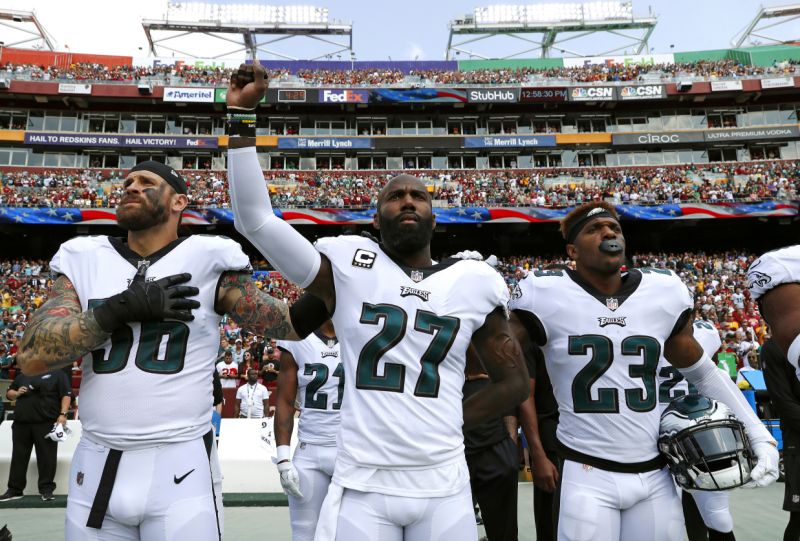 Donald Trump has once again used his Twitter account at a rally to use Black sports excellence to further his white supremacist agenda. His unsurprisingly racist and misogynistic statement, "Wouldn't you love to see one of these NFL owners, when somebody disrespects our flag to say, 'Get that son of a b*tch off the field right now, out. He's fired. He's fired!"
Following Donald Trump's urging that his buddies in NFL ownership fire players for protesting, NFL Commissioner Roger Goodell issued a weak statement calling for unity but addressed none of the substance of player protests and did not mention Trump by name. This Sunday, more players than ever are kneeling, sitting down, raising a fist or staying in the locker room entirely during the national anthem in solidarity with Colin Kaepernick and in support of demands for racial justice. It's past time for the league to take action.
Earlier this year a group of players and a former player, Malcolm Jenkins, Michael Bennett, Torrey Smith and Anquan Boldin; met with Roger Goodell and NFL officers to discuss the Player's Coalition's activism in their local communities. They delivered a recently publicized memo calling on the NFL to declare November a month of social activism to advance racial justice causes including criminal justice reform elevating the issue in the same way the NFL does with Breast Cancer Awareness Month. The request is detailed and includes an ask for owners and league officials to attend player-led visits to local prisons and meetings with formerly incarcerated people and their family. It also makes clear that the request is not for permission but financial support and genuine collaboration.
To this day Colin Kaepernick remains blackballed by league owners, 6 of whom donated $1M each to Donald Trump, despite public acknowledgement from elite quarterbacks around the league from Cam Newton to Aaron Rodgers to Tom Brady that Kaepernick is more talented that numerous QBs who have jobs today. Equivocation and calls for unity from the league are no longer acceptable.
Here is the Petition:
We support the efforts of players Malcolm Jenkins, Michael Bennett, Torrey Smith, Anquan Boldin and others to demand action from the league to support the Player's Coalition's activism for Racial Equality and Criminal Justice Reform. The league should immediately agree to the full terms outlined in the memo from the players including naming November a month to recognize and deepen player and team activism in local communities.

Public statements calling for unity are not enough, it's time for the league and owners to take substantive action directing financial support and ensuring public collaboration to further the player's platform of criminal justice reform including but not limited to attending the, as written in the memo, "Listen & Learn tour (a one/two-day tour) to gain the same knowledge and understanding of the issues and impact on the community. This would include a prison tour, meetings with grass-roots organizations, policy makers/non-profit leaders, police, families in the community and formerly incarcerated individuals."