Tell IB & Cambridge Assessment: Stop Erasing Black & Queer Students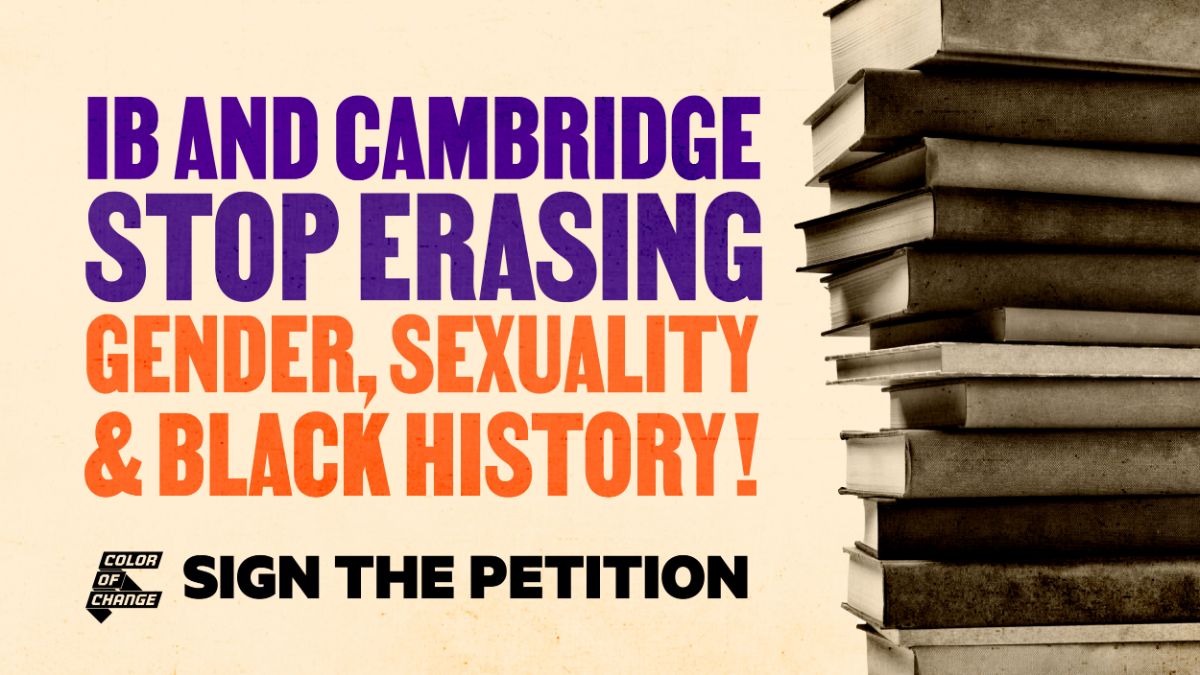 Here's the bottom line: International Baccalaureate and Cambridge Assessment are money-hungry corporations that never have put our children's education first. 
Ahead of the 2023-2024 school year, International Baccalaureate and Cambridge Assessment signed an Assurance Agreement certifying that their courses align with Florida's "Don't Say Gay" law, which bans lessons on gender identity/sexuality and forces students to be taught distorted versions of slavery, the Civil War and Reconstruction.  While IB and Cambridge Assessment released nearly identical statements refuting claims that their courses were tailored to this law, it has been made clear that their courses never have painted a complete picture of Black and queer experiences but rather indoctrinated students with historical falsities and scientific inaccuracies. This pattern continues in states like Arkansas, that are refusing to offer AP African American Studies for high school or college credit.
To date, the American Psychological Association and other industry experts have called into question the validity and robustness of IB and Cambridge Assessment courses. The APA  sent letters to IB and Cambridge Assessment asserting that their Psychology courses — if deemed acceptable under Florida's discriminatory standards — are "incomplete" and "limit the education of potential future psychologists." The American Council of Education plans to review AICE/Cambridge Assessment's Psychology course before recommending it for college-level credit. In other words, the over 2 million students enrolled in their courses in Florida and other states are being denied a high-quality education. 
When the Don't Say Gay law and Stop WOKE Act were enacted in Florida, all educational programs and book publishers were given a choice: Defend Black and queer students' access to accurate and affirming classroom lessons or become  Florida Gov. Ron DeSantis' newest henchmen in whitewashing and ciswashing K-12 education. The College Board refused to remove lessons on human sexuality from its AP Psychology curriculum, while Penguin Random House filed a lawsuit to challenge book bans targeting books by Black and LGBTQ+ authors. But in a blatant cash grab and money-making scheme, IB and Cambridge Assessment chose the latter. Neither program has publicly condemned the attacks on Black and queer students or explored ways to expand representation in their coursework. Instead, IB and Cambridge Assessment remain intent on earning millions of dollars on the backs of students who are being sold bigoted and inaccurate learning materials. 
At a time when the College Board remains under attack for resisting calls to whitewash and ciswash its AP courses, IB and Cambridge Assessment must do what is needed to protect students' access to accurate and inclusive college-level courses altogether. Demand that International Baccalaureate and Cambridge Assessment equip students with the tools needed to achieve personal success and dismantle the oppressive systems that hold us all back.
Below is the letter we will send to executives at International Baccalaureate and Cambridge Assessment:
Here is the Petition:
Dear IB and Cambridge Assessment: 



During the past few years, Florida Gov. Ron DeSantis has made his agenda clear: To indoctrinate students with historical inaccuracies that hinder their understanding of race and gender in this country. 



While the College Board and Penguin Random House have resisted book bans or attempts to whitewash and ciswash their courses, IB and Cambridge Assessment have not. Instead, you have decided to sell your respective diploma programs to Florida and beyond knowing that your curricula fail to provide students with an accurate and inclusive understanding of history, psychology and other core subjects. This pattern continues in states like Arkansas.

 It remains clear that IB and Cambridge Assessment will put profits before students and that you view K-12 education as nothing more than a money-making scheme. 



It is time for IB and Cambridge Assessment to follow in the footsteps of its peers and commit to the following: 

Work with external scholars in Black studies and queer studies to conduct an audit and rewrite all existing social science courses. 

Make a commitment never to collude with Florida Gov. Ron DeSantis, the FLDOE and others, including those in other states, seeking to whitewash and ciswash classroom materials.