Demand Justice for Saheed Vassell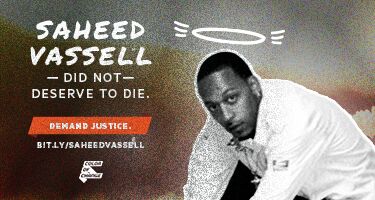 Around 4:30 pm on Wednesday, April 4th, Saheed Vassell a 34-year-old Black man was murdered by the New York Police Department in Brooklyn. Four police officers, three of whom were dressed in plainclothes, fired, at minimum, ten shots at Saheed as he stood on a street corner in broad daylight. The police were shooting so recklessly that a bullet went through the window of a corner store that Saheed was standing near. 
Saheed was holding a metal pipe that the police say they mistook for a gun. However, witnesses say that the police never told Saheed to drop what he was holding, they didn't announce themselves, and they didn't confirm that he was holding a gun before shooting. Saheed, a staple in his Crown Heights neighborhood was known by his neighbors to be mentally challenged and the NYPD had even classified him as an emotionally disturbed person. However, the hyper-militarized Strategic Response Group (SRG) police officers who responded to the 911 calls did nothing to address Saheed's known mental challenges and instead starting shooting immediately when they pulled up, in an unmarked police car, to the corner where Saheed was standing. The SRG unit was established in 2015 to respond to civil unrest and terrorist incidents however, they are deployed in Black and brown communities constantly--this must stop. 
None of the officers names have been released and none of them were wearing body cameras. Saheed was later taken to Kings County Hospital where he was pronounced dead however, many in the community believe he died on the scene.
The murder of Saheed Vassell comes not only three weeks after the police murder of Stephon Clark in Sacramento, but also on the 50th anniversary of the assassination of Dr. Martin Luther King reminding us so somberly that the fight for justice continues today. 
We need to demand that New York City Mayor Bill DeBlasio:

Immediately release the names of all officers involved in Saheed's murder as well as any previous misconduct claims filed against those officers
Release of all unedited audio and video footage of officers before, during, and after the killing of Saheed
End the over-deployment of the hyper-militarized Strategic Response Group in communities, who's officers responded to police calls about Saheed
Here is the Petition:
Dear New York City Mayor Bill DeBlasio:

We ask that you take immediate action towards justice for Saheed Vassell who was gunned down by four NYPD officers April 4th in Brooklyn. Saheed was a long time Crown Heights resident known by many in the neighborhood to suffer with mental health challenges. We demand that you do the following: 


The immediate release of the names of all officers involved in Saheed's murder as well as any misconduct claims filed against those officers. 

The release all

 unedited audio and video footage of officers before, during, and after the killing of Saheed
An end the the over-deployment of the hyper-militarized Strategic Response Group in communities, who's officers responded to police calls about Saheed 

We demand action from you immediately. 

Sincerely,