Tell Congress: Defund the police!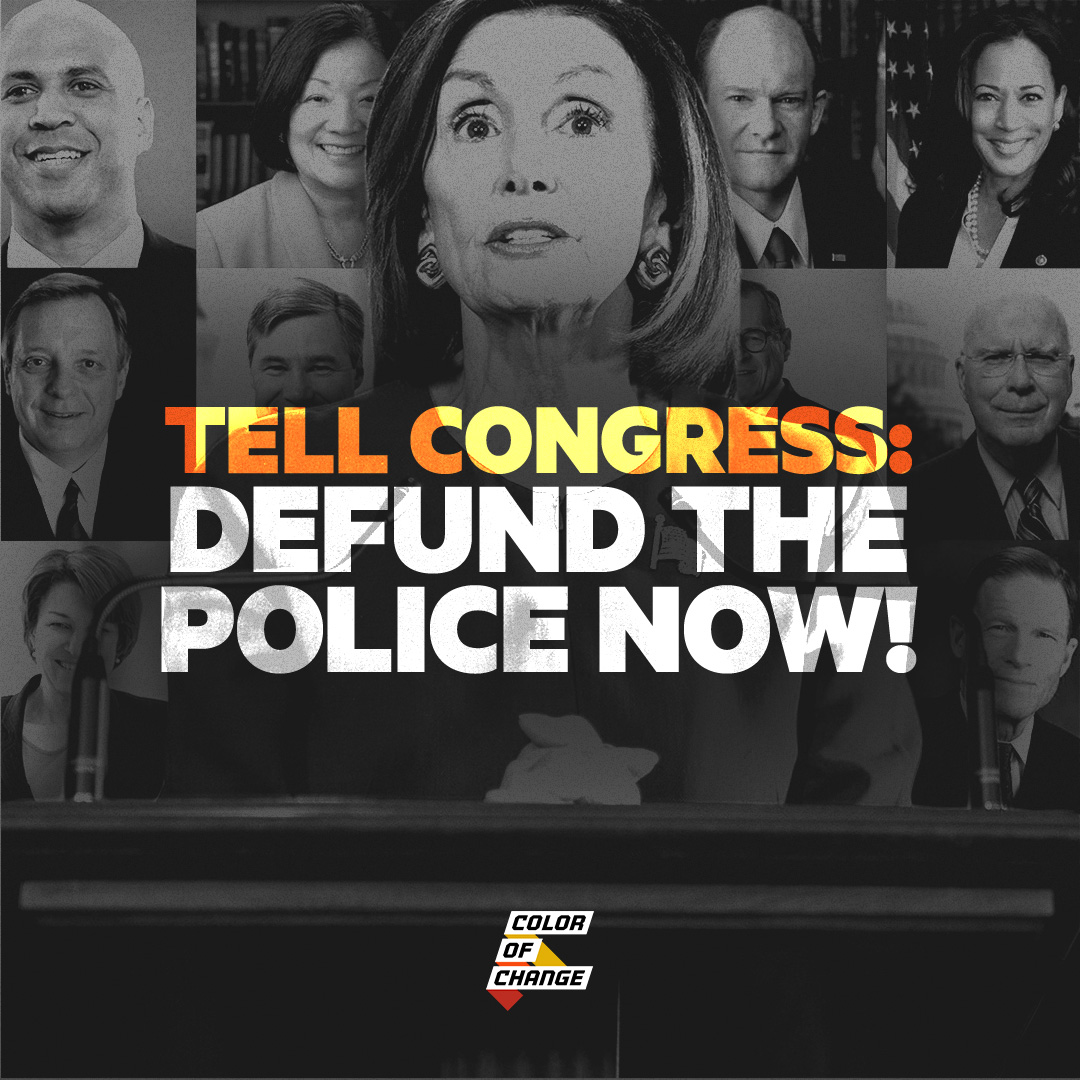 Following weeks of national protests calling for police reform, political leaders in Washington are finally taking steps to address the crisis of policing. Last week, Trump signed an executive order that he claims addresses the problem of police violence. However, the executive order does not do much to actually hold police accountable. Instead, the President has given us disingenuous band-aid solutions that do not even address his own administration's moves to undermine police accountability. 
Senate Republicans also announced a legislative package called the "JUSTICE Act" that would do nothing but maintain the status quo -- they are determined to make police reform almost meaningless as they do the bidding of police officers. To make matters worse, Senate Majority leader Mitch McConnell has been pressuring Senate Democrats to team up with Republicans and approve this watered-down and piecemeal police reform.
Senate Democrats must oppose this bill and commit to ending the transfer of federal money as well as military equipment to local police completely. Our communities need resources, not more police. 
For years, public officials have been significantly underfunding the social safety net in Black and brown communities resulting in mass unemployment, homelessness, and mental health crises as well as poor quality education for our children. Yet, police budgets have only ballooned over the years. More importantly, police are not trained to deal with these societal issues with compassion or care but rather encouraged to use lethal force. Overinvestment in police and underinvestment in public services lead to more criminalization of Black and Brown communities. 
Simply put, we cannot keep doing this. Police do not keep our communities safe, they are dangerous and have demonstrated over and over again an unwillingness to be held accountable. We have to try new strategies that will cultivate stability and foster trust in our communities. And it starts with reducing federal funding to police. Our lives literally depend on it.  
Tell Congress: Defund the police Now!
Here is the Petition:
Dear Member of Congress,

We are looking at our political leaders in Washington to finally take steps toward addressing the crisis of policing. T

he "JUSTICE Act" would do nothing but maintain the status quo -- it is almost meaningless as it only does the bidding of police officers. T

he best way to end the violence and oppression inflicted on Black communities is to significantly reduce the size and scope of policing and invest in our communities.

I am calling on you to end the Department of Defense 1033 program, which transfers militarized equipment to police departments and has made police "at war" with their communities. And reexamine and redirect Byrne Justice Assistance Grants (Byrne JAG) and other federal grants that currently fund our failed criminal legal system. Congress must end Community Oriented Policing Services (COPS) grants, which are used for little more than hiring police for streets and schools.

You must stand up for what is right by ensuring our communities get real solutions that keep us safe. 

Signed,

[Your Name]