Tell tech companies to stop being accomplices to the criminalization of certain pregnancy outcomes!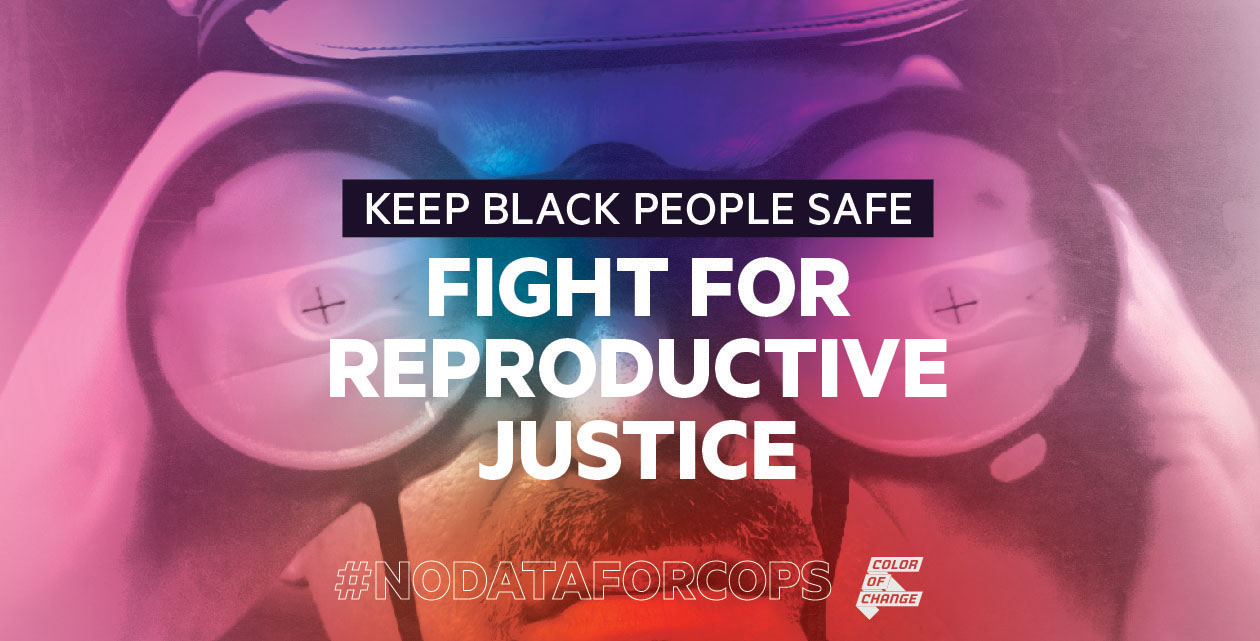 On June 24, the U.S. Supreme Court overturned Roe v. Wade, the landmark ruling that established the constitutional right to abortion almost half a century ago. Overturning Roe infringes not only on the bodily autonomy of Black people, but also our privacy. Anti-abortion legislation is not pro-life: it is pro-white supremacy.
In the United States, white supremacist actors have often cloaked their hateful movements in purported Christianity to deflect scrutiny of their true motives. Organizations, such as the National Association for Christian Lawmakers (NACL), have pushed for anti-abortion legislation that proposes the bounty hunting of people who seek abortions in other states. At the same time, companies—like Facebook and Google—collect data that can be used by these hateful groups to enact state-sanctioned violence. Such data includes searches for abortion clinics and pregnancy symptoms, location data, and whether someone has missed their period. In August 2022, Facebook gave Nebraska law enforcement the direct messages of a teenager who had an abortion so that they could prosecute her with "removing/concealing/abandoning [a] dead human body," "concealing the death of another person," and "false reporting." Due to the inherent violence of these groups and the danger of having reproductive health and outcomes data that can be weaponized, companies need to stop collecting this data and update their policies on hate groups to include these anti-abortion groups. 
Despite the end of Roe, a better future can be realized. We can build a world centered on the needs of Black women, trans, non-binary, and disabled people. Our bodily autonomy should not depend on unelected justices appointed to push a white supremacist agenda. We must work collectively to protect ourselves and our communities. Join us in sending postcards to tech companies demanding they stop collecting data that can be weaponized for the criminalization of Black people.
Here is the Petition:
Mark Zuckerberg, Sundar Pichai, and other tech CEOs,

You must stop collecting private data related to reproductive health and outcomes, and update your policies on hate groups to include anti-abortion groups. In the United States, white supremacist actors have often cloaked their hateful movements in purported Christianity to deflect scrutiny into their true motives. Organizations such as the National Association for Christian Lawmakers (NACL) have pushed for anti-abortion legislation that legalizes the bounty hunting of people who seek abortions in other states. The criminalization of certain pregnancy outcomes is an act of coercive reproductive control over Black people and furthers a white supremacist agenda. 

Your collection of electronic data—tracking searches for abortion clinics, location data, direct messages, or period tracking—enables this criminalization. We already saw the danger of this data collection: in August of 2022, Facebook gave Nebraska law enforcement access to the direct messages of a teenager who had an abortion so that they could charge her.

Abortion is healthcare and anti-abortion legislation is not pro-life; it's pro-white supremacy. If you continue to collect this data and allow anti-abortion groups to organize on your platform, you are complicit in pushing forward a white supremacist agenda.

Sincerely,

[Your name]