Tell Facebook to enact the full set of recommendations from its civil rights audit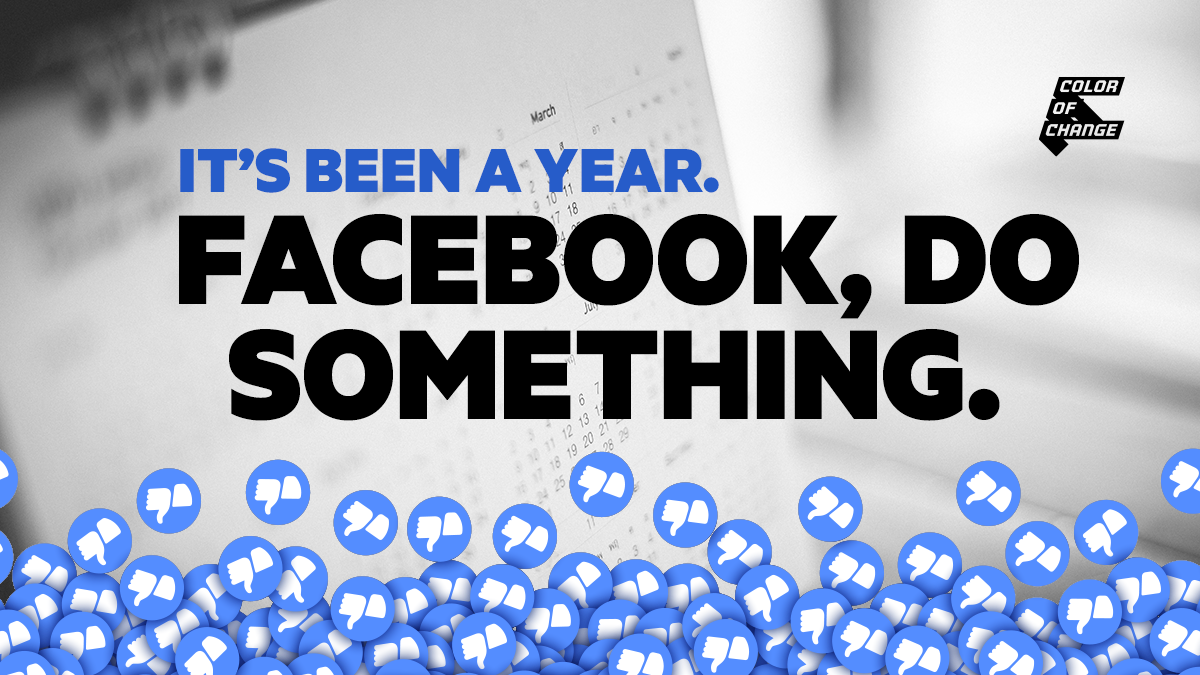 One year ago, we launched our "Stop Hate for Profit" campaign, where we organized more than 1,200 corporations—representing hundreds of millions of dollars—to boycott advertising on Facebook for failing to protect its Black users and community stakeholders. Our campaign forced Facebook to publicly release the civil rights audit conducted for their company last July. Yet Facebook still refuses to adopt the vast majority of recommendations meant to curb racism and abuse on the platform and ensure Facebook leaders stop making decisions that harm Black people. Instead, Facebook supercharged misinformation during the 2020 election, providing Trump and other right-wing extremist groups with unprecedented tools that made organizing the insurrection possible. Facebook continues to sink to new lows—they said they banned Trump for two years, then let him run ads for his June rally and fundraise to further line his pockets.
If Facebook continues to prioritize profit at any cost, it will continue to embolden and amplify white nationalists who use the platform to stoke hate, fuel dangerous misinformation, and incite real-world violence against Black people and our allies. We cannot let Facebook forget the danger it poses to the physical and digital lives of Black people the longer it refuses to enact the civil rights audit recommendations. 
Demand Facebook to enact the crucial recommendations from the civil rights audit including:
Prioritize civil rights in business operations and products. All leaders and employees must prioritize civil rights when creating new products in an effort not replicate existing inequalities. It is imperative that internal civil rights staff lead this charge and standard set so that Facebook does not make the same mistake of allowing discriminatory products on its platform as it did with the discriminatory housing, employment, and credit ads.

Implement and enforce a broad and robust policy to eliminate white nationalism and white separatism from the platform. Facebook's current policy on white nationalism and separatism is too narrow. Content that explicitly uses the phrases "white nationalism" or "white separatism" is removed whereas content that shares the same sentiments without using those exact words and phrases is allowed. This allows dangerous, white supremacist groups to continue organizing on the platform and to threaten the lives of Black people and their allies in real life.

Engage civil rights and anti-discrimination experts when reviewing algorithms. Facebook was charged with both allowing and delivering discriminatory ads — deciding which ads users would see on the back end. Experts at the nexus of civil rights and computer science can determine when algorithms reproduce bias and discrimination. The identification of these algorithms allows Facebook to make the critical decision of revising them, so that products and services used on their platform are distributed fairly and equitably.
These recommendations will make a material difference in the lives of Black people and communities in both the physical and digital worlds. Facebook must, at minimum, implement these audit recommendations to restore trust with Black users. 
Here is the Petition:
Facebook,

It has been one year since the release of the civil rights audit recommendations. You have yet to enact the full set of recommendations. Your inaction has resulted in misinformation during the 2020 election and Trump

and other right-wing extremist groups organizing the violent insurrection at the Capitol

. Now, you have

side-stepped decisive action to permanently ban Trump, which leaves the door open for his return ahead of the 2024 presidential election season

.

Your inaction puts you on course to repeat your failures, imperiling Black lives and democracy once again.

We demand that you

publicly respond to last year's civil rights audit, enact its crucial recommendations, and adopt Color Of Change's new #BeyondTheStatement Tech Framework to undo the policies, practices, and products that continue to manufacture race-based discrimination and inequity

.