Tell Corporations: Divest from Cop City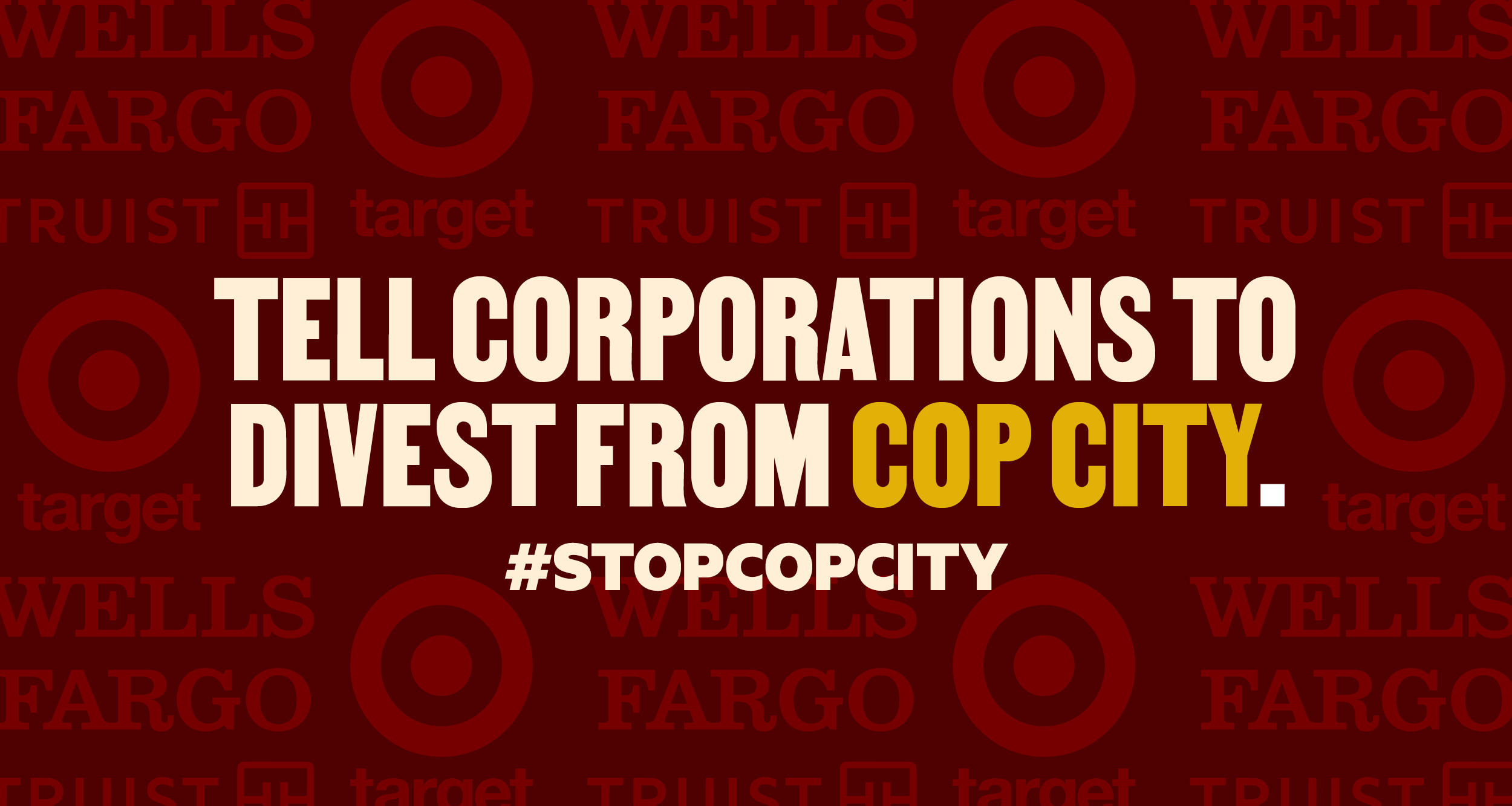 For weeks, several activists have occupied the proposed site for Cop City in the South River/Weelaunee Forest to try and halt construction. The group calls themselves the forest defenders and pushed for the public will to be heard: Stop Cop City. On January 18th, in a raid on the compound, Georgia State Police shot and killed one of the forest defenders.  Immediately afterward, bulldozers rolled in, razing the campsite  as if nothing happened. 
As the movement against the Cop City project has built momentum, the Atlanta and Georgia State police have become increasingly aggressive and violent towards protesters. Barely a month ago, local activist Marlon Kautz predicted "a situation where the police are murdering protesters in order to advance, not public safety, but their particular political agenda" in building Cop City. This wanton disregard for life lies at the feet of the APF and the corporations that made the funding of Cop City possible. 
Let's not mince words: The Atlanta Police Foundation has a history of using corporate donations to fund the expansion of the police at the expense of the Black community in Atlanta. It is now more important than ever that we hold  corporations such as Target, Wells Fargo, and Truist Bank accountable for backing Cop City through their financial support of the Atlanta Police Foundation. They must immediately end their support. 
Clearly, "Cop City" is another attempt to bolster the APF's influence, militarize the police and increase their control over Black Atlantans. In 2020, dozens of  Atlanta police officers  staged a "sick-out" after prosecutors filed charges against their colleagues for killing  Rayshard Brooks, a Black man who simply fell asleep in his vehicle. The APF awarded the Atlanta officers who stayed off the job with a $500 bonus even as advocates demanded justice for Brooks.  At the same time, the APF has helped Atlanta become  one of the most surveilled cities in the country: It helped pay for the network of 11,000 surveillance cameras stationed across the city. . 
"Cop city" also puts the environmental health of these same Black communities at risk. The South River is the fourth most endangered river in America. The chemical runoff from weapons testing at the militarized police facility will further pollute the South River and the surrounding communities. Black Atlantans already bear the brunt of pollution in Georgia. "Cop city" is yet another example of the state risking the health of Black communities. In September 2021, we urged  the Atlanta City Council to vote against "Cop city," but they ignored our pleas, despite overwhelming public opposition. But the fight isn't over yet
The forest defender's killing is a moment of mourning for activist communities nationwide. We cannot standby while the interests of police and corporations superseded the will of the people. To prevent further violence, we call for the end of all financial support to the Atlanta Police Foundation. 
Below is the statement we will send to Target, Wells Fargo, and Truist Bank
Here is the Petition:
Dear Executives,

We are calling on Target, Wells Fargo, and Truist Bank to divest from  the Atlanta Police Foundation and the construction of "cop city". The proposed 85-acre, tactical training facility in the heart of the South River Forest will harm both Black Atlanta residents and the local ecosystem. 

Black communities will be especially harmed by the police expansion and militarization the project represents . Studies have shown that police with more military equipment kill more civilians, prevent less crime, and make residents feel less safe., The faux tactical village APF seeks to create will train officers to view Atlanta like a warzone and treat civilians like potential enemy combatants. Additionally, the South River is the fourth most endangered river in America. Researchers believe that the chemical runoff from weapons testing at the militarized police facility will further pollute the South River. 

Atlanta does not need a sprawling, polluting militarized facility. Corporations must divest from both the Atlanta Police Foundation and "cop city". Instead, we demand the money be invested in proven, community led initiatives in education, housing, violence prevention, and mental healthcare

Sincerely 

[Your Name]