Tell your Mayor and City Council to end their police partnership with Amazon Ring!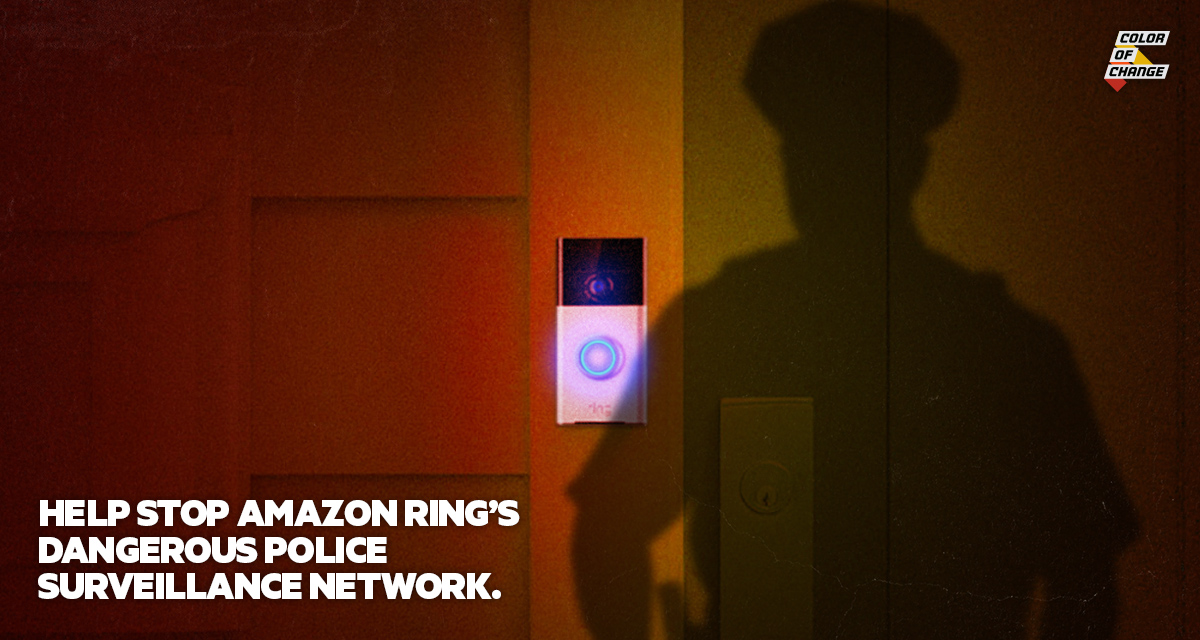 Amazon is creating a digital ecosystem, in which neighbors can assume the worst of their Black and Brown neighbors.
Amazon Ring is a camera-enabled doorbell monitoring system, in which the user can see who is at their doorstep or when a package has been delivered all from their phone. It seems harmless, right? Well, Amazon now wants to cash in on this country's police force's growing desire to want to monitor people's every move. Over the last year, Amazon has partnered with over 400 police departments to create a network of mass surveillance. Here's how it works -- police departments can "request" footage from Ring users through an app under the guise of making their neighborhood "safer," then the police can use the footage to harass, arrest, detain, or even deport someone as part of an investigation. Amazon even takes the fearmongering to another level by adding crime alerts to the app and notifying Ring users when there is a suspect on the loose in their neighborhood.
Police use deceitful tactics to turn a "request" for footage into a demand. Using intimidating language and so-called evidence of a crime, police lead users to believe that they have no option but to turn over their footage. When people purchase Amazon Ring devices, they are not signing up to be a part of a police investigation, but these Ring partnerships put them in that position against their will. This is a clear violation of the 4th amendment, which gives us the right to be safe in our home from searches unless there is a warrant. Amazon is basically giving police cover to circumvent the law and violate our rights without a warrant.
Amazon claims that giving camera access to police for surveillance is helping to keep neighborhoods safe. Law enforcement and Amazon are not to be trusted to keep anyone safe and they've shown us this time and time again. Amazon has already partnered with ICE to provide them with facial recognition software to detain immigrants and the police lock-up Black people for sport. Surveillance tools simply provide more opportunities for people to be arrested and locked in cages. We need better schools, jobs, and mental health services and NOT police monitoring to keep us safe. 
Amazon Ring leads us to believe that there is actually more crime in our communities then there is and profits off of our collective fear and paranoia. If you and thousands of others pressure your mayor and city council to end their Amazon Ring police partnership, we can stop Amazon from profiting off law enforcement's desire to surveil vulnerable communities.
Here is the Petition:
Dear Mayor and City Council, 

The unprecedented police partnership with Amazon Ring must be ended and I'm calling on you to immediately put a halt to this mass surveillance network, which could put vulnerable communities in harm's way.

Allowing law enforcement to have this level of unprecedented access to Ring cameras and the footage is enabling police departments to build a  mass surveillance system as we've never seen before. With no oversight and accountability, the police are bound to use this technology to abuse their power. The risk of abuse is far too high.  Surveillance does not keep communities safe.

Amazon is setting a dangerous precedent - law enforcement should not use private partnerships and tech tools to beef up their mass surveillance efforts.

Sincerely,

[Your Name]