Tell major railroad corporations to make their trains safer!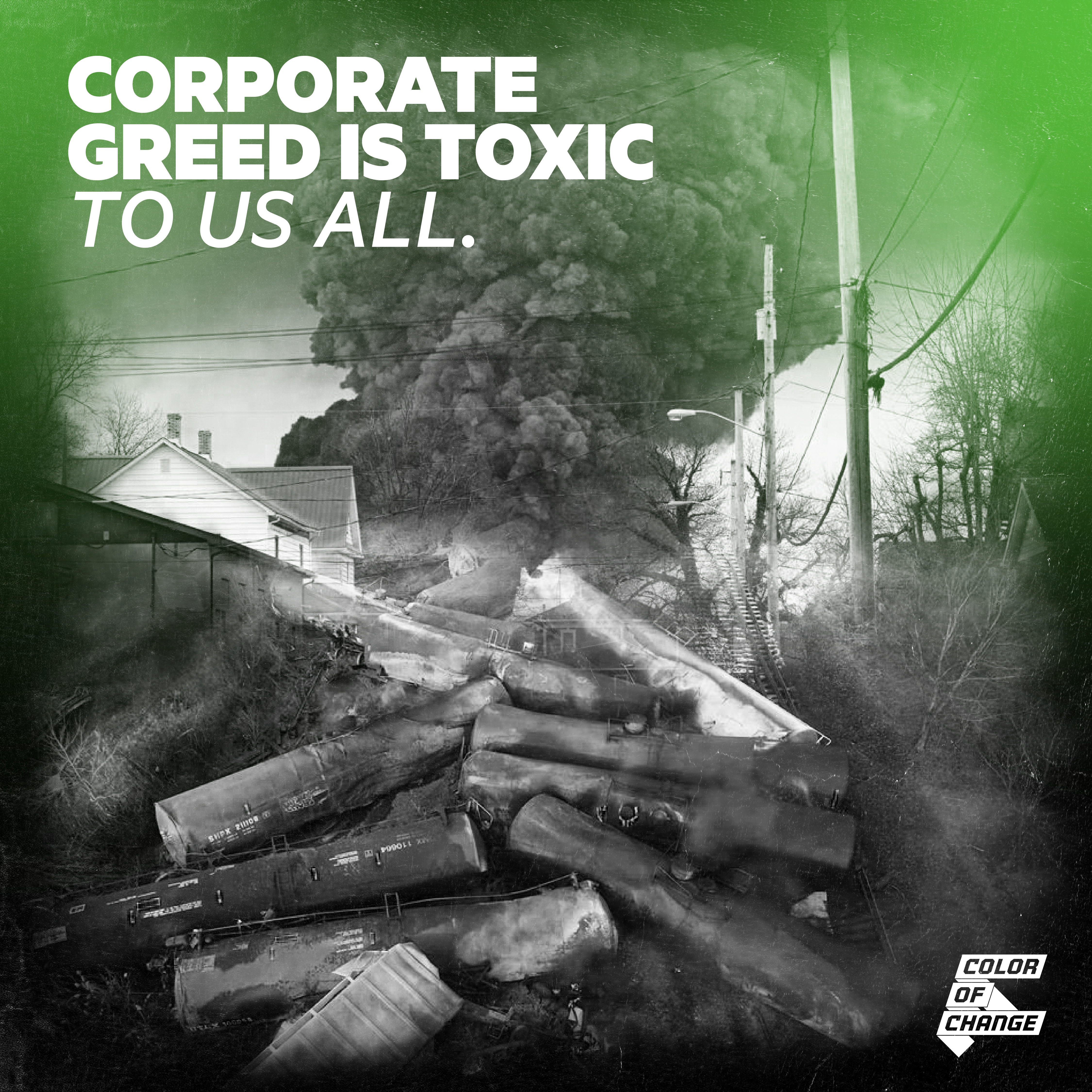 Corporate greed is a danger to workers, our planet and to us all. Earlier this month, a Norfolk Southern freight train carrying toxic chemicals, including cancer-causing vinyl chloride, derailed in East Palestine, Ohio. To prevent the train from exploding, authorities burned the chemicals, creating a giant smoke cloud that shrouded the area. This resulted in thousands of dead fish and animals and contaminated air, water and soil in East Palestine, which may cause grave health and environmental issues later. 
This disaster was preventable. Railroad workers have been sounding the alarm on train corporations rolling back safety measures to maximize profits. Norfolk Southern has lobbied three presidential administrations for exemptions from safety requirements and killed a rule to update its trains' braking systems. Without these regulations, Norfolk Southern hoarded millions of dollars by neglecting maintenance of its trains and refusing to upgrade its braking system.
Black communities are no strangers to what is happening in East Palestine. Norfolk Southern turned East Palestine into a "sacrifice zone," an area concentrated with industrial activity, higher levels of pollution and an elevated risk for cancer. The South is home to more than half of Black Americans and it is the location of the majority of sacrifice zones. Predominantly Black communities have more than double the estimated cancer risk compared to predominantly white communities. On top of the threats of pollution and cancer, an estimated 25 million people live within a mile of a train route carrying explosive crude oil in the United States. This is particularly concerning because an an average of more than 1,700 train derailments occur each year!
Since the train derailment in East Palestine, at least three more have occurred involving toxic chemicals, including one outside of Detroit. Railroad workers continue organizing for safer working conditions, such as paid sick leave and hiring more staff. Tell major railroad executives to listen to their workers and implement safety measures!
Here is the Petition:
Major railroad executives,

The health and ecological disaster unfolding in East Palestine, Ohio, was preventable. Despite carrying carcinogens, such as vinyl chloride, these train cars were labeled as "non-hazardous" to be exempt from safety measures. These train cars had poor weight distribution, axle issues and were not equipped with electronic braking systems. 

There have been at least three additional train derailments since then involving toxic chemicals, including one outside of Detroit. The thousands of dead fish and animals, environmental contamination and future health issues are your fault. 

Railroad workers have been calling for safer working conditions, such as hiring more staff and addressing safety issues. Listen to your workers and implement safety measures to keep us all safe.

Sincerely,
[Your name]