Save Our Seniors: Tell Governor Cuomo to release all aging people at the Adirondack Correctional Facility
Save Our Seniors: Tell Governor Cuomo to release all aging people at the Adirondack Correctional Facility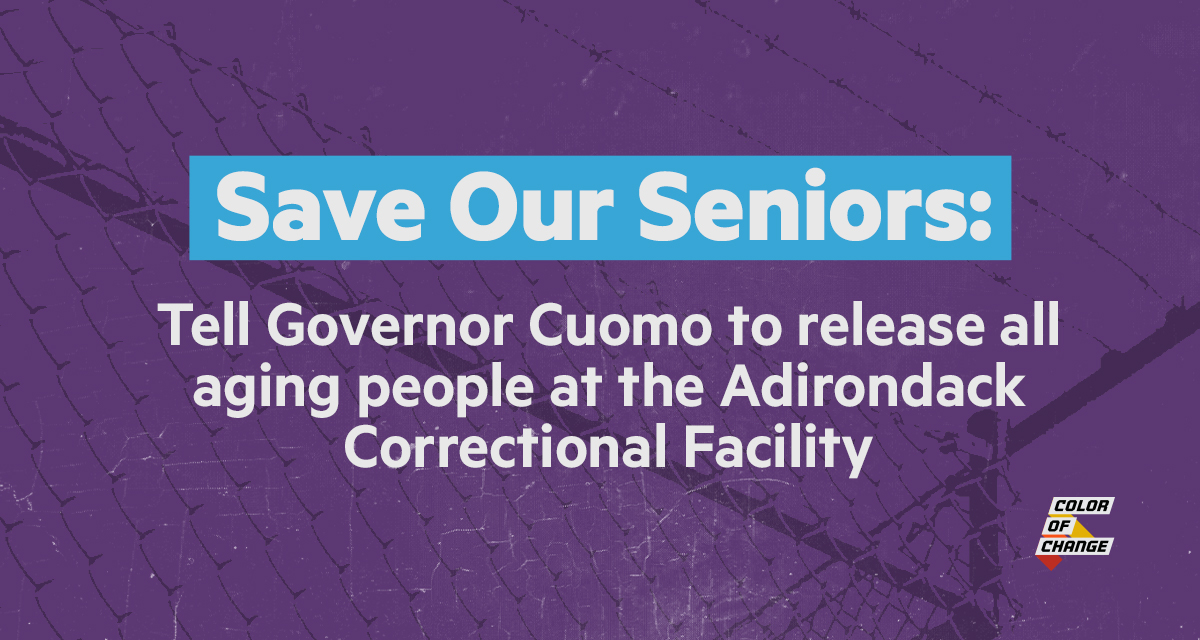 Prisons are hotbeds for the ongoing spread of the coronavirus. In New York, incarcerated people are far more likely to contract the virus. We know incarcerated elders are particularly susceptible. And yet, Governor Andrew Cuomo and the State's Department of Corrections and Community Supervision (DOCCS) have refused to release so many older people who could be safely released.
Instead, DOCCS created what is essentially a prison nursing home. In June, while COVID-19 was raging in NY State prisons, Cuomo's prison system transferred incarcerated elders to Adirondack Correctional Facility -- a youth facility converted, in haste, to warehouse some of the oldest and sickest New Yorkers in prison. Many entered Adirondack with serious health concerns, weren't tested, and have been routinely denied access to basic medical attention. Governor Cuomo's willful neglect of incarcerated elders is becoming all the more clear.

For months, our partners at Releasing Aging People in Prison (RAPP) have called on Governor Cuomo to exercise his clemency power during the COVID-19 outbreak and release as many people from jail and prison as possible, but he has taken NO meaningful action.
We need Governor Cuomo to take immediate action and release all aging people at the Adirondack Correctional Facility. Add your name now to demand action.
Here is the Petition:
We urge you to use your power as Governor to release all of our incarcerated elders being held at the Adirondack Correctional Facility. In the midst of the current COVID-19 crisis, you have continued to call on New Yorkers to stay home and practice social distancing of at least six feet. We know this is impossible for those behind bars. In New York, incarcerated people are more likely to contract COVID-19.

This is a life-threatening virus for all of us, particularly Black and Brown communities and seniors. Moving seniors to Adirondack is a recipe for disaster — and puts them at increased risk of contracting and transmitting coronavirus. If we don't take immediate action, Adirondack could become another COVID hotspot. Lives are at risk.

Governor Cuomo, I am asking you to immediately release the most vulnerable people — all elderly people, ages 55 and older — from the Adirondack Correctional Facility.