Safeway, Black SNAP benefit recipients deserve the ability to shop online for groceries.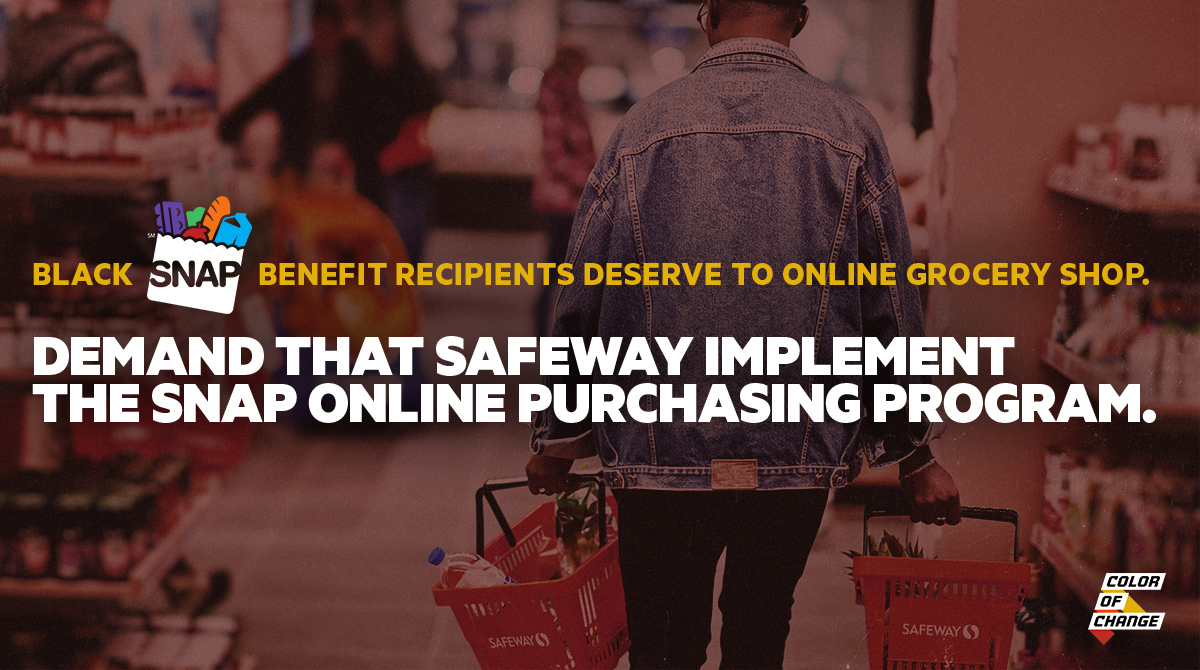 Safeway relies on the business of Black SNAP benefit recipients and should ensure their food security by allowing online purchases free of delivery fees. Black families, mothers, and the elderly have to face additional barriers to having a solid food supply and by allowing online purchases through SNAP benefits, Safeway can protect those who need it most. The needs of our community are constantly evolving due to coronavirus and corporations must respond. 
Food deserts are most often found in Black communities. Providing families with the opportunity to remain safe within their homes by using their SNAP benefits online would aid in protecting one of the most vulnerable communities. 
In cities such as Maryland and New York, food retailers are now demanding masks be worn upon entrance. With masks unavailable in stores or online, along with some families lacking access to means to purchase them, online grocery shopping with SNAP benefits is needed more than ever.
SIGN THE PETITION: Demand that Safeway implement the SNAP benefit online purchase program. 
Below is the letter we will send to the executives at Safeway: 
Here is the Petition:
Dear Safeway Executive,

I'm writing on behalf of Color Of Change, the nation's largest online racial justice organization with more than 1.7 million members, and we are calling on Safeway to address the food insecurity of vulnerable communities. We are deeply concerned with Black communities' access to nutritious food via online ordering and the ways in which program implementation for the Supplemental Nutrition Assistance Program (SNAP) online purchasing pilot program may undermine data protection for Black SNAP recipients. As the nation grapples with the current coronavirus pandemic, we are calling on Safeway to immediately implement the SNAP pilot program and ensure that Black and low-income families are not subjected to additional consumer data collection in the process of making purchases.

According to early data, Black people are disproportionately dying from coronavirus. Providing Black families with the opportunity to remain safe within the confines of their homes by using their SNAP benefits online would aid in protecting one of the most vulnerable communities. Not to mention, within our vulnerable community many SNAP benefit recipients are also elderly and disabled, further exacerbating harmful shopping conditions. Additionally, this would help guarantee the safety of Black and marginalized communities and that of the broader public. 

In the past three weeks, 17 million people have filed for unemployment. Food insecurity will only exponentially increase as businesses fold and layoffs continue. We request that Safeway accept online SNAP benefits and waive delivery fees for recipients in need of an online marketplace.