Tell Revolt TV: Issue an Apology to George Floyd's Family & Stop Amplifying Disinformation!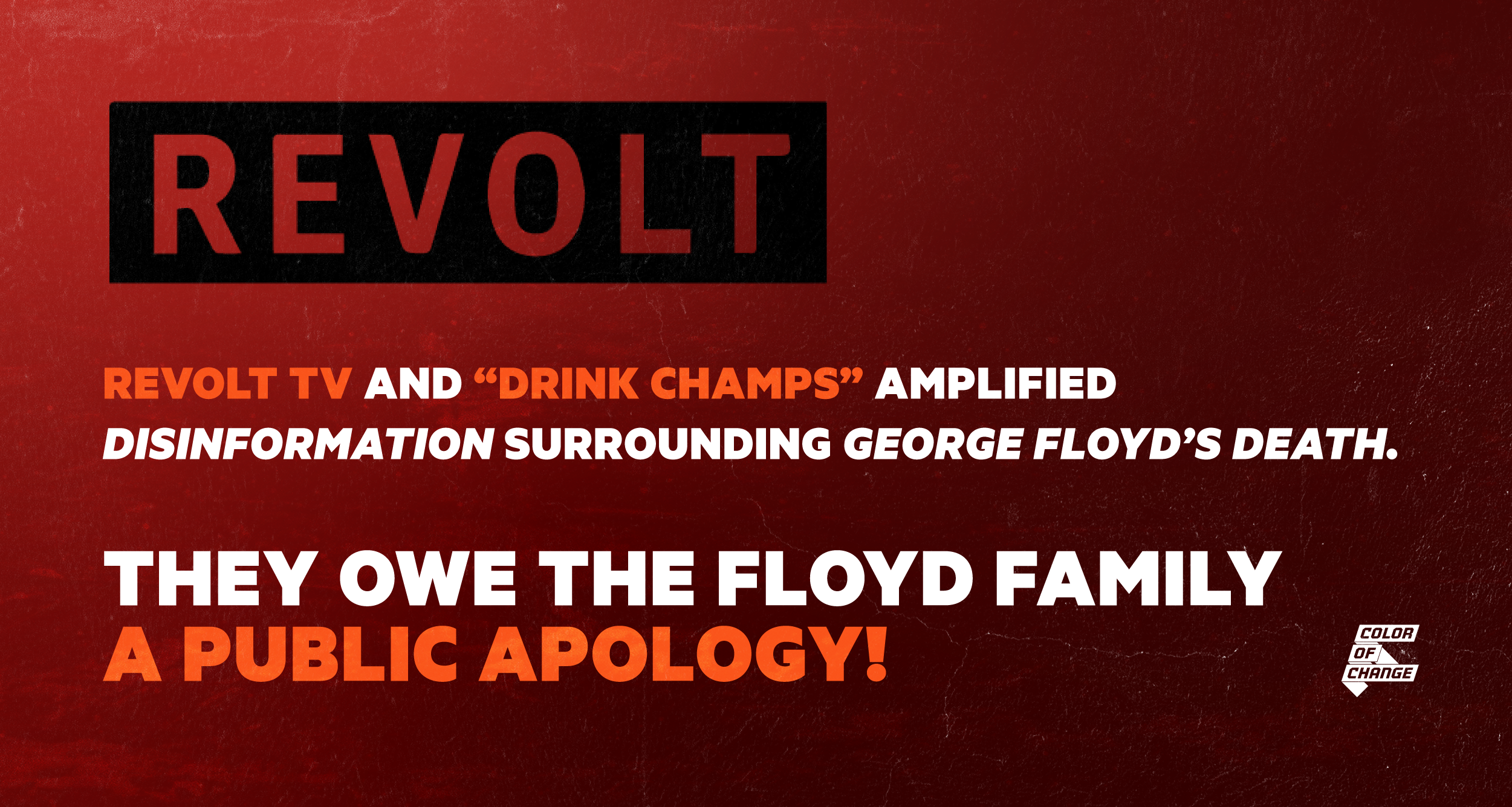 On Oct. 15, Kanye West's appearance on the "Drink Champs" podcast premiered on REVOLT TV. During his interview, Kanye falsely claimed that George Floyd died of a fentanyl overdose and that "if you look [at the video], the guy's knee wasn't even on his neck like that." For 9 minutes and 29 seconds, Chauvin kneeled on George Floyd's neck as he uttered the words "I can't breathe," called out for his mother, and pleaded for his life before taking his final breaths. George Floyd died from lack of oxygen, not from fentanyl and only Derek Chauvin is the blame. REVOLT TV and "Drink Champs" must be held accountable for amplifying disinformation surrounding George Floyd's death and giving Kanye West a platform —a megaphone to spread misinformation and harmful rhetoric. 
Media corporations and podcast platforms have allowed misinformation to spread unchecked at the expense of Black communities and victims of police brutality. After the killing of Freddie Gray by Baltimore City Police officers, a right-wing blog falsely claimed that his death was a "freak accident that occurred when Gray should have been home resting, not selling drugs." Freddie Gray never sold drugs, and his death was not a freak accident. Still, this false story was shared nearly 90,000 times on Facebook alone. This disinformation spread fast and served as a major legal hurdle as Gray's family and the state's attorney fought for justice.  Just like the targeted disinformation about Freddie Gray, Kanye West's statements about George Floyd were targeted attacks meant to demonize George Floyd, a victim of police violence; shift blame from Derek Chauvin; and justify the Minneapolis Police Department's disregard for his life. When disinformation like this gets amplified, our communities suffer. Not only do these intentionally manufactured lies cloud clear issues of injustice, but they also add to the disproportionate flow of misinformation and disinformation targeting us, making it all the more difficult for us to access reliable information needed to navigate everyday life, engage in our democracy and protect our health and safety. Media corporations and personalities should not profit from making bad information more prevalent and persuasive than the truth. 
Kanye West has long spewed harmful disinformation. REVOLT TV and "Drink Champs" should have exercised discernment and never allowed him to appear on the podcast. Back in 2018, he said that 400 years of slavery was a "choice," attempting to rewrite history and invalidate the atrocities that our ancestors experienced. During his 2020 presidential bid, he spread false poll results that showed him ahead of Joe Biden and Donald Trump in Kentucky in an attempt to manipulate voters and influence the outcome of the election. 
Since airing Kanye West's interview,  REVOLT TV and "Drink Champs" have failed to take adequate accountability for their actions. Aside from a disclaimer on the episode, the media corporation has done nothing to protect George Floyd's family and to ensure that Kanye West's false claims are not amplified. We expect and demand more from REVOLT TV and "Drink Champs" as a platform and podcast dedicated to Black culture. Join Color Of Change in demanding that REVOLT TV and "Drink Champs" issue an apology to George Floyd's family and remove Kanye West's episode from the platform immediately! 
Below is the letter we will send to Detavio Samuels, CEO of REVOLT TV & Media:
Here is the Petition:
Dear Mr. Samuels: 



REVOLT TV is the leading Black-owned and operated multimedia platform, serving as the hub for Black culture and Black artists. As CEO of the media company, you have a responsibility — and Revolt TV has an obligation — to break ties with and hold accountable anyone who uses your platform to harm Black communities. 



However, on Oct. 15, REVOLT TV aired an episode of "Drink Champs" during which Kanye West falsely claimed that George Floyd died of a fentanyl overdose and that former Minneapolis Police Officer Derek Chauvin's knee "wasn't even on his neck like that." Kanye West denied Chauvin's brutality and culpability in the killing of George Floyd and adopted the same rhetoric used by the far-right to justify anti-Black police violence. 



REVOLT TV never should have aired this podcast episode, let alone any content involving Kanye West. It was disrespectful to George Floyd's family and harmful to Black people everywhere. We strongly urge you to: 

Issue a joint public apology, with DJ EFN and N.O.R.E., to George Floyd's family immediately. 

Remove the Oct. 15 episode of "Drink Champs" from the REVOLT  TV platform.