Manhattan DA Cy Vance: Reopen the Linda Fairstein Cases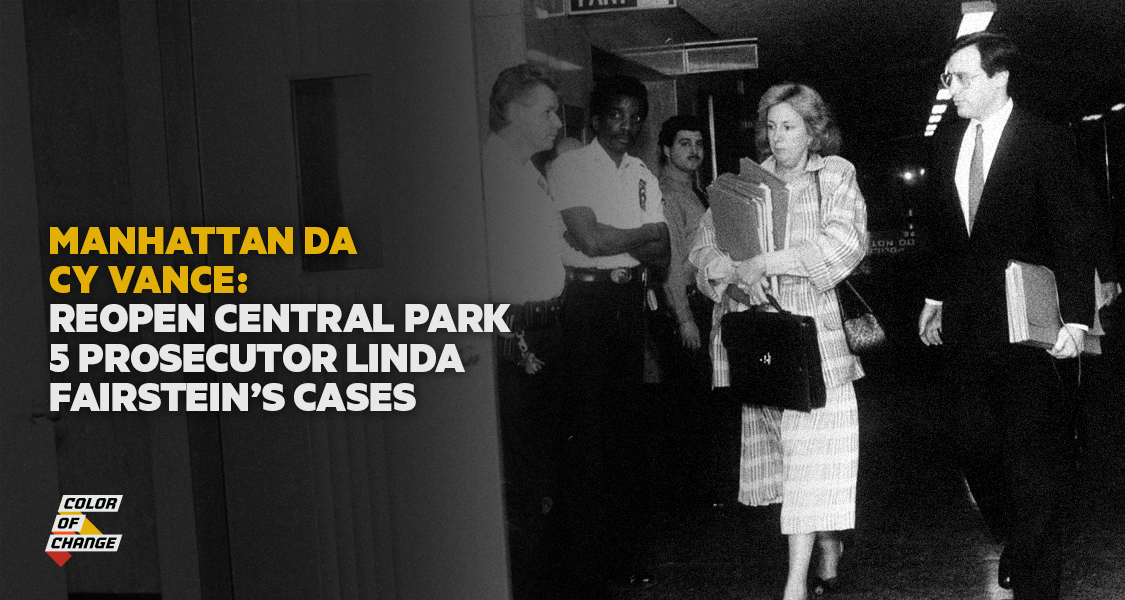 Linda Fairstein, the prosecutor responsible for the false prosecution of the 'Exonerated Five' (fka "the Central Park Five"), oversaw hundreds of cases during her tenure in the Manhattan DA's office. And there's no telling how many of those convictions should be overturned too.
Linda Fairstein committed a cruel act of injustice when she fought to prosecute the 5 innocent boys for a crime they did not commit. Linda used her power as a prosecutor to pursue these false convictions even though there was no physical evidence tying the boys to the rape. Even after the true rapist confessed, prompting a thorough investigation that illuminated every single place where the DA's office went wrong--including that none of the boys' coerced confessions actually matched the facts of the crime--Fairstein still to this day maintains that they were guilty of "something." This brazen denial of hard facts and evidence calls her judgment into question and the 30 years she wielded unchecked prosecutorial discretion and power. 
That's why we're joining the NY Justice League to demand that DA Cy Vance immediately reopen all of Fairstein's cases and conduct an independent audit.  Ava Duvernay's powerful 4-part series When They See Us has brought Fairstein's wretched practices back out into the open and sparked new outrage. Prompted by the series, Linda has been forced to step down from the boards of 3 nonprofit organizations, Vassar College, dropped from one of her publishing companies, and have had awards rescinded. But it's not enough just to affect Fairstein's ability to profit from this injustice--we have to make sure ALL of her past harms are undone. If there are any other people wrongfully convicted, like the 'Exonerated Five', then we must go back and clear their records.  Will you join us in calling on Manhattan DA Cy Vance to do the right thing and review all of Fairstein's convictions? 
Here is the Petition:
Dear Manhattan DA Cy Vance,

I am calling on you to reopen every case Linda Fairstein was assigned during her tenure as Deputy District Attorney in the Manhattan office from 1972 to 2002 with an independent investigation and audit. During her tenure, Linda was responsible for securing the false convictions of 5 young innocent Black and Latino boys. Despite their case later being overturned and the men being completely exonerated due to DNA evidence, Linda has insisted that the men are still guilty. Her commitment to the false convictions she secured shows her commitment to injustice. You must reopen her cases to ensure there are not other people who've been convicted of crimes they did not commit.

During her tenure as the head of the sex crimes unit, she acted with impunity and virtually no oversight. As illuminated in Ava Duvernay's When They See Us 4-part series, Linda directed her staff to pursue false charges against the young men. It is clear that Linda pursued convictions at any cost. In the case of the Central Park 5, the young minors were interrogated for hours with no food, water, break, or the guardianship of their parents. To this day, Linda has stuck by the lie that the coerced confessions were given consensually.

Since the release of Ava Duvernay's series, Linda has been forced to step down from the board of directors of charitable organizations that worked to advocate for sexual assault survivors as well as her position as a member of the board of trustees for Vassar College due to public pressure. You should follow the principled step of these organizations and take the time to interrogate the harm that Fairstein unjustly caused to the young boys and any other innocent people who've received false convictions.

It is your responsibility now as Manhattan DA to ensure that your office was not responsible for false convictions. I urge you to immediately hire an independent investigator to reopen all of Linda's cases.

Sincerely,

[Your Name]