32 Dead. 580 Poisoned. 4 Million Without Heat or Electricity.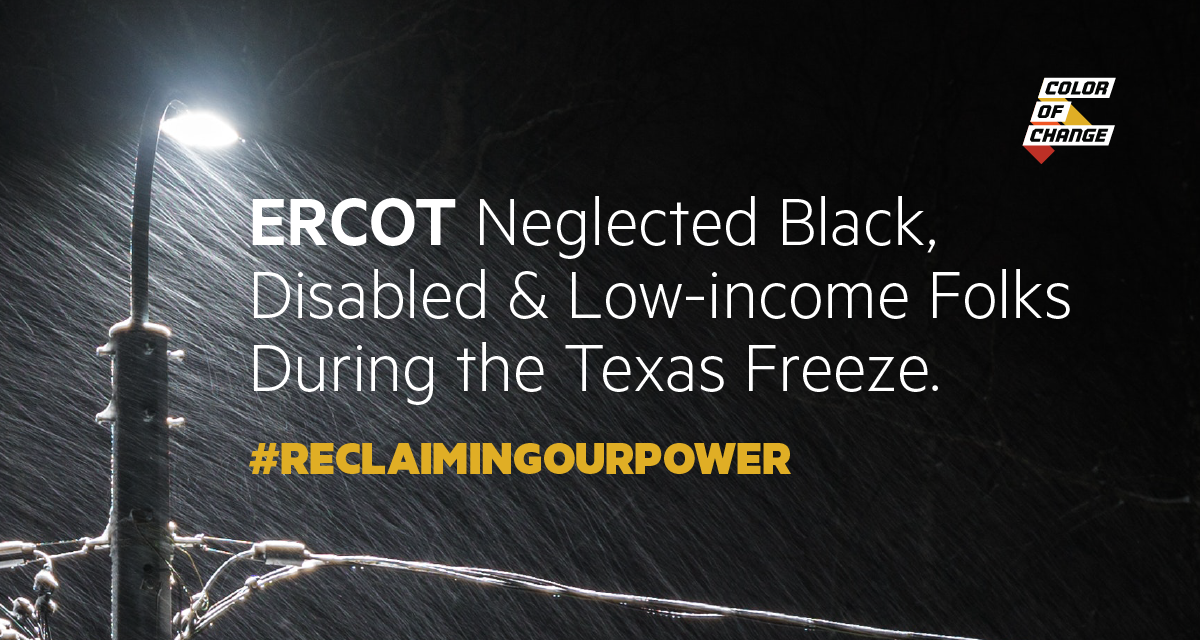 Last month, amid subfreezing (9°F) temperatures, the Electric Reliability Council of Texas (ERCOT) devastated the state's power grid—leaving 4 million without power and nearly half the state without reliable access to running water.
With the COVID-19 pandemic having robbed Black, disabled and low-income households of emergency savings, vulnerable residents were left to freeze while wealthier residents booked warm hotel rooms for up to $1,000 a night. After using ovens and generators to heat their homes, over 580 people nearly died from carbon monoxide poisoning. And unable to find warmth amid frigid (9°F) temperatures, 32—including an 11-year-old boy named Cristian Pineda—died from suspected hypothermia exposure. To make matters worse, 45 of roughly 100 hospitals declared an "internal disaster" as pipes burst, heating systems failed, and those requiring ventilators teetered between life and death.
Responsible for 90% of the electric load in Texas, the Electric Reliability Council of Texas (ERCOT) was primarily to blame for these life-threatening conditions and fatalities. It failed to "protect the electric grid from uncontrolled, cascading outages," failed to perform regular outage rotations so that no customer was "without power for more than 12 hours," and allowed Black and low-income households to suffer without light and heat for nearly 72 hours. 
ERCOT had a decade to prepare for the 2021 Texas freeze. In 2011, a heavy snowstorm caused statewide rolling blackouts and left millions of Texans in the dark. After a federal investigation, it was revealed that energy producers' procedures for "winterizing" their equipment were either "inadequate or inadequately followed." While Texans have paid $28 billion more for electricity since 2004, ERCOT has been more concerned with payouts and executive salaries than the maintenance of its electrical grid or public safety. As a result, millions of ERCOT customers were without electricity for between 40 and 72 hours at a time. ERCOT put greed before the "common good and general welfare of the people [and] community.
When corporations cut costs, Black, Disabled and low-income people bear the brunt of the burden. The Texas freeze should not be referred to as a "jackpot" for fossil fuel executives and energy leaders seeking to raise commodity prices, rather a stark reminder that electricity should be a public good, available and accessible to all.
Stand with Texans in demanding ERCOT provide Texans with safe, reliable, and affordable utility service. #ReclaimingOurPower
Below is the letter we will send to board members of the Electric Reliability Council of Texas (ERCOT).
Here is the Petition:
Dear Board Members:

As some Texans report $17,000 utility bills and others max credit cards to repair homes destroyed by bursting pipes or to replenish spoiled groceries,

we are holding ERCOT accountable to detailing reparative measures.

These would include, but not be limited to: 




Subsidize customers' utility bills for the month of February. Millions were without electricity and should not be held financially responsible for energy price surges or the suspension of price caps. 

Publish a detailed report on this month's power outage

that includes: (i) the amount of money ERCOT has spent on "winterizing" equipment since 2011, (ii) a breakdown of how ERCOT determines when to go into rotating power outages and how long each neighborhood will be without electricity, and (iii) a breakdown of the number of hours each zipcode was without electricity between February 10th and February 20th. 

Release a detailed plan on how ERCOT intends to ensure safe, reliable, and affordable access to electricity moving forward.

This cannot happen again. 

 
Sincerely,
[Your Name]