Show your support for Black women athletes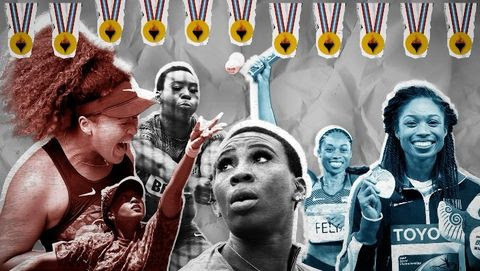 Black women were set to dominate at this year's Olympics. But athletic institutions have been using their archaic and destructive rules to unfairly punish Black women athletes, putting their careers and livelihoods in jeopardy. The United States Anti-Doping Agency (USADA) suspended both Sha'carri Richardson and Brianna Rollins-McNeal for violating its policies; meanwhile, White Olympic athletes, like Megan Rapinoe are currently promoting their use of CBD and are not being punished. Black athlete Gwen Berry, Olympic hammer thrower and racial justice activist, has continued to face undue punishment and abuse for protesting during the Games. The Olympics banned SOUL CAPS, swim caps created to protect Black hairstyles, then unfairly disqualified two Black women—Christine Mboma and Beatrice Masilingi—because their natural testosterone levels tested too high. USA Track & Field (USATF) blocked a Black trans woman, CeCe Telfer, from competing at Olympic Trials. And, Black women athletes like Simone Biles and Naomi Osaka have been facing a steady stream of vitriol for their decision to prioritize their mental health.     
Time and again, official sports institutions like the USADA, the USATF, and the United States Olympic and Paralympic Committee (USOPC) find ways to slam Black women athletes with unfair punishments while White athletes are given chance after chance. In doing so, these athletic institutions are making it clear in no uncertain terms: They are plagued by racist policies. And that has to change. 
It's time for athletic institutions to conduct racial equity audits. The racial equity audit, or an independent, thorough examination of the policies and culture within an organization, is a crucial first step toward preventing discriminatory treatment of Black women athletes moving forward. The administration of a public, independent racial equity audit will demonstrate that athletic institutions' are genuinely committed to supporting Black athletes the way they purport to. A racial equity audit is necessary for these institutions to eliminate discrimination and achieve an equitable environment that truly serves Black athletes. 
The USOPC, USATF, and USADA have all played a role in creating the unfair, harmful environment in which Black athletes are expected to "shut up and play" or risk losing their livelihoods. We cannot afford to let these athletic institutions continue with such oppressive, unjust policies. 
Join is in demanding these athletic institutions conduct a racial equity audit.
Here is the Petition:
Black women athletes do deserve the unfair treatment you have given them. Your decisions and announcements over the last several weeks demonstrate a clear, racist double standard in which Black women athletes are harshly punished for behaviors that their White athlete counterparts are not. Your policies have proven to be regressive and oppressive, and they contribute to this country's racist culture, one where Black women are routinely and systematically blocked from education, employment, housing, and countless other opportunities. 

It is time for your organizations to eliminate its discriminatory policies. And the best way to do that is pursue an independently-conducted racial equity. A racial equity audit is a key first step toward eliminating racist and unfair policies, and creating an environment that actually serves Black athletes.