Mass Media Is Complicit in Misogynoir and Rape Culture. Demand That Media Outlets #ProtectBlackSurvivors from Undue Harm and Commit to Better Reporting!
Mass Media Is Complicit in Misogynoir and Rape Culture. Demand That Media Outlets #ProtectBlackSurvivors from Undue Harm and Commit to Better Reporting!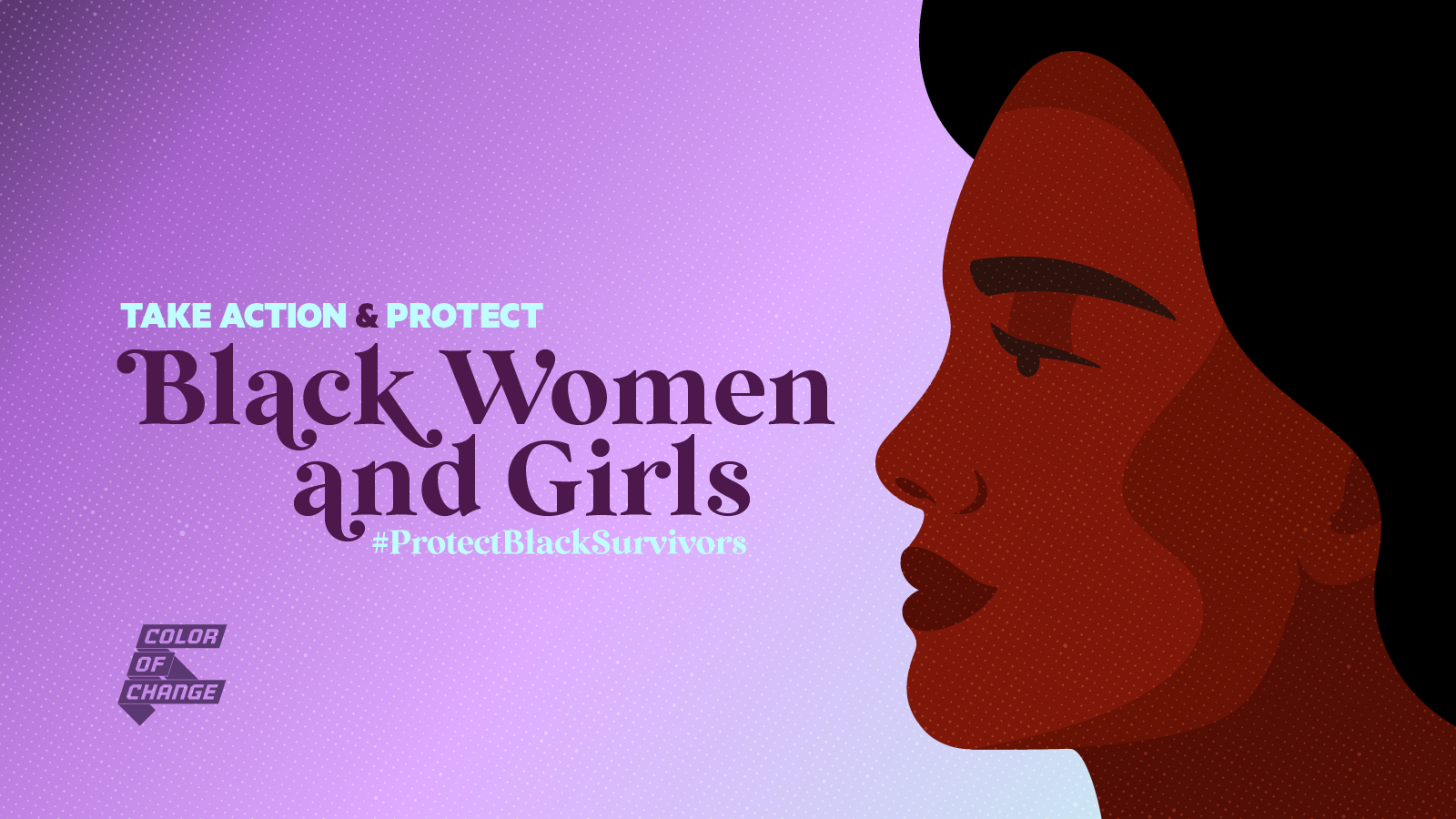 For too long, mainstream media has spread false, misogynoirist, and harmful victim-blaming narratives when reporting on gender-based violence. In 2017, Quantasia Sharpton came forward as one of several Black women whom Usher knowingly infected with herpes. Clickbait headlines focused more on Quantasia Sharpton's weight and whether she was Usher's "type" than the subsequent sexual battery lawsuit. These media outlets perpetuated the false and fatphobic notion that one's body size renders them "undesirable," and thus unlikely to be victimized. And in 2019, news publications framed Black women who spoke out against R. Kelly as "disgruntled groupies"—reviving the centuries-old Jezebel trope that characterized Black women as "promiscuous," and thus blameworthy for any sexual violence experienced at the hands of others.
These media narratives contribute to rape culture: a set of stereotyped, false beliefs about rape that justifies gender-based violence, encourages sexual violence and trivializes the subsequent harm done to survivors. Rape culture has real-world implications, especially in the lives of Black women and femmes. 
When media outlets perpetuate victim-blaming narratives, survivors are more likely to be retraumatized and less likely to come forward. Victim-blaming narratives reinforce the perpetrator's messaging around who bears responsibility and increase the survivor's sense of shame, self-stigma, and anxiety. The additional trauma caused by these narratives leads many survivors to contemplate whether the risks of scrutiny or disbelief are worth the benefits of coming forward. Due in part to prejudicial media coverage, and in part to sociohistorical factors, 1 in 5 Black women will experience sexual assault at some point in their lifetime, and for every Black woman that files a police report, a least 15 do not. Black survivors deserve to be believed and feel supported. 
The effects of media bias do not end there. When there is more rape culture in the press, there are more rape cases. A 2018 Harvard University study found that there were 93 percent more rape reports in counties where more than 3 percent of coverage in a given year reflected rape culture. And in those counties where rape culture was more prevalent, law enforcement officials were less likely to believe a survivor, conduct a full investigation, or make an arrest. For Black women and femmes who exist at the intersection of multiple systems of marginalization—such as racism, sexism, and, in some cases, classism—the effects are far-reaching. Black women experience gender-based violence at higher rates, are less likely to be viewed or treated as victims/survivors by law enforcement officials, and rarely see perpetrators brought to justice. 

But media outlets have the power to change this. Color Of Change's #ProtectBlackSurvivors Media Style Guide provides media outlets with the knowledge framework needed to contextualize the distinct experiences of Black survivors within broader systems of power. By adopting our framework, media outlets will be equipped with the intersectional lens needed to undo the harmful narratives that prevent Black survivors from coming forward and securing justice. Join us in demanding that media outlets commit to better reporting, sponsor narrative training sessions for newsroom staff, and take an active role in educating themselves on this issue.
Below is the letter we will send to media executives and newsroom leadership:
Here is the Petition:
Dear Media Executives and Newsroom Leadership:

Mass media has played a foreleading role in shaping and perpetuating misogynoirst rape culture narratives. Primarily concerned with increasing website traffic, some media publications opt for clickbait headlines that sensationalize sexual abuse, while others adopt victim-blaming language that reinforces the perpetrators' messaging—all at the expense of the truth, accountability, and justice. 



According to recent research, how the media frames and reports on gender-based violence can have dire consequences for the lives of Black survivors. When there is more rape culture in the media, there are more cases of rape, and law enforcement officials are less vigilant in investigating them.

1

And when media outlets adopt the victim-blaming language, survivors are more likely to experience mental health struggles (e.g., depression, anxiety, PTSD) and less likely to feel comfortable coming forward.

2



Media outlets have the power and responsibility to combat harmful media narratives around gender-based violence. We strongly urge your publication to do the following: 

Adopt Color Of Change's #ProtectBlackSurvivors Media Style Guide, which provides a basic editorial framework for nuanced reporting on gender-based violence. 

Invest in narrative training for editorial directors, newsroom managers, and other staff to support survivor-centered, race-forward storytelling. 

Explore additional educational resources (e.g., academic texts) to become better informed on this issue and its disparate impact on Black communities. 

We believe that your publication's

commitment to these changes would cause a shift in reporting, creating a culture that believes, listens to

, and supports Black survivors. 



[Your Name]



Matthew A Baum, Dara Kay Cohen, and Yuri M. Zhukov (2018), "Does Rape Culture Predict Rape? Evidence from U.S. Newspapers, 2000-2013," Quarterly Journal of Political Science: Vol. 13: No. 3, pp. 263-289, http://dx.doi.org/10.1561/100.00016124. 
Ashima Suvarna et al. (July 26, 2020), "Identifying Victim Blaming Language in Discussions About Sexual Assaults on Twitter," International Conference on Social Media and Society: pp. 156-163, https://doi.org/10.1145/3400806.3400825.