Send a postcard to your legislator!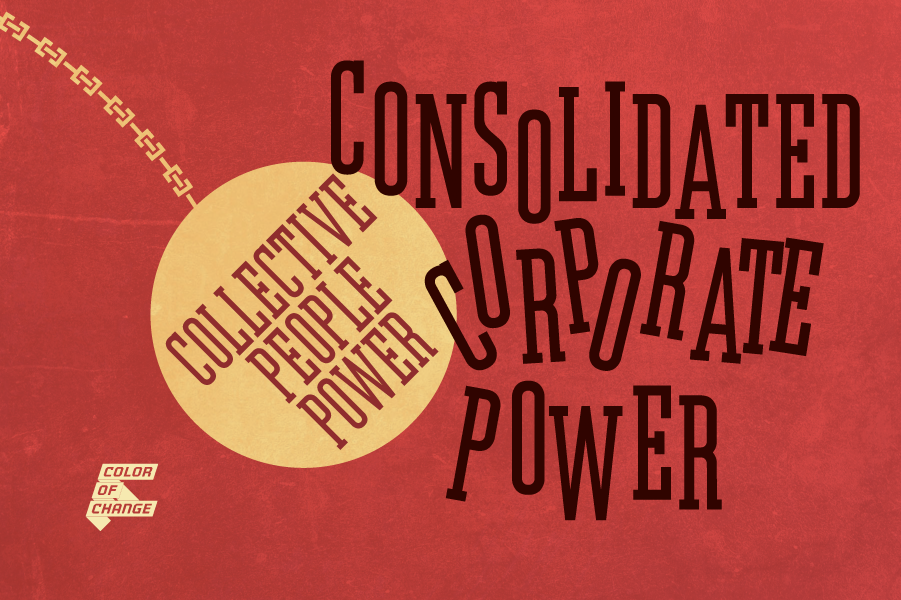 We've watched corporations get bigger and bigger every year. Tech firms buy up smaller businesses, such as Amazon's acquisition of Whole Foods. Hospitals, pharmaceutical companies, and health insurers are merging. Even corporations from different industries are consolidating, such as the pharmaceutical company Bayer merging with seed and agrochemical giant Monsanto. Mergers push Black-owned small businesses out of the market, eliminate jobs in our communities, and infringe on workers' rights. This consolidation of corporate power has depressed median wages by $10,000.
Consolidated corporate power has also driven up the prices of necessities and costs American families $5,000 per year on average. The cost of insulin, for example, has jumped at least 300 percent between 2009 and 2019, which disproportionately impacts Black people who, due to historical inequities, face higher rates of diabetes. When Walmart is one of the few grocers in town, it has a history of charging higher prices for products. Such consolidated power has also allowed corporations to jack up prices even further during this period of inflation.
We have the opportunity to push Congress to limit corporate power with the Prohibiting Anticompetitive Mergers Act. In passing the Prohibiting Anticompetitive Mergers Act, Congress would require that regulators evaluate the impacts of a merger on communities of color, ban the biggest and most anticompetitive mergers, overhaul the merger-review process to allow the Federal Trade Commission (FTC) and the Department of Justice (DOJ) to reject deals without a court order, and strengthen the agencies' tools to break up harmful mergers.
Continue fighting for antitrust reform, limits to corporate power, and economic justice for Black people! What we need:
Chair Nadler and Chair Durbin to schedule House and Senate Judiciary Committee markup

Speaker Pelosi and Leader Schumer to hold full House and Senate floor vote

Congress to pass the Prohibiting Anticompetitive Mergers Act

President Biden to sign it into law
Add your name and address and we'll send a postcard with the image above to your legislators before the floor vote on the Prohibiting Anticompetitive Mergers Act. Please add a personalized message sharing how large corporations have negatively impacted your life.
Here is the Petition:
To [your senator/representative],

My name is [your name], and I am a constituent from [your city and state]. I am urging you to pass the Prohibiting Anticompetitive Mergers Act. It is imperative that Congress pass antitrust legislation with a racial justice framework to secure economic justice for Black communities. Massive corporations are getting even bigger by buying up other companies as a way to eliminate their competition and expand their power in other industries. These companies also have a history of putting profits above public safety.

I am concerned that as these companies expand their control of the market, they will have more control to shape our lives. Big Tech forces small businesses to use their platforms while also driving them out of existence. Big Agriculture squeezes farmers by controlling their sources of income. Big Pharma drives up prices of necessary medicine, such as insulin. This market manipulation proves harmful to small businesses, workers, and consumers.

Now is the time to stop and undo the harm of mergers. We are looking at you, Senator/Representative _____, to limit these corporations' power and protect the futures of your constituents and [your state]'s small businesses.

 Sincerely, 

[your name]