ADD YOUR NAME: Police foundations are a threat to democracy and Black lives.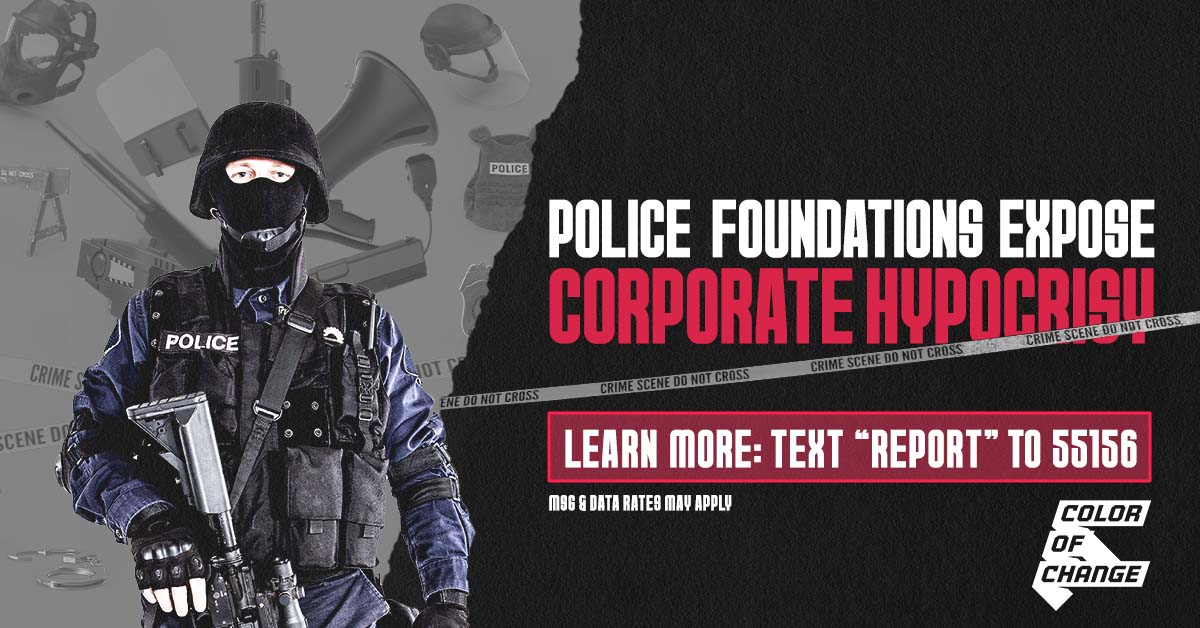 We're still in the fight to end state-sanctioned violence against Black people. That means reducing the flow of cash to violent police departments — and addressing public AND private funding of police. 
Police budgets are public documents that must be approved by elected officials. In contrast, police foundations are private organizations that fund violent, militarized policing behind closed doors and without public oversight.

Put simply, corporate-backed police foundations give equipment and money to police departments, funding programs that target and criminalize Black and Brown communities.
You might not know much about police foundations, but you definitely know their sponsors: Verizon, Walmart, Starbucks, Amazon, Bank of America, Target, Delta Airlines, AT&T, Chevron, Uber, and major sports teams, to name just a few. 
Corporations should NOT be in the business of policing. Giving private cash to the police enables corruption, conflicts of interest, and police violence.  
Police foundations are a threat to democracy and Black lives. Add your name if you agree: Demand corporations divest from police foundations, and lawmakers reduce police foundations' ability to harm Black communities.
Add your name now to demand action and accountability: 
Here is the Petition:
Corporations: Divest immediately from police foundations and other private law enforcement organizations. 

Not one dime to police foundations. Cancel all current and future sponsorship deals with police foundations or law enforcement organizations, including event partnerships, participation in galas or fundraisers, and in-kind donations of equipment, software, data, or technology. 

Corporations: Refuse positions on police foundation boards. 

Current employees — at all levels — who sit on a police foundation's board should immediately step down from those boards. Future employees should be banned from representing their employers on any police foundation board or in any law enforcement non-profit organization. 

Policymakers & elected officials: Hold hearings about police foundations.

Investigate police department relationships and coordination with police foundations, their boards and donors, and all uses of donated funds/equipment. 

Policymakers & elected officials: Mandate disclosure and transparency from police foundations.

Ensure that all police foundations and similar entities are subject to FOIA and any other state sunshine laws, as well as conflict of interest policies. 

Policymakers & elected officials: Require public approval of police foundation spending.

Where private funding is provided, cities can and should require public approval of expenditures to ensure that funding is not spent on controversial technology or weapons.