Tell Texas Governor Greg Abbott To Posthumously Pardon George Floyd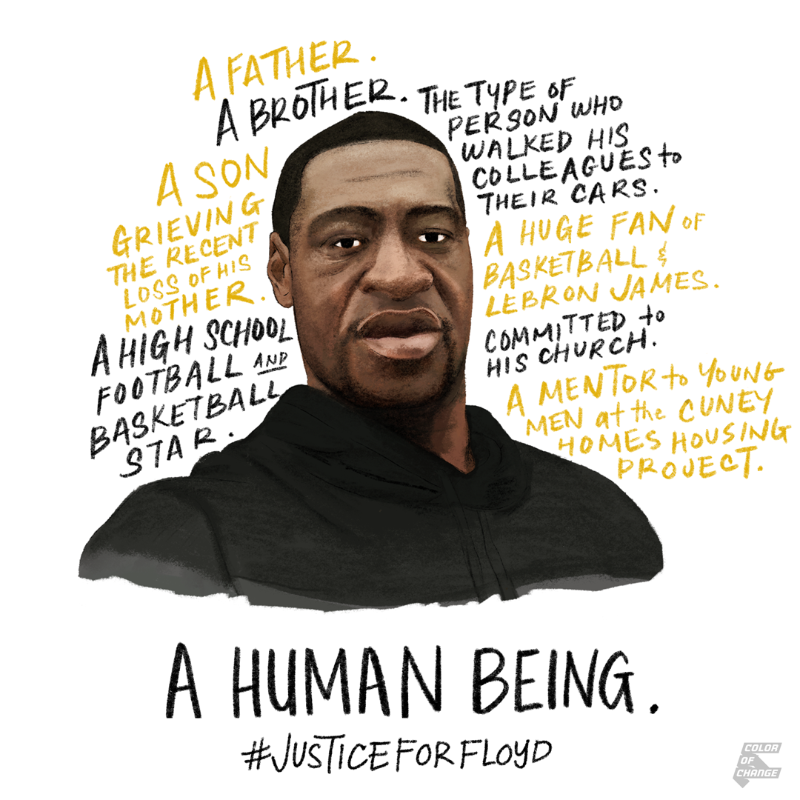 In 2004, George Floyd was arrested during a police sting in Houston, Texas. Why? Because he was falsely accused of selling a mere $10 worth of drugs. We know an arrest for such a small amount of drugs sounds ridiculous — and it is! However, the U.S' racist "war on drugs" has always been used to disproportionately harass and arrest Black people, giving cops a green light to make arrests for even the most minimal amount of drugs. 
Sadly, as we approach the one-year anniversary of the police murder of George Floyd, there are STILL charges on the books against him in Texas — despite the fact that he spent 10 months in jail for his conviction. Color Of Change, along with Mr. Floyd's family and other advocates, are calling on the Texas Board of Pardons and Paroles, and Texas Governor Greg Abbott to posthumously pardon George Floyd. Add your name to join us.
Currently, all members of the Harris County Commissioners Court have approved a resolution in support of pardoning Mr. Floyd and submitted the request to the Texas Board of Pardons and Paroles in April. But, in order for George Floyd to be pardoned for an arrest that took place over 16 years ago, we still need the board to recommend the pardon to Texas Governor Greg Abbott and his signature in support. 
Sign the petition: Tell the Texas Board of Pardons and Paroles and Governor Greg Abbott to posthumously pardon George Floyd. 
Mr. Floyd grew up in Texas and moved to Minneapolis with the hopes of starting a better life for him and his family, free from the threat of police violence. As we all know this wasn't able to happen for him. While it is symbolic to pardon George Floyd after he was murdered by Minneapolis Police, it is nonetheless significant. It is a way to recognize the many ways Black people are targeted by the criminal legal system, from the 'war on drugs', to racist policing practices. As George Floyd's cousin Tera Brown said, pardoning him is a "phenomenal opportunity to fix a miscarriage of justice in George's case."
To make the matters around this case even worse...Gerald Goines, the cop who arrested George Floyd in 2014, is currently facing charges on 2 counts of felony murder, as well as charges in state and federal court, for killing 2 people during a drug raid in 2019. During the drug raid, Goines lied to obtain a warrant, claiming that an informant told him there were drugs in the house. Officer Goines later admitted that the only reason he knew there were drugs there was because he had previously been to that house to buy drugs for himself. It's no surprise that the officers George Floyd came into contact with throughout his life, from Gerald Goines to Derek Chauvin, were crooked and dangerous — the entire system of policing is crooked and dangerous. 
Mr. Floyd's charges for an arrest over 16 years ago, by a crooked killer cop, must be immediately pardoned. 
George Floyd's life heartbreakingly depicts the fate of so many Black people, trapped in a web of white supremacy, which has ensured that all aspects of life in America, especially the criminal legal system, are inherently anti-Black. There is no escape from white supremacy for Black people. Even posthumously, a racist arrest charge remains on the books for George Floyd. Demand George Floyd is pardoned immediately.   
Real justice for George Floyd would mean him being alive today. However, one important thing we can still do for both him and so many Black people who continue to face unjust charges on racist arrests is to posthumously pardon George Floyd.
 Below is the letter we'll be sending to Texas Governor Greg Abbott 
Here is the Petition:
Dear Governor Greg Abbot and Texas Parole Board,

I'm urging you to grant George Floyd a posthumous pardon. Mr. Floyd was falsely accused of a crime by a corrupt police officer who is now under investigation for his numerous crimes. All members of the Harris County Commissioners Court and the Harris County District Attorney's office have approved the resolution for pardoning George Floyd for the crime he didn't commit.  I'm counting on you to do what's right and remove this stain from George Floyd's and Texas's record. 


Sincerely,
[Your Name]