Tell Governor Cuomo and New York State Legislatures we need Marijuana Justice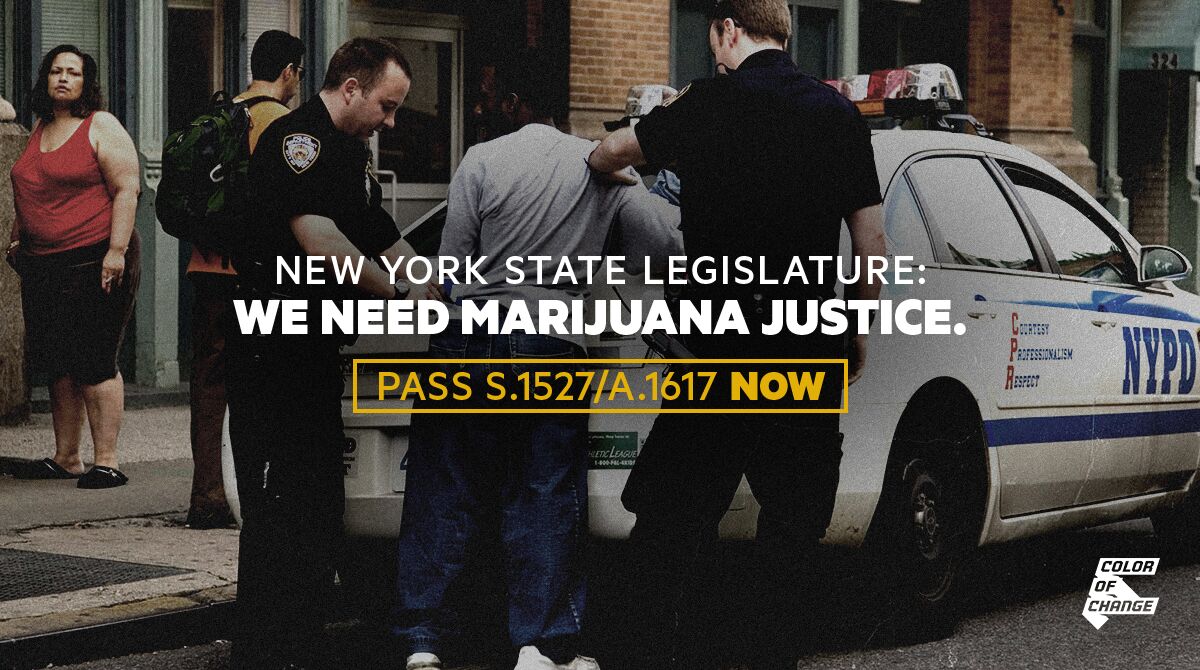 Over the last twenty years, the enforcement of marijuana prohibition has devastated communities across the state of New York. Despite his promises, Governor Cuomo did not include marijuana legalization in the state budget. Now the only option is enacting it with legislation before June.
Join us in demanding Governor Cuomo and New York Sate Legislators legalize marijuana and pass the Marijuana Regulation Taxation Act right away. It's time to end marijuana prohibition in New York and repair the harms criminalization has caused to New Yorkers across our state. Marijuana prohibition has devastated our communities, saddled hundreds of thousands with criminal records, acted as a justification for racially biased policing, and hindered the opportunities for entire generations of mostly Black and brown New Yorkers. 
New Yorkers deserve marijuana legislation that includes broad record clearing provisions, centers equity and options for small businesses in the new industry, and guarantees significant community reinvestment to repair the harm that has been done. This reinvestment must be community-led, responsive to the harms caused, and accountable to communities.
New York's shameful legacy as the marijuana arrest capital of the world has damaged too many lives and communities however we have the power to reverse these harms this legislative session. 
Will you sign the petition?  
This petition will be delivered to New York Governor Andrew Cuomo and New York State Legislatures: 
Here is the Petition:
Over the last twenty years, the enforcement of marijuana prohibition has devastated communities across the state of New York. Despite his promises, Governor Cuomo did not include marijuana legalization in the state budget. Now the only option is enacting it with legislation before June.

I urge you to legalize marijuana and pass the Marijuana Regulation Taxation Act right away. It's time to end marijuana prohibition in New York and repair the harms criminalization has caused to New Yorkers across our state. Marijuana prohibition has devastated our communities, saddled hundreds of thousands with criminal records, acted as a justification for racially biased policing, and hindered the opportunities for entire generations of mostly New Yorkers of color.

Right now we're at a very critical moment that will determine the fate of marijuana legalization – and justice – in our state. I hope you will show leadership on this vital issue to make sure that marijuana is legalized as soon as possible and includes broad record clearing provisions, centers equity and options for small businesses in the new industry, and guarantees significant community reinvestment to repair the harm that has been done. This reinvestment must be community-led, responsive to the harms caused, and accountable to communities.

Despite recent comments about this being a complex issue, it's clear that the more than 800,000 New Yorkers who have been criminalized for marijuana need action now. Progress on this issue has stalled in the New York legislature for decades--with Democrats now at the helm, communities need you to vocally represent impacted communities and pass marijuana justice.

New York's shameful legacy as the marijuana arrest capital of the world has damaged too many lives and communities. I urge you to end marijuana prohibition and ensure legalization is rooted in racial and economic justice.

Thank you,