Tell the Country Music Association (CMA) to adopt racially just policies & practices! #NOTMYCMAs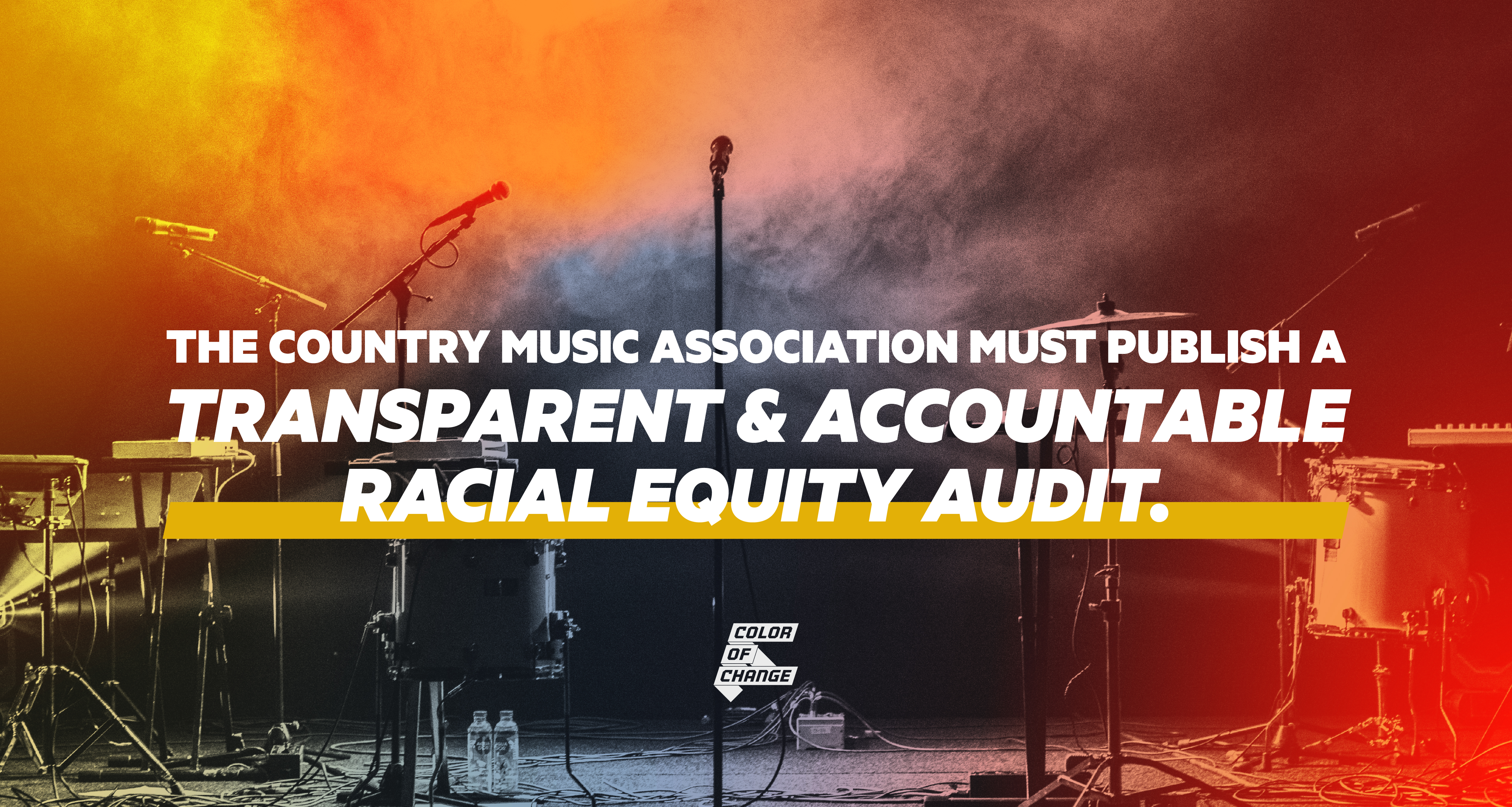 For decades, the country music industry has been hostile towards Black people. We've been excluded from the genre over and over again, even if we were writing the songs that successful country artists sing. When Black musicians try to break into the forefront of country music, they are met with exclusionary practices, harassment, and hostility--especially if the musician dares to call out the unaddressed racism that is country music's norm. As an organization with great influence over the culture of country music, the Country Music Association (or "CMA," as its more commonly known) has neglected to implement racially just policies that make Black musicians and their allies feel safe. Instead, they're focused on curating their awards show. 
CMA cannot continue on as it is, ignoring Black people's contributions, systematically excluding Black people from success, and staying silent when we are being harassed. Prioritizing its award show over the mental and physical safety of Black country musicians is atrocious and dangerous. Other major award shows, like the Oscars, the Golden Globes, and the Grammys, have been forced to confront their racist practices and implement new policies that repair the harm their organizations have caused Black people. CMA can't be left out of these accountability mechanisms. The CMA must meaningfully confront its racist culture, implement just policies and practices, and make the country music industry a space in which Black musicians can thrive.
Join us in calling on CMA to adopt racially just policies and make country music safe for Black people.
Below is the petition we will send to CMA.

(Image Source: PBS LearningMedia)
Here is the Petition:
Country Music has a history of being racist, hostile, and exclusionary towards Black musicians, despite our contributions that helped to build the genre, and your organization has been a major enabler of this culture. However, CMA has a powerful opportunity to transform.

As a major organization that sets the tone for the country music industry, CMA has the chance to show the world what visionary transformation in the name of justice really looks like. It is necessary that CMA (1) publicly committing to a racial equity audit, one that is directed by racial justice experts and the feedback of Black country artists, and that releases its progress publicly; and (2) implement racially just policies and practices, including but not limited to the rewriting of CMA bylaws and eligibility requirements and the restructuring of the CMA Board.

The above commitments are the only actions that will truly show the world that CMA is committed to eliminating the racist culture that has become country music's norm. CMA must work to re-establish the country music industry as a place where Black people can be taken seriously for their work, where Black people will be treated with dignity and respect, where Black people can thrive.