It's Time to #DecarcerateDA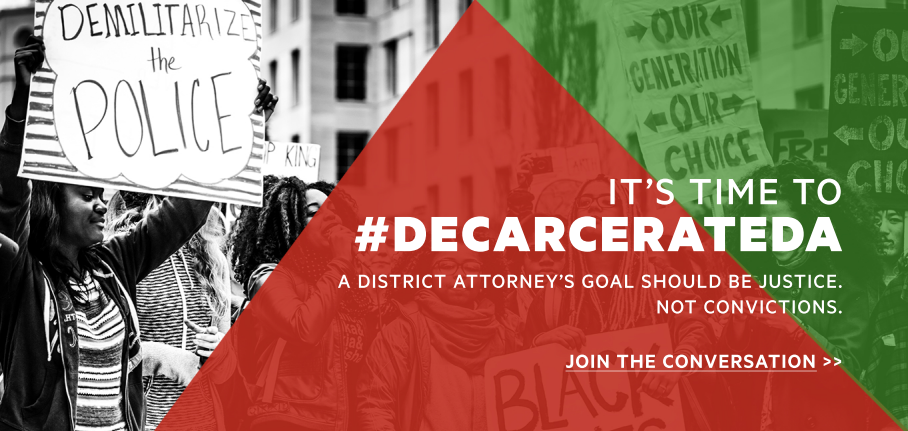 This weekend, District Attorneys from all over the country are coming together for a summit in the same city where Philando Castile was killed. And Black organizers and activists in the Black Freedom Cohort coalition are coming together for the Mobilization and Counter-Conference for Safety and Liberation--to hold them accountable to seeking justice over convictions. Because fueling mass incarceration doesn't keep our communities safer.
The National District Attorney Association plays a major role in shaping the prosecutorial practices that DA offices across the country adhere to--and this upcoming summit is a big moment to influence the message that prosecutors in attendance are hearing. That's why we're joining our friends at [insert org names here] to deliver 5 critical demands to them in person. Will you add your name?
Black Freedom Cohort Coalition members include:
Southsiders Organized for Unity and Liberation

SpiritHouse

Black Roots Alliance

People's Justice Project

Akorn Organizing Collective

Abyssinian Missionary Baptist Church

Neighborhoods Organizing for Change

Trinity United Church of Christ

Friendship West Church

Michigan United

Samuel DeWitt Proctor Conference

MOSES

Texas Organizing Project

My Brother's Keeper

Black Love Resists in the Rust

Baltimore Faith in the City

Center for Community Change

Ohio Organizing Collaborative

Action Now

Demos

Pan African Orthodox Christian Church
This is the message we'll send to the National District Attorney Association on your behalf:
Here is the Petition:
To the National District Attorney's Association:

We know that the District Attorney's Association has tremendous influence on the manner and form in which District Attorneys carry out their duties, and therefore we the undersigned ask the Association to use that sway to:

Encourage all NDAA members to end the practice of direct file, which automatically places juveniles in adult courts.
Advise your members to commit to establishing and fully funding pre-arraignment diversion programs that allows people arrested for petty offenses, including low-level drug possession or sale, to get the help and support they need without needlessly exposing them to the consequences of a criminal conviction.
All NDAA members should commit to considering immigration consequences for defendants as part of determining what to charge, and not to prosecute immigrants for minor offenses.
Advise members to commit to using independent prosecutors to investigate cases of police brutality.
All NDAA members should support an end to money bail.
All NDAA members should develop a restorative justice program in their county which will serve as an alternative to incarceration, including for those people that commit violent offenses.

Sincerely,

[YOUR NAME]