Tell North Carolina Officials: Protect Incarcerated People from COVID-19!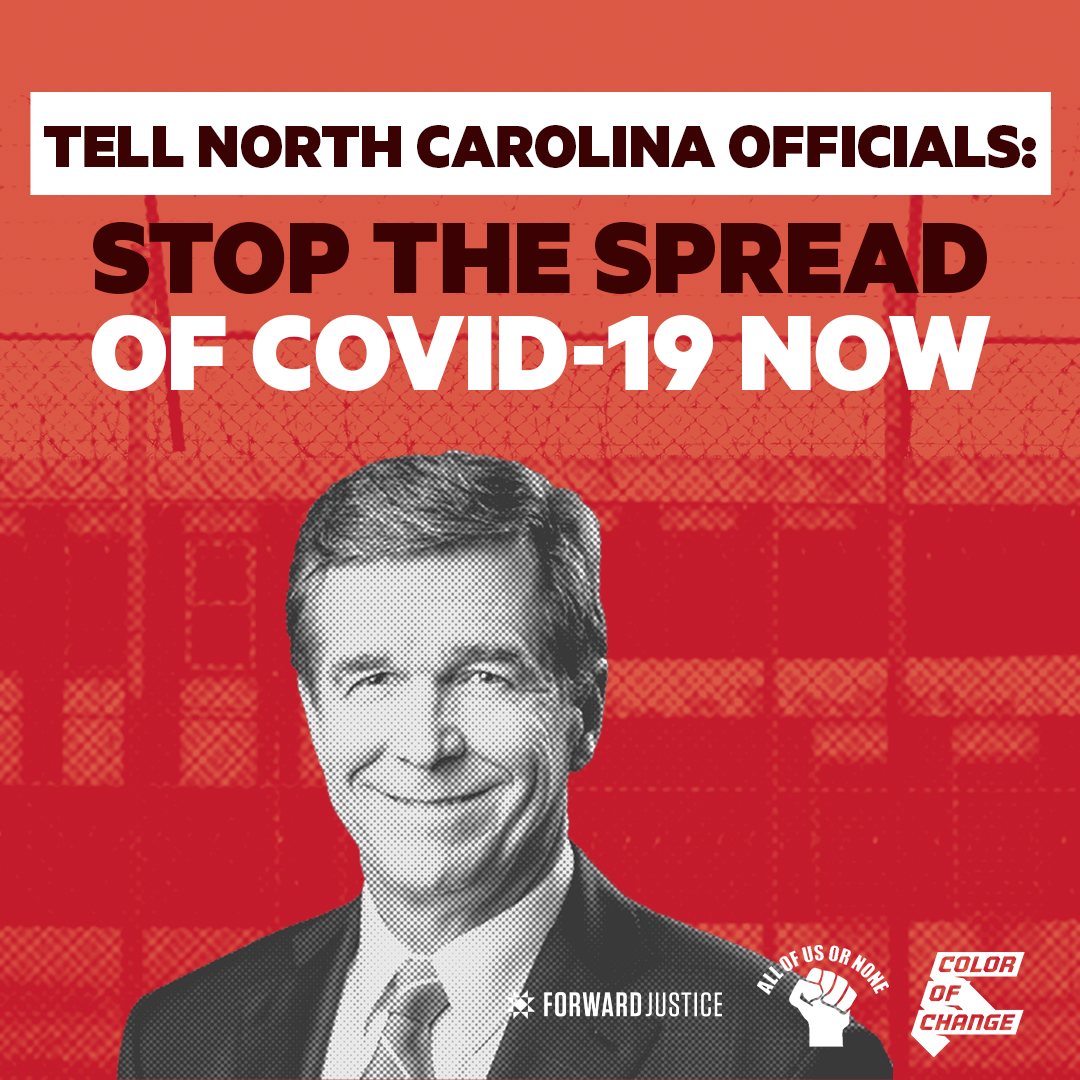 "My husband is an inmate at a prison in NC. Last night when he called he was very stressed and worried. He said that individuals have been quarantined for suspected COVID-19. He informed me that the guards were all wearing masks, but wouldn't give any to inmates; and that the guards no longer come into the dorm. I'm scared for my husband. His sentence was 6 to 8 years, and he is to come home in 228 days. Now I'm scared he may get COVID-19 and die.
They are definitely not equipped in any way to handle an outbreak. I'm scared that because he is a prisoner, he wouldn't even be given treatment. He says that although the state has issued a stay at home order, guys are still being transported in and out from different facilities daily... I don't know how they expect the inmates to stay apart when they're packed into the dorms like they are. My husband is a good man. Please help if you can." -- North Carolina resident with an incarcerated loved one
For the past month, North Carolina officials have been quickly mobilizing to protect the general public from the spread of coronavirus. Local businesses have been shut down, court proceedings have been suspended for 30 days and public schools will be closed until early May. More recently, Governor Roy Cooper issued a stay-at-home order to prevent human suffering and the loss of life. However, missing in all of these announcements is a plan that will protect one of the most vulnerable populations in North Carolina - North Carolinians locked away in county jails and state prisons. 
All available public health guidelines recommend social distancing and vigilant hygiene as the primary tools to combat the spread of COVID-19.  However, these directives are impossible to follow with thousands of people currently housed inside county jails and state prisons. Oftentimes, these facilities are closed and unsanitary environments that present the highest risk of illness from COVID-19. By their very nature, prisons preclude appropriate prevention measures. 
Public officials have DAYS, not weeks, to prevent the spread of COVID-19. Releasing as many people as possible from cages and stopping the flow of people into them is the best way to do it.
As organizations that fight alongside and advocate for incarcerated community members and their loved ones, we are demanding all public officials to develop a coordinated response in order to reduce the risk of contagion in our communities by doing the following:
Release as many people as possible from jails, prisons, and detention centers
Stem the influx of people in and out of these facilities
Ensure the protection and safety of those who remain incarcerated during the pandemic.
Here is the Petition:
Dear North Carolina Officials, 

Mass incarceration is now more than ever a public health crisis -- and we need you to act quickly in order to save the lives of North Carolinians. To that end, we ask you to take the following steps in order to slow down the spread of COVID-19.

Governor:

Commute sentences for older and vulnerable citizens with compromised immune systems, anyone who is within 12 months of release from their active sentence, and to anyone currently being held on a technical violation of probation or parole
Expedite mass release of those permanently disabled, geriatric, or terminally ill through the Department of Public Safety's Home Leave program and Transition Services
Expedite the review of people eligible for parole, particularly those over 65 years of age

District Attorneys:

Dismiss pending charges, refuse to prosecute low-level offenses including failures to appear, and decline any issuances of orders to arrest
Motion for immediate relief for people on secured monetary bonds and ask for those individuals to be put on pretrial release
File motions for appropriate relief to vacate convictions for high-risk people in prisons and jails who do not pose a high risk of recidivism 
Vacate all fines and fees so that people are not at risk of incarceration due to non-payment

Law Enforcement & Department of Public Safety

Reduce prison population by working with county judges, prosecutors and defense attorneys to identify individuals who are particularly at risk for contracting COVID-19 such as the elderly, immunocompromised and/or pregnant
Release all individuals who are being detained because they cannot afford cash bail, people whose sentences have expired, people serving weekend sentences or on a 24-hour hold and people incarcerated for technical violations
Increase transparency and provide access to audiovisual and teleconferencing tools that facilitate confidential communication between incarcerated people and their legal counsel as well as their loved ones
Restrict the use of solitary confinement as a COVID-19 containment strategy and create a plan for transfers of people whose care cannot be safe while incarcerated
Provide free access to medical care, ensure people who remain incarcerated have access to medical supplies, and eliminate all medical co-pays for detained individuals
Limit the number of people arrested and use citations in lieu of arrests and suspend executing writs of eviction, especially for evictions that are not public safety-related
Suspend intermittent sentences (i.e. split sentences and jail weekends) and mandatory in-person meetings for people on under court supervision (probation, parole, post-release supervision) 
Ensure all officers and any employees who interact with the public have access to sufficient testing, education, and prompt medical care related to the virus, including the awareness that they should not report to work if they themselves are feeling any symptoms and that any leave will be fully compensated.