Tell all NBA team owners to pay all laid-off arena workers!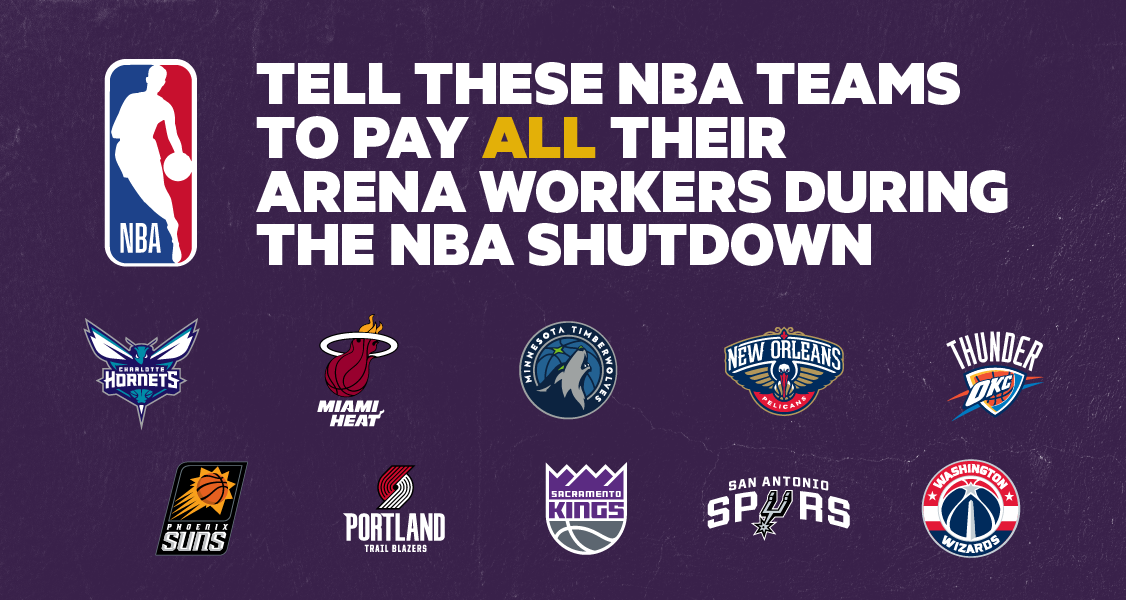 Black workers disproportionately make up the low-wage hourly workforce which includes the vast majority of game-day employees. 40% of hourly workers lack any savings and over 75% of them have less than $500 saved for emergencies. The coming days and weeks are likely to wipe out these savings and force employees to take on toxic debt or make difficult choices around food and medical care. And because of the systemic lack of healthcare and economic infrastructure in many Black communities, Black people are at particular risk for the extensive harm this pandemic will cause. We can't allow the NBA to just drop these workers, with no income in the midst of a global pandemic.
Demand that all NBA team owners pay all laid off arena workers for the games they would have worked!
19-year old NBA player Zion Williamson stood up for arena workers, donating his own money to support them, along with Kevin Love, Blake Griffin, Rudy Gobert, and Giannis Antetokounmpo. These players have shown remarkable generosity by donating to support the low-income arena workers - but it's not their responsibility to pay the wages of other employees. NBA players, while well-paid, are still employees of the NBA. Their generosity is remarkable. It speaks volumes about their character and the spirit of giving back that we honor in our community, but they shouldn't have to pay the NBA's bills.
NBA team owners are some of the wealthiest individuals in the country. Their wealth was built off of investments from taxpayers (like you and I) whose income taxes were used to build their arenas. We're talking about hundreds of millions of dollars in some cases! The taxes of working-class people have funded the NBA's explosive growth - it's time for the NBA to own up to its responsibilities to the people and communities that make their game-day experience so profitable.
Here is the Petition:
To NBA Team owners,

Tens of thousands of low-wage hourly workers who are integral to your game-night experience will not receive any income due to the suspension of public games. With many cities around the country locking down entire sectors of the economy, these people have no other option to turn to for income. While we honor the generosity of players who have given their own money to support arena workers, the onus to provide income should be on the league, not its employees.

We are asking that you follow the lead of Mark Cuban and the Dallas Mavericks and commit to paying all affected arena employees for the duration of the season. In addition, we are asking for all NBA team owners to work with the various companies who manage stadium concessions to ensure those employees are also paid for the missed games.