Demand mayors support and adopt a Basic Guaranteed Income.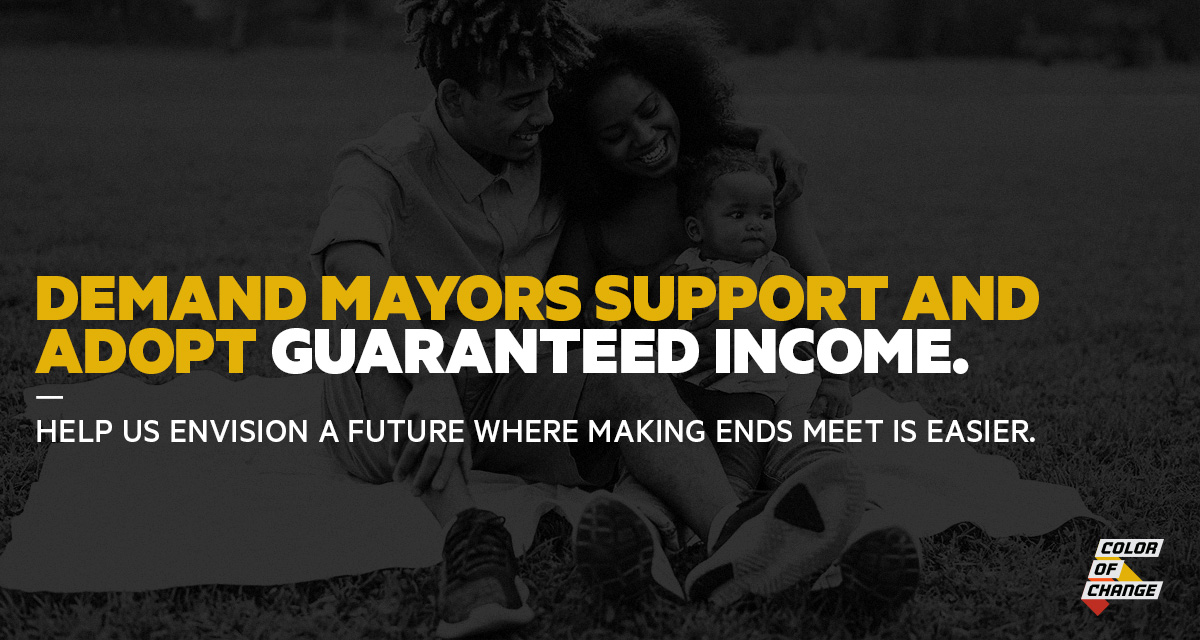 Mayors of fourteen cities across the country have come together in solidarity to push for guaranteed basic income. By signing this petition, we can leverage our collective power to envision a future where making ends meet is easier. Unemployment rates have been the highest since the Great Depression, and the threat of coronavirus has taken a hit to the financial health of Black households. As Black people weather the pandemic within the pandemic, racism, and coronavirus, our elected officials must turn to innovative ways to protect its citizens. 
Advocacy and support of a guaranteed income by our mayors would be the relief many Black households need to provide financial peace of mind, prevent predatory loans and negative credit reporting, and stall the activity of debt treadmills that keep Black heads of households forever in debt. The bureaucratic process at the federal level has left Black households to fend for themselves, but with our collective power, we can push mayors to act with urgency to protect citizens from financial ruin. Demand Mayor Bill de Deblasio, Muriel Bowser and Lori Lightfoot support, adopt and advocate for a guaranteed income.
Below is the letter we will send to Mayor Bill de Deblasio, Muriel Bowser, and Lori Lightfoot: 
Here is the Petition:
Dear Mayor

Bill de Deblasio, Muriel Bowser, and Lori Lightfoot

,

We are writing in solidarity with fourteen mayors across the nation to urge your support for regular direct payments to their citizens until there is economic stability. On Tuesday, June 30, the United States Conference of Mayors (USCM) passed a Resolution In Support of a Guaranteed Income as a direct solution to the current economic crisis. The CARES Act was a commendable step forward in protecting the financial well-being of households in the face of coronavirus, however, many households have exhausted these funds, now placing them in the crosshairs of predatory debt collection and possible eviction. 

As legislative protections come to an end, Black households, who began this crisis at an economic deficit, cannot afford to wait for the bureaucratic decision of an additional Coronavirus relief package. Your adoption and advocacy for recurring direct payments by way of guaranteed income will ensure families remain afloat during this time of grave economic uncertainty. We are calling on your leadership to cement itself on the right side of history through the use of innovative and transformative legislation that will inspire other municipalities. Leverage your power as a sworn elected official by ensuring the citizens within your dominion are protected from additional financial harm by adopting a guaranteed income.