Kenosha Police Chief Daniel Miskinis must go!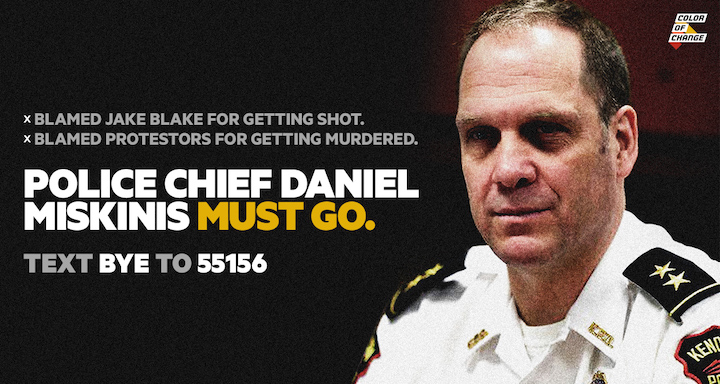 Kenosha Police Chief Daniel Miskinis has blood on his hands for the attempted murder of Jake Blake and two anti-racist protesters. And for that, he must go now!
On August 25, white supremacist Kyle Rittenhouse murdered two anti-racist protesters and seriously injured one other in the wake of the Kenosha uprising. When Chief Daniel Miskinis was asked about the murders, this is what he had to say -- "Had persons not been out involved in violation of [the curfew], perhaps the situation that unfolded would not have happened."
The protesters are not responsible for the actions of a racist vigilante. And by excusing Kyle's behavior, Miskinis is opening the door for this very action to happen again.
Black communities, and especially those in Kenosha right now, are hurting and are in fear of their lives due to the gross negligence of Chief Miskinis. Not only has he blamed Jake Blake for getting shot in the back 7 times, but he's also excused his officers' violent behavior at protests, provided Kyle with protection after he murdered BLM activists, and continues to spew hatred to the media each night since Jake Blake was shot. 
We don't look to police chiefs to be beacons of justice, because they represent an inherently unjust institution. We must hold them accountable for the danger they put our communities in. And as long as Chief Miskinis continues to allow blatant white supremacy to take Black lives, Black Kenoshans are not safe while he's in a position of power. 
We're calling on Mayor John Antaramian and the Police and Fire Commission to immediately fire Police Chief Daniel Miskinis.
Join the fight!
Below is the letter we will send to Mayor John Antaramian and the Police and Fire Commission.
Here is the Petition:
Dear Mayor John Antaramian and the Police & Fire Commission, 

I'm calling for Police Chief Daniel Miskinis to immediately be fired. He represents a danger to Black communities in Kenosha. He has absolved his officers from attempting to murder Jake Blake and has excused Kyle Rittenhouse's blatant acts of white supremacy. 

Please stand on the side of justice. 

Sincerely,

[First Name]