#JusticeforFloyd: Demand the officers who killed George Floyd are charged with murder.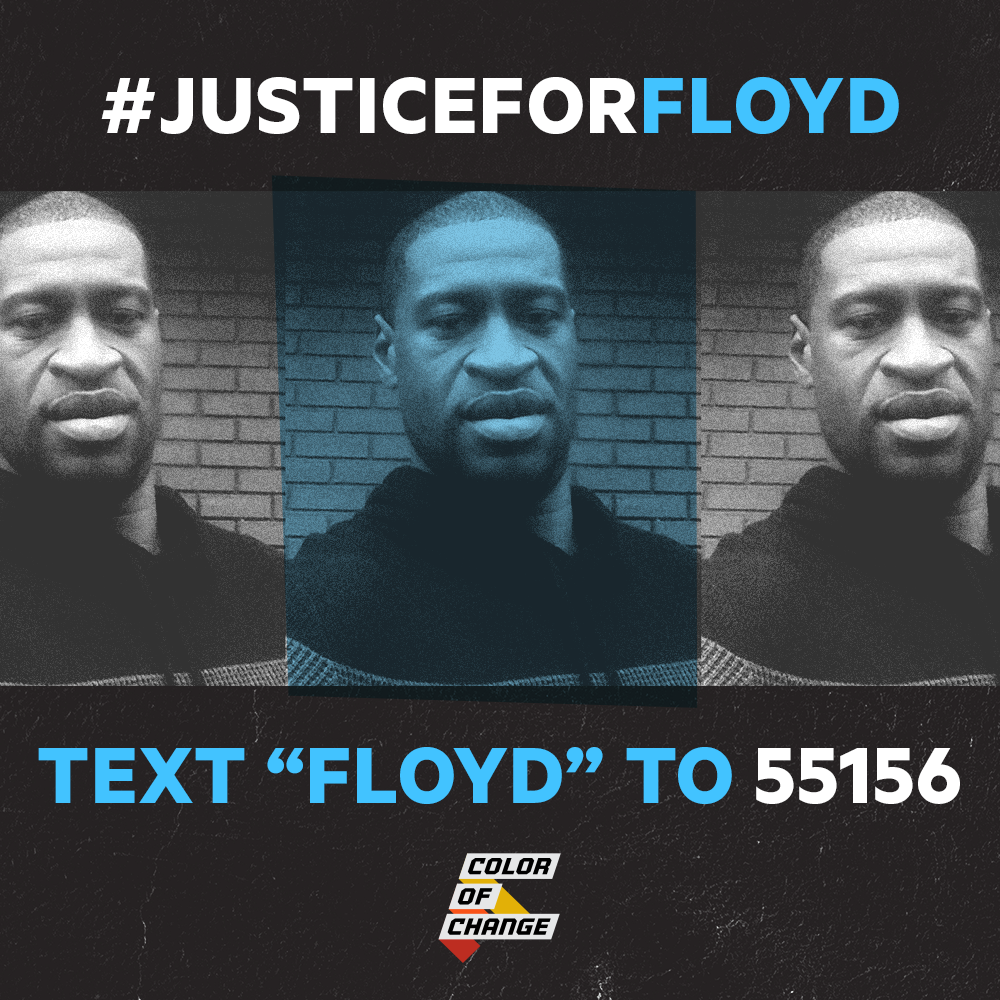 **UPDATE 6/3/20**
The remaining three officers who stood by and did nothing to stop former Officer Derek Chauvin from killing George Floyd have been charged with aiding and abetting murder. And finally, Chauvin's murder charges have been upgraded to the second-degree.
This is a testament to our movement to end police violence and white supremacy. Tens of thousands of people have been rising up across the country and the world, demanding an end to the inhumane treatment of Black people in this country. More than 4 million people signed the Color Of Change petition, and tens of thousands more made phone calls, and amplified our demands on social media. Our rallying cry is clear, Black Lives Matter, invest in our communities, and defund the police. 
**UPDATE 5/31/20**
Minnesota Governor Tim Walz has announced that state Attorney General Keith Ellison will help to lead the prosecution of any cases arising from the murder of George Floyd. This is a step in the right direction because it is clear County Attorney Freeman is dragging his feet and cannot act with impartiality. We must now call on AG Ellison and continue demanding County Attorney Freeman charge and arrest ALL the officers with murder. Keep fighting. Stay strong. Sign the petition. 
**UPDATE 5/29/20**
Officer Derek Chauvin has been arrested and charged with third-degree murder and manslaughter. There are still three other officers, Thomas Lane, Tou Thao and J. Alexander Kueng, who must also be charged for participating in George's murder. And currently, dozens of protestors have been detained and arrested for peacefully protesting. We're calling for County Attorney Michael Freeman to press murder charges against all three other officers and release the protestors immediately.
Our petition has over 3 MILLION signatures. And officer Derek Chauvin has been arrested and charged with third-degree murder. This is a testament to REAL community power. Our communities are tired of a status quo that allows police officers to operate with impunity. It's time for a change. We can't give up. Let's keep pushing!
---
It happened again. His name was George Floyd, and on May 25th he was murdered by Minneapolis police officers. 
George Floyd was a Black man, who was murdered in broad daylight after a grocery clerk called the police thinking he was writing a bad check. For seven minutes, George laid on the street while officers Derek Chauvin and Tou Thao held their knee on his neck as he was struggling to breathe. He lost consciousness and yet they continued to strangle him. Numerous bystanders pleaded with the police officer to let him go, while Floyd said the words "I can't breathe," several times, but the officer refused to remove his knee from Floyd's neck.
After the murder, officers called his death a "medical problem." And it wasn't until the video was released clearly showing them choking him, did we finally see the truth. This was a blatant and disgusting coverup to prevent accountability for their brutal act of police violence.
This is incomprehensible. His life was taken in a senseless act of violence at the hands of the Minneapolis Police Department, all for being "suspected" of writing a bad check. 
Police continue to hunt down Black folks in cities across America and we refuse to sit silent. It was not too long ago we heard Eric Garner utter the same last words, "I can't breathe." And just months ago, officers stormed Breonna Taylor's home and murdered her in a botched investigation.
On May 26th, officers Derek Chauvin and Tou Thao, and two other officers who were present, were fired from the Minneapolis Police Department. This is a step in the right direction to hold the officers accountable for murdering George Floyd but more action must be taken. We are calling for further action from Mayor Jacob Frey and County Attorney Freeman.
Mayor Frey must 1) block the officers from receiving their pensions and 2) ban them from ever becoming police officers again. And County Attorney Freeman must immediately charge the officers with murder.
Here is the Petition:
Dear Mayor Jacob Frey, County Attorney Michael Freeman, and Attorney General Keith Ellison, 

I am outraged and disturbed by the killing of George Floyd at the hands of Minneapolis Police Department officers. 

For seven minutes, George Floyd and bystanders cried out and pleaded for his life as your officers choked him to death in broad daylight. This is an act of police violence committed on an innocent, unarmed Black man. No one deserves what happened to George. And it's up to you to grant justice. 

I'm calling on you, the Mayor, to 1) block their pensions and 2) ban them from becoming police officers ever again. And County Attorney Freeman and Attorney General Ellison must immediately charge ALL four officers with murder. We're counting on you to secure justice for his family. 

Sincerely, 

[Your Name]