Justice for Chinedu Okobi Petition Delivery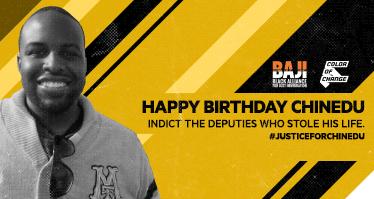 WHEN:  
February 13, 2019 @ 11:00am 
WHERE:
District Attorney Steve Wagstaffe's Office
400 County Center, Redwood City, CA 94063
WHAT:
Chinedu Okobi would have turned 37 on February 13, 2019 but his life was tragically stolen and his family is still fighting for justice. Instead of celebrating his birthday, family and friends, along with Color Of Change members and Black Alliance for Just Immigration, will be delivering a petition with nearly 50,000 signatures to San Mateo District Attorney Steve Wagstaffe demanding he indict the sheriff deputies who tasered Chinedu to death. This is the third death caused by tasers in San Mateo and the DA has yet to hold anyone accountable. That's why it's so important that we show up and stand with his family.  
We will remember Chinedu life's with his family and demand that the sheriff deputies are held accountable.