Demand The Senate Pass The John Lewis Voting Rights Act NOW!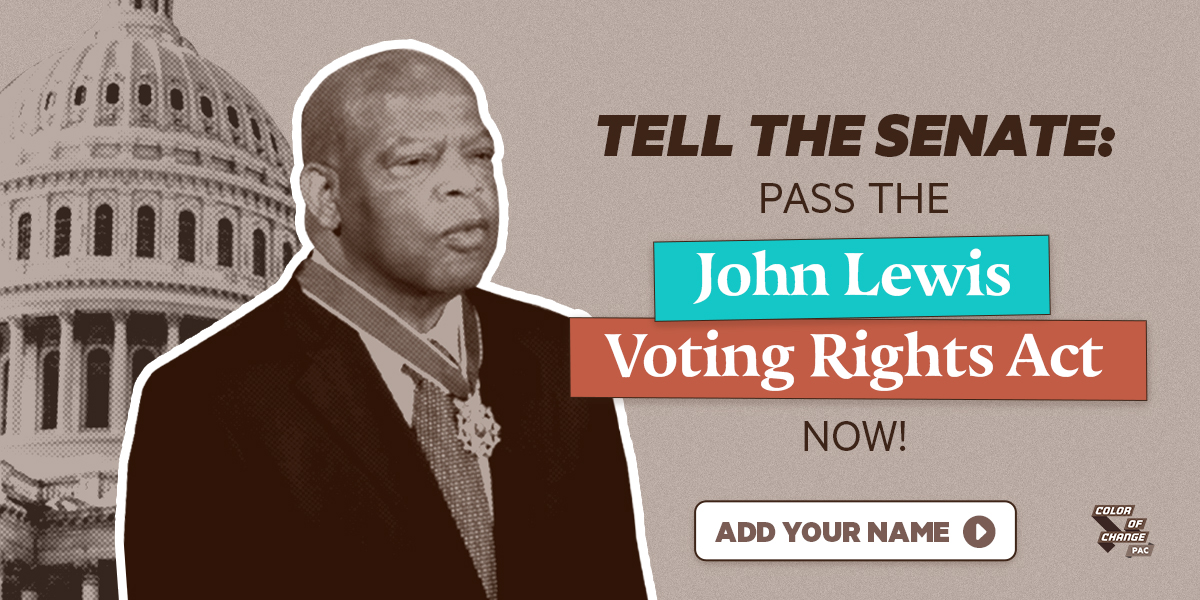 This month, we celebrate the 57th anniversary of the Voting Rights Act of 1965 — a monumental victory only achieved through years of organizing by civil rights activists like Ella Baker, Fannie Lou Hamer, Martin Luther King, Jr., John Lewis and so many others.
But in 2013, the U.S. Supreme Court's Shelby v. Holder ruling gutted the enforcement powers of the Voting Rights Act. Without the protections of the VRA, voters across the nation are facing the same suppressive tactics used against our parents and grandparents. 
The John R. Lewis Voting Rights Advancement Act would not only restore federal oversight of states when they repeatedly try to enact racist voting laws, it would ensure that no state can make any changes to the way they conduct elections without considering how those changes would impact Black voters.
The U.S. House of Representatives passed this critical legislation to end discriminatory voting practices, but it has been stuck in the Senate for nearly a year. Sign on to call on the Senate to pass the John R. Lewis Voting Rights Advance­ment Act NOW!
Dear Senators,

Nine years ago, the Supreme Court gutted the original Voting Rights Act in its Shelby County v. Holder decision, paving the way for a resurgence of voter suppression laws and practices that disproportionately disenfranchise Black voters.

We need the John R. Lewis Voting Rights Advancement Act to restore much-needed oversight of states when they repeatedly try to enact racist voting laws, and to ensure that no state can make significant changes to how they conduct elections without considering how those changes would impact voters of color.

As we recognize the 57th anniversary of the landmark Voting Rights Act of 1965, I urge you to honor the legacy of the civil rights activists who ensured the passage of this historic legislation with meaningful action by passing the John R. Lewis Voting Rights Act that passed as the Voting Rights Advancement Act in the House last year.

Sincerely,
[Your Name]