Companies must denounce the International Olympic Committee's (IOC) Rule 50, which punishes athlete protests!
Companies must denounce the International Olympic Committee's (IOC) Rule 50, which punishes athlete protests!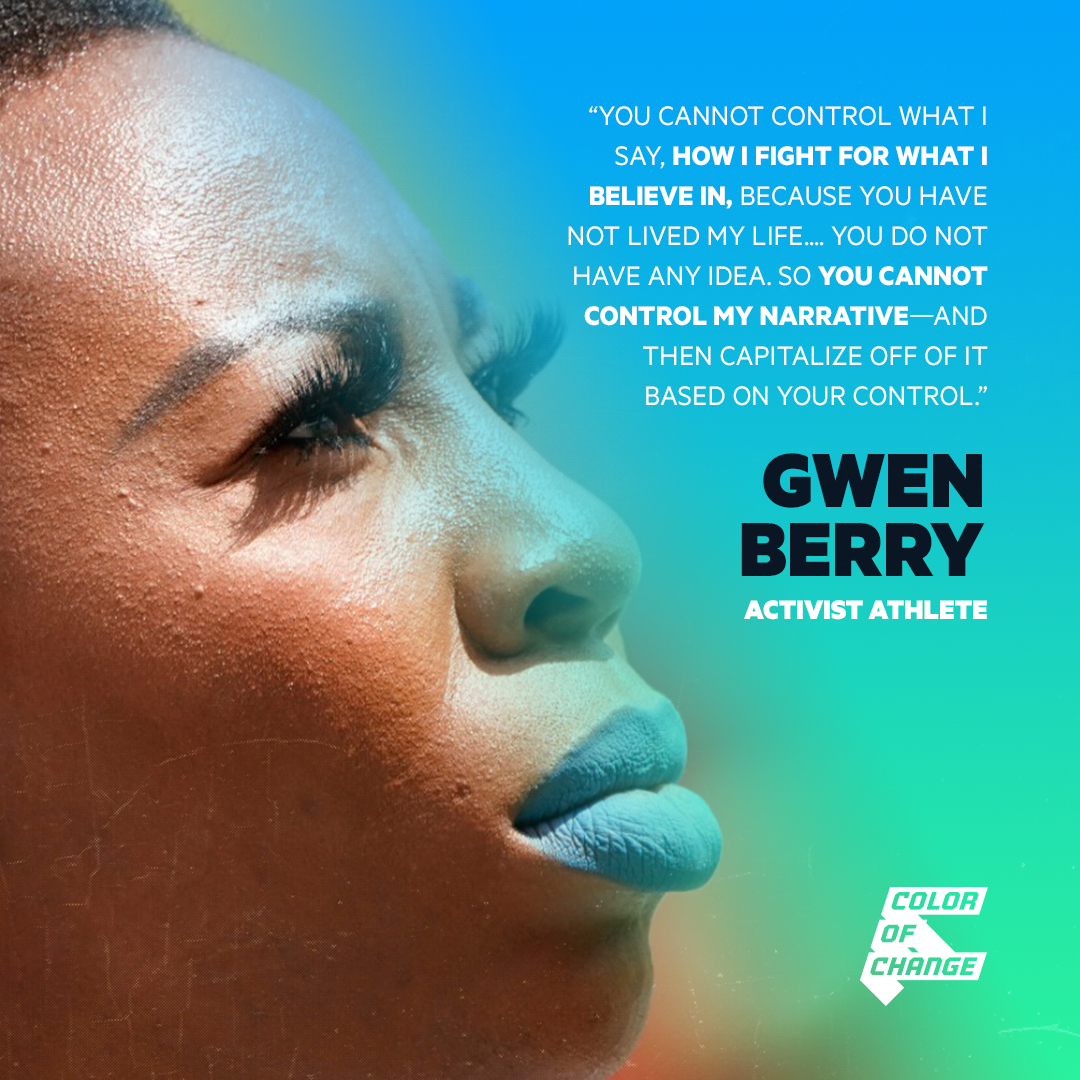 The International Olympic Committee (IOC) is standing by its an oppressive policy, Rule 50, which silences the free expression of Black athletes during the Summer Olympics. The policy bans athletes from kneeling, raising their fists, or wearing signs or symbolic armbands. At a time of heightened political awareness and the threat of a world war, athletes who take a stand for justice are being told to "shut up and play."
There is no real peace in the absence of justice and there is no victory when individuals are silenced.
The policy is extremely problematic because as we know, "taking a knee" and "raising fists" are directly associated with justice for Black people. And with no clearly defined consequences in the policy, the IOC has the power to come up with arbitrary punishments that can be implemented differently for individual athletes.
The IOC's policy is a direct attack on athlete activists like gold medalist Gwen Berry who boldly raised her fist in protest last year. Two gold medalists at last year's Pan American Games--Gwen Berry and Race Imboden--continued the legacy of athlete activism by protesting during the national anthem of their medal ceremonies. And now, the IOC has created this oppressive policy, clearly in retaliation, while stating that the mission of the Olympic Games is to bring the entire world together and facilitate the understanding of different views. 
The sponsors of the 2020 Tokyo Olympics include several American corporations whose company values are not aligned with silencing the free expression of Black athletes. We must demand they speak out!
Many of the corporate sponsors of the Olympics are industry leaders which have company missions and values that are in direct contrast with silencing free expression. We will not allow them to be complicit as the IOC attempts to control Olympic athletes. Additionally, the US Olympic & Paralympic Committee--a congressionally chartered non-profit organization--has a legal obligation to defend Black athletes right to protest. With the Olympics approaching rapidly, we need to put as much pressure as possible on these companies and the USOPC to stand with athletes.
Here is the Petition:
The IOC's Rule 50 Guidelines are an extremely restrictive act of control, particularly because "taking a knee" and "raising fists" are directly associated with Black athletes who have used their hard-won platforms to call out injustice after years of toiling in obscurity. These athletes also serve as representatives of their communities, and they deserve the opportunity to display their pride and pain in honor of those they represent. These incredible athletes deserve the opportunity to celebrate their victories while honoring the issues they care deeply about--without the fear of capricious IOC sanctions.

Additionally, the IOC's Rule 50 has not defined the consequences for offenders, and states that it will handle each offense on a case-by-case basis. This type of arbitrary implementation is bound to cause problems: studies show that Black athletes are more likely to receive harsher punishments for their actions. With two of the three specified acts--kneeling and raised fists--associated with justice for Black people and other marginalized peoples internationally, the IOC has set the stage to disproportionately target and punish Black athletes.

As an industry-leader and an official sponsor for the 2020 Olympics, it is critical that you stand on the right side of history and vocalize your support for activism and free speech. The IOC needs to know that your company does not support the silencing of athletes. We are asking that you make a public statement of solidarity with athletes and call on the IOC to rescind Rule 50.