Tell the Olympics: Stop Silencing Black Athletes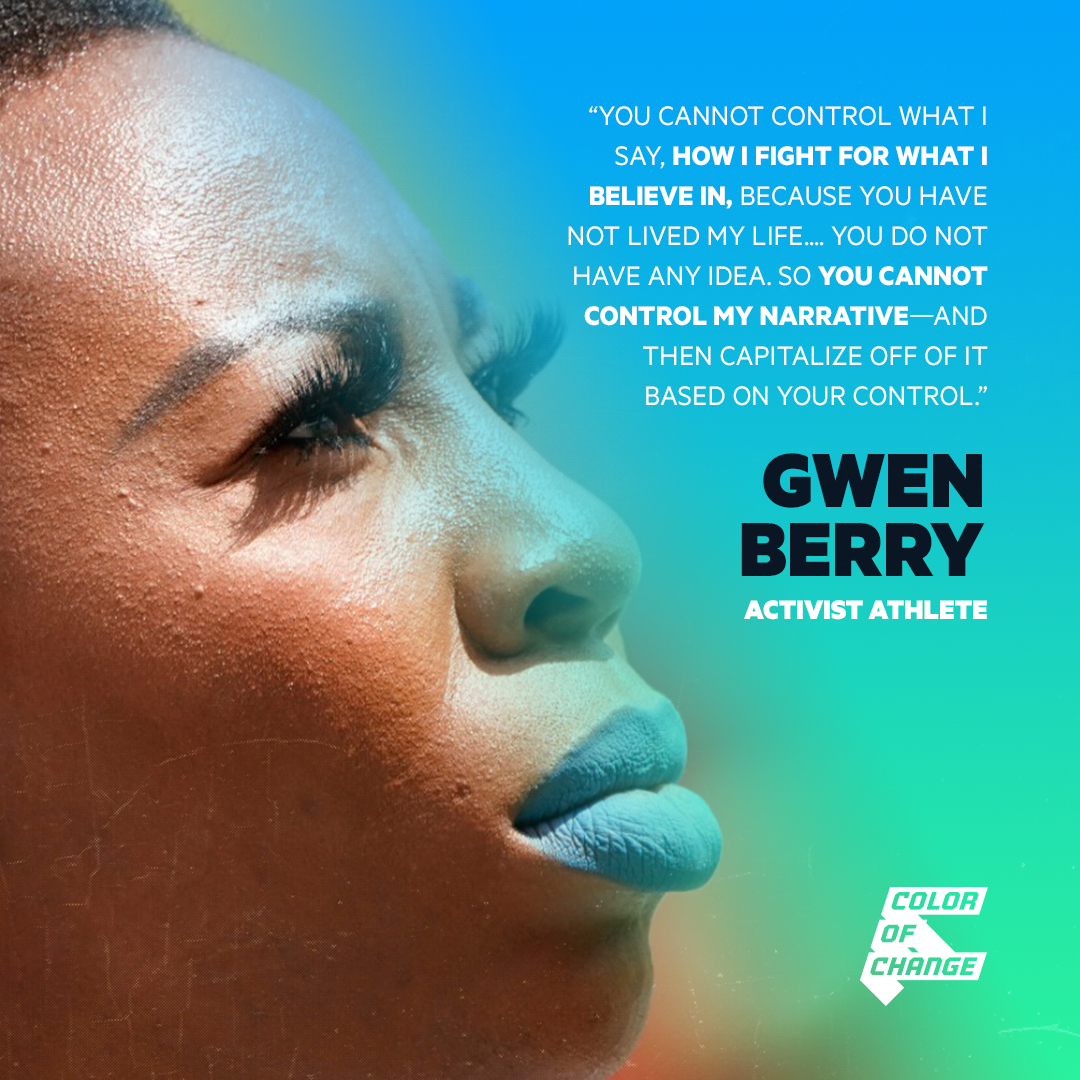 The International Olympic Committee (IOC) is telling Black athletes to "shut up and play." The IOC is doubling down on its oppressive policy, Rule 50, which silences the free expression of Black athletes during the Summer Olympics. The policy bans athletes from kneeling, raising their fists, or even wearing clothing that says "Black lives matter"—actions that are directly associated with justice for Black people. This policy is also at odds with the mission of the Olympic Games which is to bring the entire world together and facilitate the understanding of different views.
Raven Saunders defied the IOC by protesting on the medal podium while receiving her silver medal in shot put earlier this week. Saunders protested by crossing her wrists above her head to form an "X," representing the "intersection of where all people who are oppressed meet." Saunders joins fellow Olympic activist athlete, Gwen Berry, in using her platform to call attention to injustice. The IOC is investigating Saunders and planning to punish her under their discriminatory Rule 50. And with no clearly defined consequences in the policy, the IOC has the power to come up with arbitrary punishments that can be implemented differently for individual athletes. 
The corporate sponsors of the 2020 Tokyo Olympics and Team USA—like Coca-Cola, Visa, and Nike—have repeatedly told us that they stand with our communities, that racial justice is a priority for them, but have refused to speak out in defense of Black athletes against this policy.
However, the tides are already turning. Alongside Berry and other Black athletes, Color Of Change members have forced the U.S. Olympic and Paralympic Committee to refuse to enforce the IOC's Rule 50. But the IOC still has the power to punish Black athletes—stripping them of their medals or even blocking them from competing—for giving voice to our communities. Join us in demanding the Olympics' corporate sponsors show solidarity with Black athletes and publicly demand an end to Rule 50.
Here is the Petition:
The IOC's Rule 50 Guidelines are an extremely restrictive act of control, particularly because "taking a knee" and "raising fists" are directly associated with Black athletes who have used their hard-won platforms to call out injustice after years of toiling in obscurity. These athletes, such as Raven Saunders, also serve as representatives of their communities, and they deserve the opportunity to display their pride and pain in honor of those they represent. These incredible athletes deserve the opportunity to celebrate their victories while honoring the issues they care deeply about—without the fear of capricious IOC sanctions.

Additionally, the IOC's Rule 50 has not defined the consequences for offenders, and states that it will handle each offense on a case-by-case basis. This type of arbitrary implementation is bound to cause problems: studies show that Black athletes are more likely to receive harsher punishments for their actions. With two of the three specified acts—kneeling and raised fists—associated with justice for Black people and other marginalized peoples internationally, the IOC has set the stage to disproportionately target and punish Black athletes.

As an industry-leader and an official sponsor for the 2020 Olympics, it is critical that you stand on the right side of history and vocalize your support for activism and free speech. The IOC needs to know that your company does not support the silencing of athletes. We are asking that you make a public statement of solidarity with athletes and call on the IOC to rescind Rule 50.