Demand that Grubhub's CEO #DropTheFees and stop taking profits from small restaurants!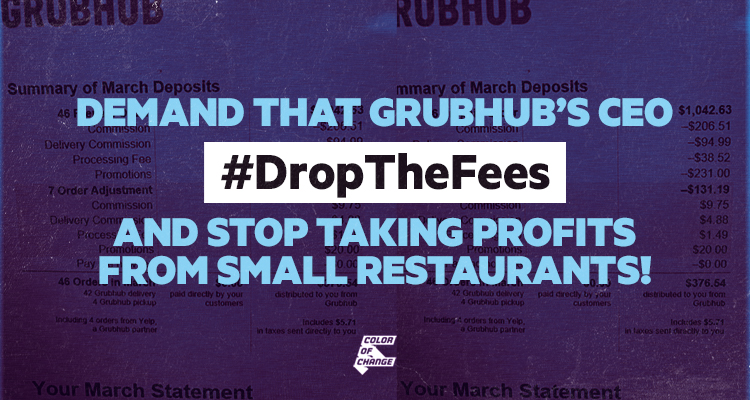 While small restaurants are trying to feed their communities and survive this devastating public health and economic crisis, they're being slammed with Grubhub's exploitative commissions and delivery fees. That's why we're demanding that Grubhub #DropTheFees and cap commissions at 10%. Small restaurants are the lifeblood of our communities. During the coronavirus pandemic, Grubhub must reduce the barriers to their sustainability, not cause increased hardship.
The slim profits that restaurants are earning are even more shocking when you consider that Grubhub is making more money than ever while the restaurant industry is nearing a collapse. While Grubhub reports record revenues with a 20% daily increase in orders, the restaurant industry has lost $25 billion and restaurant owners have had to lay off more than three million employees. Food delivery services wouldn't exist without restaurants and Grubhub's excessive fees not only harm their profitability but make them unsustainable. The challenge is compounded for Black-owned restaurants who are already at an economic disadvantage during the Coronavirus pandemic--especially considering that up to 90% of Black businesses are locked out of federal relief programs.
As people around the country are mandated to stay at home, many restaurants are forced to rely on these services for delivery. Grubhub is taking full advantage of that. Last month, Grubhub released a sentimental commercial claiming that "Restaurants are our family", while simultaneously charging their "family" standard commissions of 30%. It's time Grubhub drops the double talk and upholds the values it claims. Stand with our local restaurants and demand that GrubHub stop exploiting small businesses.
Here is the Petition:
To Grubhub CEO Matt Maloney,

Last month, the owner of a small business, Chicago Pizza Boss, shared their invoice from your company on Facebook detailing over $600 of administrative and promotional fees taken out of $1000 in food orders. The invoice spread virally on social media with customers expressing shock at the slim profits the restaurant earned--especially considering the drastic increase in food delivery. Grubhub reported five times more new restaurants requesting use of the platform and food delivery profits up 300% overall.

At a time when over 22 million Americans have filed for unemployment and countless small businesses are struggling to stay afloat, we believe that Grubhub should be reducing the barriers to restaurants, not causing increased hardship. As the country suffers with a never before seen health and economic crisis, Grubhub must level the playing field and drastically reduce the fees charged to restaurants and customers.