This Michigan State Police Director called NFL kneelers "degenerates." She has to go.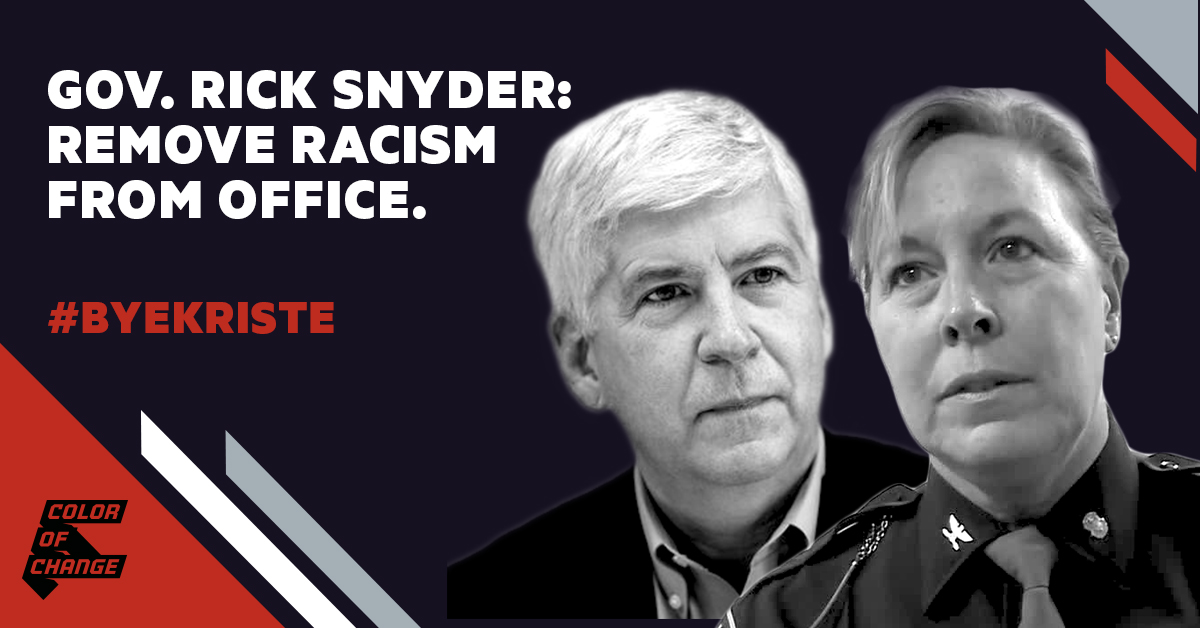 The State Police Director in Michigan, Col. Kriste Kibbey Etue, should be fired. Early this week, she posted an image on Facebook calling athletes who kneeled in protest of police brutality "anti-American degenerates." We are in the midst of an historic moment where NFL players, celebrities, and decisionmakers with the platform powerful enough to shift the entire country are all speaking out against police brutality. And she's absolutely on the wrong side of history. As soon as news broke about the post, people started calling for Etue's resignation. She immediately apologized and said posting the comment was a "mistake."
But her apology means absolutely nothing. She already revealed the truth about where she stands--and we need to believe her.
Michigan State police director Etue's words are not just a meme on Facebook. They incite hate, violence, and are a representation of her practices. She represents the type of leadership that we cannot let continue to exist in this country. She's failed to hold police who kill Black people accountable--and she even awarded the officer who killed 15-yr old Damon Grimes a "Lifesaving Award." On top of that, her department is severely suffering from a lack diversity. The people of Michigan need leaders who will champion a change in the status quo, not those who spout Trump's white supremacist talking points. Gov. Rick Snyder has said that her apology was enough--but it's clearly not. We need him to do the right thing and fire Etue. And we need a lot more people to stand up in order to push him to make the right choice. Sign the petition?
This is the message we'll send to Michigan Governor Rick Snyder:
Here is the Petition:
The people of Michigan need you to take a stand against police abuse by firing State Police Director Col. Kriste Kibbey Etue. Her comments calling people who protest police brutality by taking a knee "degenerates" are unacceptable and show a very fundamental misunderstanding of the issues facing the communities she's charged to serve. Her apology calling her comments a "mistake" mean nothing when there are people being killed and brutalized by police in Michigan every day. Do the right thing. Force Etue to resign.