Tell President Biden to take ACTION to END gun violence!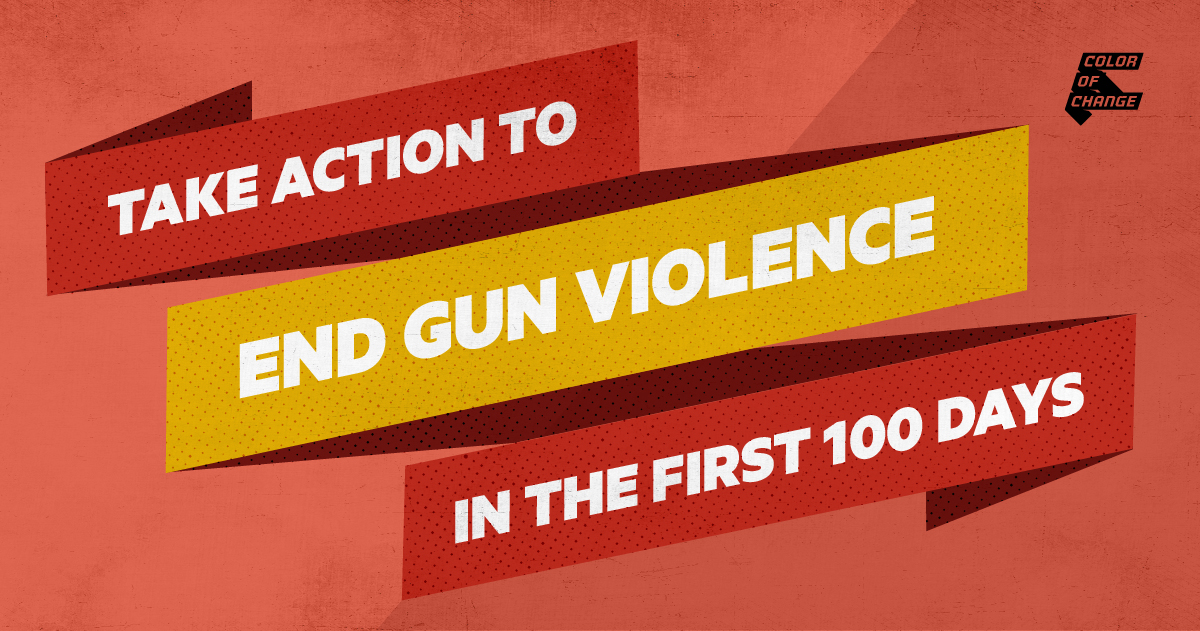 Update 3/22/21: Last week we experienced yet another act of white domestic terrorism. On Tuesday evening, eight people were shot to death at three massage parlors in Atlanta. Six of the people killed were Asian American women. 
Gun violence within Black communities and communities of color, is and has always been a systemic problem.  The relationship between the wealth of the U.S. and the super-exploitation of Black people and people of color is integrally related to the underdevelopment and continued oppression of Black communities.  We are still reaping the consequences of Reaganomics, manipulative media, anti-Black violence, and the profitability of racism. By perpetuating racial stereotypes, the federal government has successfully diverted hundreds of billions of dollars from programs supporting community safety to the militarization of police, promoting law and order ideologies, and the contrived war on drugs. The consequences of the last forty years are starkly evident in the racist practices of the criminal justice system and countless murders of Black people by police officers. 
Firearms were the leading cause of death for young adults 20-24, accounting for over half the deaths among young Black men. Last year, when the government failed to provide a human-centered response to the COVID-19 pandemic, communities across the nation suffered. Unemployment reached an unprecedented rate, violence increased at alarming rates across the country, and like all crises in the U.S., Black people are disproportionately impacted. The historical disenfranchisement of Black people and communities of color in this country is evident and demands immediate solutions.
Let's be clear: Gun Violence is not a partisan issue, it is a Public Health Crisis. To stop gun violence in all its forms, we need tailored, expansive prevention efforts to reduce risk within our communities. We have yet to see an administration step up to address this issue in a proactive way centered on the wellness of the communities most impacted.  
That's where you come in. We need your help to pressure President Biden and his administration to take the following immediate steps to reduce gun violence: 
Integrate Gun Violence Prevention into the mission of every federal agency. 
Crack Down on Social Media Companies that Enable Hate and Violence
Invest In Community-Based Solutions 
Implement Measures to End Police Violence 
 Black people played a major role in electing President Biden and delivering a Democratic Senate majority. We must take advantage of this moment and call on Biden-Harris to take immediate actions toward a comprehensive, fully-funded Gun Violence Prevention Program! 
Tell President Biden: Gun violence is a  public health crisis more than a decade in the making, and we need a comprehensive Gun Violence Prevention Program that can meet the demands of this moment.
Below is the letter we will send to President Biden, 
Here is the Petition:
President Biden, 

Color Of Change, in partnership with Fund Peace and the Invest In Us Gun Violence Prevention Coalition, is calling on you to prioritize comprehensive solutions to end gun violence within their first 100 days : 

Integrate Gun Violence Prevention into every agency's Mission

- gun violence prevention can not be treated as an isolated initiative, it must be part of every aspect of the administration's work.

 

Crack Down on Social Media Companies that Enable Hate and Violence

- Facebook and other social media companies are breeding grounds for white supremacy and domestic terrorism. 

Invest In Community-Based Solutions- 

that take a public-health approach, includes a focus on risk reduction and root causes that fuel the cycle of violence in our communities. 

Implement Measures to End Police Violence-

it is critical that steps are taken to address police violence as a form of gun violence at the hands of the state which continues to operate above the law.